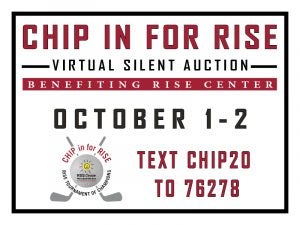 TUSCALOOSA, Ala. – The University of Alabama's RISE Center will hold its annual CHIP in for RISE silent auction fundraiser virtually Oct. 1-2 in conjunction with the school's 46th birthday.
Due to the COVID-19 pandemic, this year's CHIP in for RISE event will be conducted virtually, but still includes favorite items like UA athletic memorabilia, golf packages and original works of art from local artists and the children of RISE. The auction opens on the morning of Oct. 1 and closes Oct. 2 at 10 p.m.
"To carry on the mission of RISE, our fundraising efforts must continue," said Andi Gillen, director of UA's RISE Center. "They ensure we can maintain our annual budget, and this includes salaries for our therapists. We have an exceptional team that includes a music therapist, physical therapist, occupational therapist and a speech and language pathologist. We could not do what we do for families without their knowledge and expertise."
Visit chip20.givesmart.com or text CHIP20 to 76278 to participate. Auction items can be viewed at NorthRiver Yacht Club Oct. 1 and 2, from 9 a.m. to 1 p.m., and 5 p.m. to 7 p.m. each day.
In addition to biddable items, the fundraiser has Par-Tee to Go packages, including dessert for two, bottle of wine and wine Silipint, available for purchase for $50 at the RISE Center or on the center's website.
For more information on CHIP in for RISE, call 205-348-7931.
Since opening Oct. 1, 1974, the RISE Center has enriched the lives of numerous infants and preschoolers with and without special needs. Despite the current public health emergency, RISE continued to offer virtual learning to its students until the center reopened in August.
"After being closed for five months and serving children through our RISE at Home distance learning program, we are thrilled to be serving children at RISE Center again this fall," said Gillen. "Despite the pandemic, families with children who have special needs continue to need support, guidance and hope.
"The challenges our children face every day have not paused during social distancing and safer at home guidelines. Our program has been and will continue to be creative and provide much needed therapy services in the safest way possible."
The RISE Center, part of UA's College of Human Environmental Sciences, serves children with disabilities and their typically developing peers. It is also dedicated to excellence in service, research and teaching. The preschool program not only benefits families in the Tuscaloosa community, but serves as a practicum and internship site for students from UA and other colleges.
Contact
Bryant Welbourne, UA Strategic Communications, bryant.welbourne@ua.edu
The University of Alabama, part of The University of Alabama System, is the state's flagship university. UA shapes a better world through its teaching, research and service. With a global reputation for excellence, UA provides an inclusive, forward-thinking environment and nearly 200 degree programs on a beautiful, student-centered campus. A leader in cutting-edge research, UA advances discovery, creative inquiry and knowledge through more than 30 research centers. As the state's largest higher education institution, UA drives economic growth in Alabama and beyond.