Capstone College of Nursing faculty and staff are often impressed by the initiative taken by students to improve practice or address concerns.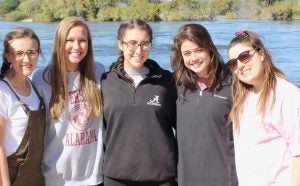 During the spring, following a series of student events across campus and at CCN, five nursing students stepped up to address student mental well-being and identify ways to help.
Rachael Castillo, Abigail Cooney, Jessica Compton, Skylar Devers and Izzey DeCarlo approached Dr. Mercy Mumba, associate professor in the college, with the idea of developing a peer mentoring program to help nursing students cope with stress and anxiety.
The goal of the peer mentoring program would be to help first-semester nursing students acclimate to the nursing program by pairing them with a student mentor, providing a much needed social support system during the transition from lower division to upper division courses.
Through this program, each first-semester student is paired with a student in third, fourth or fifth semester. Students are matched based upon similar hobbies, interests or nursing specialties.
Each pairing also has a faculty adviser to ensure the student match is successful and that both mentor and mentee feel supported in this program. Advisers are also responsible for checking in with the student mentor to be sure they are managing their own workload and the mentorship efficiently.
Each pair is encouraged to set their own meeting parameters based around their schedules and obligations. Additionally, a chain of command was established in the program to ensure that any grievance or concern is handled in a confidential matter while supporting the parties involved.
"We were pleasantly surprised when about 50% of the spring cohort of first-semester students signed up for the mentoring program," said Mumba. "Thankfully, we had an overwhelming response from upper division students and actually had more mentors than mentees.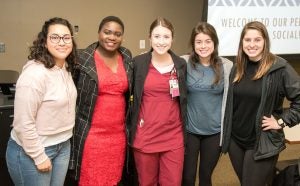 "Many of the mentors mentioned how they would have liked to participate in a program like this when they were in first semester and were excited to help other students."
Even with the transition to remote learning this spring and summer, the program welcomed 31 new pairs of mentors and mentees for the summer term.
Dr. Whitnee Brown, clinical instructor and a faculty adviser for the peer mentoring program, remembers how stressful it was adjusting to a new schedule, juggling due dates, clinicals, class and a social life when she was a student.
"Thankfully, I was able to connect with people who were a few semesters ahead of me to help me see what the future semesters would be like and those students were always so encouraging," said Brown. "That made a big impact in life."
Brown views this program as a sort of human vision board, allowing students to picture what school life will be like a few semesters in the future. She believes seeing someone you know succeed is empowering, offering peers the extra support to push forward despite challenges they might face.
"My goal as a faculty mentor is to encourage and motivate students to their full potential," said Brown. "It is important to have someone who is objective to help you balance it all out. Having a designated faculty member for each pair who can meet and consult with them about their future career plans, academic stressors or social concepts can be an effective strategy to bridging the gap between the stressors of academic responsibilities and the therapeutic environment for growth, mental health and balance."
Students and faculty interested in the program can contact Dr. Mercy Mumba, mnmumba@ua.edu, or Dr. Whitnee Brown, wcbrown7@ua.edu.
The University of Alabama, part of The University of Alabama System, is the state's flagship university. UA shapes a better world through its teaching, research and service. With a global reputation for excellence, UA provides an inclusive, forward-thinking environment and nearly 200 degree programs on a beautiful, student-centered campus. A leader in cutting-edge research, UA advances discovery, creative inquiry and knowledge through more than 30 research centers. As the state's largest higher education institution, UA drives economic growth in Alabama and beyond.