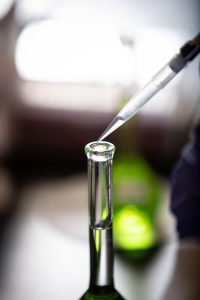 TUSCALOOSA, Ala. – The University of Alabama is launching an employee classification designed to recruit and retain world-class researchers.
Those hired into the research professional career track will be extensively, if not entirely, focused on research and creative activities, often mentoring and training students to be leaders of discovery in their own career paths.
"We believe this career track is vital to continue advancing the research mission and achieving our ambitious goals," said Dr. Russell J. Mumper, vice president for research and economic development.  "Because our research enterprise and its impact are expanding so rapidly, we realized the need to change our approach to recruiting and retaining world-class professionals that are highly sought after in the marketplace. We are very excited to offer this opportunity."
UA, a part of The University of Alabama System, is in the top tier of research institutions in the nation, according to the Carnegie Foundation Classification of Institutions of Higher Education of research activity for institutions that grant doctoral degrees. Sponsored research at UA increased about 60 percent over the past two years.
Research professionals will provide significant intellectual contributions that may lead to an invention, discovery or copyright materials and are expected to contribute to the dissemination of findings or knowledge.
"The high-level research by our faculty and students will be enhanced by this career track, benefitting not only the University's educational mission, but also economic and workforce development in our state," said Dr. James Dalton, executive vice president and provost. "We are very excited about the launch of this career track. It reflects our desire to recruit and retain talented employees not just for specific jobs, but for careers."
These opportunities are 12-month staff positions, funded usually through externally sponsored grants and contracts. The career track has four levels based on experience: assistant research professional, associate research professional, research professional and senior research professional.
Although there are minimum requirements for each level, an applicant with a relevant post-baccalaureate degree with required experience, master's degree or doctorate may be hired into or promoted to all four levels. Initial hiring and promotion are based largely on relevant experience and/or demonstration of level-specific competence.
More information on the positions can be found on the UA Human Resources website.
Contact
Adam Jones, UA communications, 205-348-4328, adam.jones@ua.edu
The University of Alabama, part of The University of Alabama System, is the state's flagship university. UA shapes a better world through its teaching, research and service. With a global reputation for excellence, UA provides an inclusive, forward-thinking environment and nearly 200 degree programs on a beautiful, student-centered campus. A leader in cutting-edge research, UA advances discovery, creative inquiry and knowledge through more than 30 research centers. As the state's largest higher education institution, UA drives economic growth in Alabama and beyond.