Finding a place to plug in may be a little challenging this semester, especially for new students. But "navigators" can help guide students through their first year at The University of Alabama.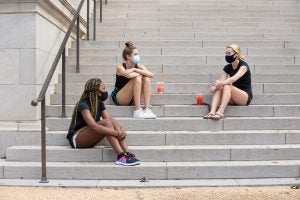 The navigators program, a part of First Year Experience, is made up of 16 current UA students whose goal is to help transfer students and freshmen navigate campus life. They are available to answer questions, provide connections to campus resources and serve as peer mentors.
"As navigators, we've been at UA for a year or more, so we've already gone through all those things that freshmen are going through," said Carli-Jo Kickert, a senior navigator from Franklin, Tennessee. "We're really just here to be someone a student can talk to, someone who's been here longer and knows how to navigate college life."
There are multiple ways students can get in touch with a navigator.
Virtual office hours are Monday through Friday, 10 a.m. to 4 p.m. Students can visit the navigators' website during this time, click the "Ask a Navigator Now!" button and immediately be connected with a navigator via Zoom.
Schedule a virtual meeting with a navigator on their website by clicking the "Meet with a Navigator" button. Students have the option of sharing information about what they'd like to discuss and selecting a method for the meeting. They can also view navigators' profiles and select a specific navigator to meet with.
Email a navigator with questions, to seek assistance with navigating campus life or to schedule an appointment. This can be done right from their website.
Navigators are also involved with a program called "first year hangout hour" where students can virtually connect with other students, as well as with navigators, on a weekly Zoom call. It happens every Wednesday from 1:30 to 2:30 p.m.
"We just recently led our first hangout hour," said Josh Gage, a senior navigator from Plymouth, Michigan. "Three navigators sat in an open Zoom room and talked to different first-year students. It was really fun and exciting, and it really felt like we made some connections. We hope to use the hangouts as another way to create community among first-year students."
For new students looking to get engaged in campus life, it's important to take that first step, according to the navigators.
"We understand that it's really hard to get connected right now," said Dequiala Kelly, a junior navigator from Savannah, Georgia. "My advice to new students is to be open and flexible. Try out the Zoom calls and virtual activities. Put yourself out there, and try to get connected as much as you can while also staying safe."
Zach Collins, a sophomore navigator from Montgomery, added, "Things are out of the ordinary right now, but students may surprise themselves with what they can find through the different events being held virtually. The most important thing to remember is that you're not in this alone. UA has the phrase, Tide Together. We're all in this together right now."
For more information about the navigators program or how they can help new students get connected, visit their website.