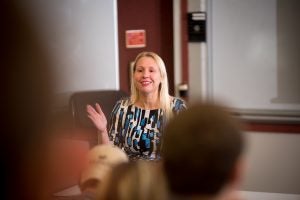 TUSCALOOSA, Ala. – Free tutoring, job skills and financial literacy training sessions will soon be available to West Alabama residents, including veterans and teens, through The University of Alabama's business college.
Culverhouse LIFT, or Learning Initiative and Financial Training, will begin classes for its fall 2020 term in mid-September. Registration and specific course descriptions are available on the Culverhouse LIFT website. Because of the coronavirus pandemic, all classes will be conducted virtually using Zoom or other online platforms.
"It's a one-on-one tutoring relationship between the student and the participant," said Lisa McKinney, accounting lecturer, LIFT program coordinator and a certified public accountant. "While usually we would hold these classes in person, in a way, the move to a virtual format really makes it easier for people across the area to access what we do. It's a win-win."
Sponsored by the Culverhouse College of Business and the Culverhouse School of Accountancy, LIFT's sessions include computer skills, bookkeeping and introduction to coding.
Created in 2014, LIFT uses student volunteers from within the business college to work with community participants in a classroom setting.
In the spring of 2020 when school systems across the country went remote, Culverhouse LIFT was able to rapidly respond to the dire need for tutors to assist students both in Tuscaloosa and Birmingham with their schoolwork. It did this by deploying students who developed videos and virtual learning plans that supplemented classroom instruction.
Source
Lisa McKinney, director of Culverhouse LIFT Program, 205-535-0907, lmckinne@cba.ua.edu
Contact
Zach Thomas, Culverhouse director of marketing and communications, 205-348-8318, zthomas@culverhouse.ua.edu
The University of Alabama, the state's oldest and largest public institution of higher education, is a student-centered research university that draws the best and brightest to an academic community committed to providing a premier undergraduate and graduate education. UA is dedicated to achieving excellence in scholarship, collaboration and intellectual engagement; providing public outreach and service to the state of Alabama and the nation; and nurturing a campus environment that fosters collegiality, respect and inclusivity.