Program Achievements
ACCESS Virtual Learning at UA was featured as the Standard B Highlight in the June issue of National Standards for Quality S.I.P (Standards in Practice). An education initiative of the Alabama Department of Education, ACCESS provides opportunities and options for Alabama public middle and high school students to engage in Advanced Placement, elective and other courses they may not otherwise be able to access or schedule.
The University of Alabama Center for Economic Development has been recognized with the Alabama Tourism Department's Tourism Partnership of the Year Award for efforts to support and enhance birding tourism and education in the state. UACED has been a partner with the Alabama Tourism Department and the Alabama Department of Conservation and Natural Resources in the development of the Alabama Birding Trails for over 13 years.
Elections and Recognitions
Dr. Fred Andrus, professor, geological sciences, was elected as a Fellow of the Geological Society of America.
Jonathan Cumberland, assistant professor, art and art history, was awarded gold and bronze prizes in Posterstellars, an international graphic design poster contest.
James Horn, professor of military science, Army ROTC, was promoted to the rank of colonel.
Publications
Julie Andersen Hill, Alton C. and Cecile Cunningham Craig Professor of Law, School of Law, published "Opening a Federal Reserve Account," 40 Yale Journal on Regulation 453-519 (2023).
Amy F. Kimpel, associate professor, School of Law, published "Alienating Criminal Procedure," 37 Georgetown Immigration Law Journal 237-289 (2023).
Dimitrios Latsis, assistant professor, School of Library and Information Studies, published "How the Movies Got a Past: A Historiography of American Cinema, 1894-1930." (Oxford University Press, 2023, 408 pages)
Dr. Kevin Woosley, area coordinator and senior instructor, School of Music, published the third edition of his music appreciation textbook titled "Introduction to Listening!" (McGraw-Hill Education, e-book, 2023, 264 pages)
Exhibitions and Acquisitions
Allison Grant, associate professor, art and art history, had work selected for exhibitions in the Birmingham Museum of Art, the Georgine Clarke Alabama Artists Gallery in Montgomery and the Alabama Contemporary Art Center in Mobile.
This summer, the Bainbridge Island Museum of Art in Washington acquired "Acts of Translation: Allison Grant," an artist book Grant made in collaboration with artist Sarah Bryant, who publishes under the imprint Big Jump Press. The book was made during Bryant's Collaborative Arts and Research Initiative fellowship last year. Bryant is an assistant professor in the School of Library and Information Studies book arts program.
Jason Guynes, chair and professor, art and art history, had a work, "Puerta de Bisagra," juried into the Bowery Gallery's 32nd Annual National Juried Exhibition. The works selected for the New York exhibition were juried by renowned art critic, art historian, and curator David Cohen.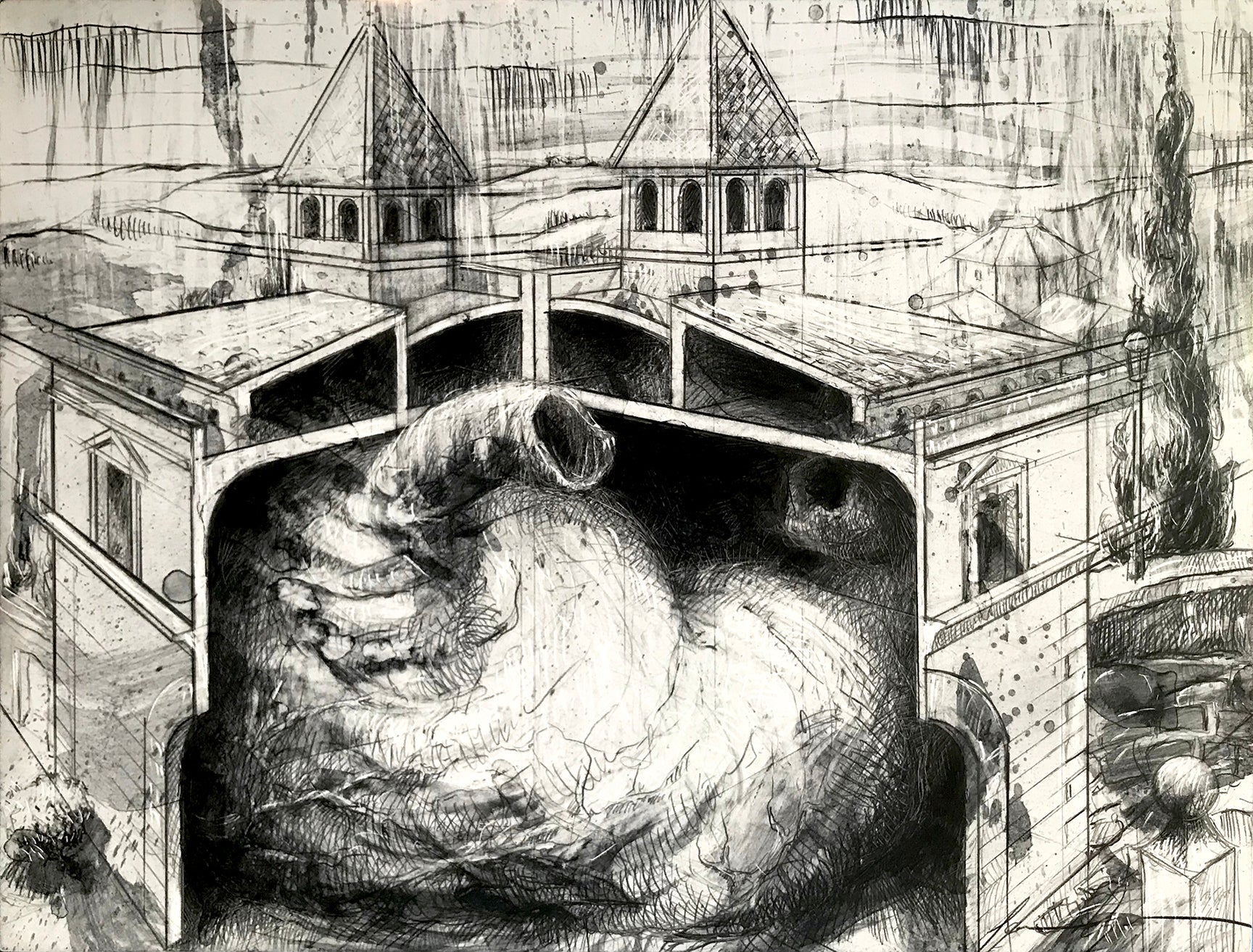 Wade MacDonald, assistant professor, art and art history, had a ceramic work, "Red and Black Color Dotted Fracture Mug," acquired by the Rosenfeld Collection, part of the Everson Museum of Art in Syracuse, New York, which is internationally renowned for its ceramics collections.
MacDonald was one of nine ceramic artists invited to show work in the national exhibition "Deconstructing the Mold" at the Red Lodge Clay Center's Loft Gallery in Red Lodge, Montana. Also, for the month of August, MacDonald was invited to be the featured artist on Artaxis, the major online community of artists with a focus on ceramics.
Sarah Marshall, associate professor, art and art history, had new work in a three-person exhibition, "Bed Slope," at Ground Floor Contemporary in Birmingham.