Awards
Charter Morris, director of international student and scholar services for Capstone International Center, received the 2023 Award of Excellence from the Knowledge Community for International Student and Scholar Services. The award honors a NAFSA member who has demonstrated outstanding qualities as a leader in the field of international student and scholar services. Nominees should possess qualities of compassion, integrity and leadership.
Dr. Tanja L. Jones, associate professor, Dr. Doris Sung, assistant professor, and Rebecca Teague, instructor, all in art and art history, have been awarded a History of Art Grant by the Samuel H. Kress Foundation to organize a symposium titled "Challenging Empire: Women, Art, and the Global Early Modern World," in partnership with the Birmingham Museum of Art.
Susan Norton, senior associate vice president for human resources and chief Human Resources officer at The University of Alabama, received the College and University Professional Association for Human Resources 2023 Donald E. Dickason Award. Named for the association's founder, it is CUPA-HR's highest honor, recognizing an individual for exceptional leadership and service to CUPA-HR and higher education human resources.
Capstone Awards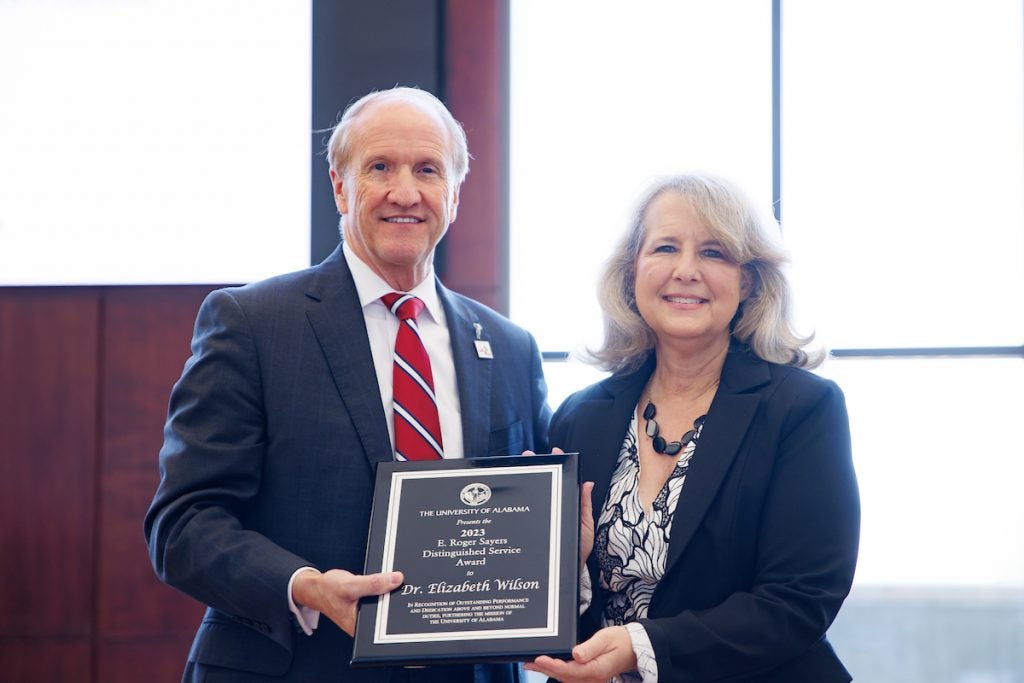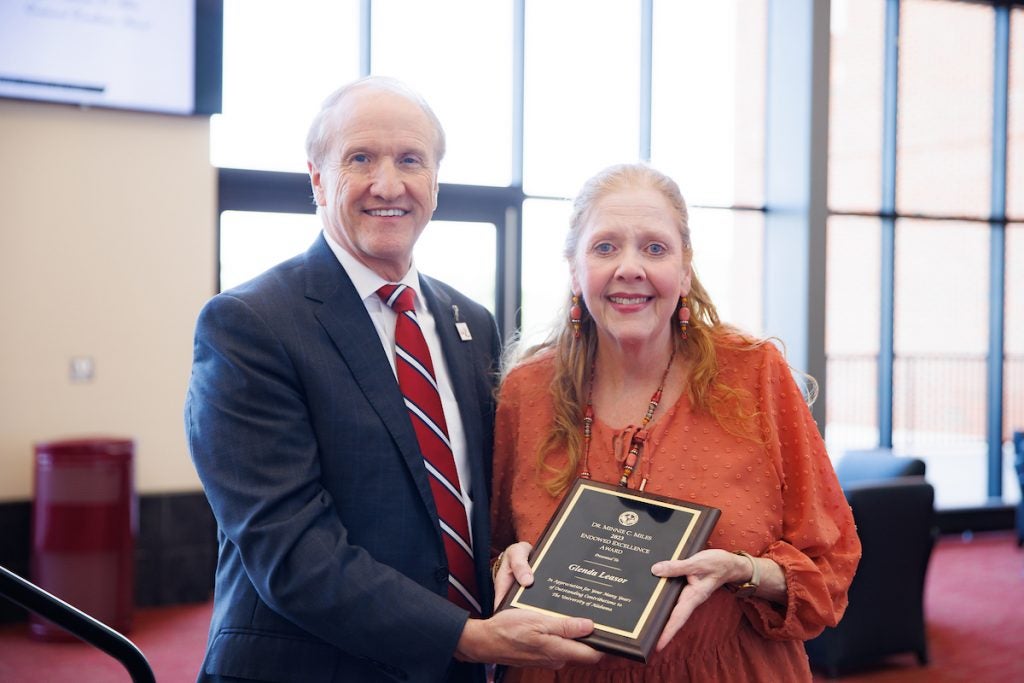 At the spring Campus Assembly Dr. Elizabeth "Liza" Wilson, associate dean in the College of Education, was recognized with the E. Roger Sayers Distinguished Service Award. Another Capstone Award, the Dr. Minnie C. Miles Endowed Excellence Award, was presented to Glenda Leasor, budget coordinator, Office of Teaching, Innovation and Digital Education.
Outstanding Professional Awards
Each spring semester the Professional Staff Assembly presents the Outstanding Professional Award to two professional staff members who go above and beyond their regular duties exemplifying positivity, bringing out the best in others, offering innovative ideas and creating conditions for success. The 2023 winners were Brittany Gregg, disability services, and Nathan Holtz, University recreation. Other nominees were Lanna Johnson-Boyd, Melanie Danner, John Gilmer, Ashley Grammer, Adrienne Hall, Carrie West Harris, Jackie Hayes. Elizabeth Lary, Telisa McWaters and Lindsey Woodruff.
Bama Dining Given Horton Award
The National Association of College & University Food Services announced Bama Dining as the recipient of a NACUFS 2023 Loyal E. Horton Dining Award. Bama Dining received a Bronze level award in the residential dining concept category.
Named for a NACUFS founder, past president and highly regarded innovator, the dining awards celebrate exemplary menus, presentations, special event planning and new dining concepts, while providing an avenue for sharing ideas and creative presentations in collegiate dining.
Action Card Team Recognized for Marketing
The University of Alabama earned the 2023 NACCU Best Marketing Campaign Award, which recognizes an institution's use of a variety of marketing efforts to enhance their campus card's visibility and value on campus. The Action Card team was recognized for the successful multi-pronged campaign to engage incoming students to participate in online photo submission and mobile card download prior to orientation and move-in.
Elections, Appointments and Fellowships
Carol Agomo, director of administration and contracts for enterprise operations, was elected to NACAS South Board of Directors and will serve a two-year appointment as board secretary. A professional trade association, NACAS supports the non-academic segment of higher education responsible for providing a diverse array of campus services that students need and value. The southern region of NACAS, NACAS South, is composed of 12 U.S. states and Puerto Rico.
Dr. George Daniels, associate professor, journalism and creative media, was awarded a 2023-2024 Innovations in Pedagogy and Teaching Fellowship by The HistoryMakers, the nation's largest African American video oral history archive.
Wade MacDonald, assistant professor, art and art history, has been appointed to a three-year term on the Alabama Visual Arts Network board of directors.
Lars Powell, director of the Center for Insurance Information and Research in the Culverhouse College of Business, was appointed by Gov. Kay Ivey to the newly established Alabama Resilience Council.
Ivey also recently reappointed Ken Rosen, professor of law, to represent Alabama on the Uniform Law Commission. Rosen has served Alabama as the commission has considered a variety of uniform acts that can be utilized by states as they enact legislation on significant issues.
Publications
Mirit Eyal-Cohen, professor of law, co-authored "Promoting Vaccine Innovation," 83 Ohio St. Law Journal 1003-1068 (2022).
Bryan K. Fair, Thomas E. Skinner Professor of Law, authored "Federalism by Deception: The Implied Limits on Congressional Power," 62 Santa Clara Law Review 545-596 (2022).
Shalini Bhargava Ray, associate professor of law, authored "Noncitizen Harboring and the Freedom of Association," 101 North Carolina Law Review 677-728 (2023).
Other Accolades
Faculty/Staff Innovation Pitch Competition 2023 Winners
Emeritus Professor Elected to National Academy of Sciences
Submit Your Achievements for Accolades
UA News publishes accolades for UA faculty and staff from the calendar year regarding publications in peer-reviewed journals, scholarly books or national publications; awards and elections; national and international fellowships; and art exhibits and performances. We do not publish conference papers or keynote addresses. To submit an accolade, use the online form.