Dr. Claire Major, professor of higher education with The University of Alabama College of Education, is the recipient of the 2022 Burnum Distinguished Faculty Award.
Major will be presented her award and provide a special lecture titled "Engaged Teaching: Enhancing Faculty Knowledge to Improve Student Learning" during a ceremony April 27 at 4 p.m. in 118 Autherine Lucy Hall. A reception in 311 Carmichael Hall will follow the presentation. The lecture and reception are both open to the public.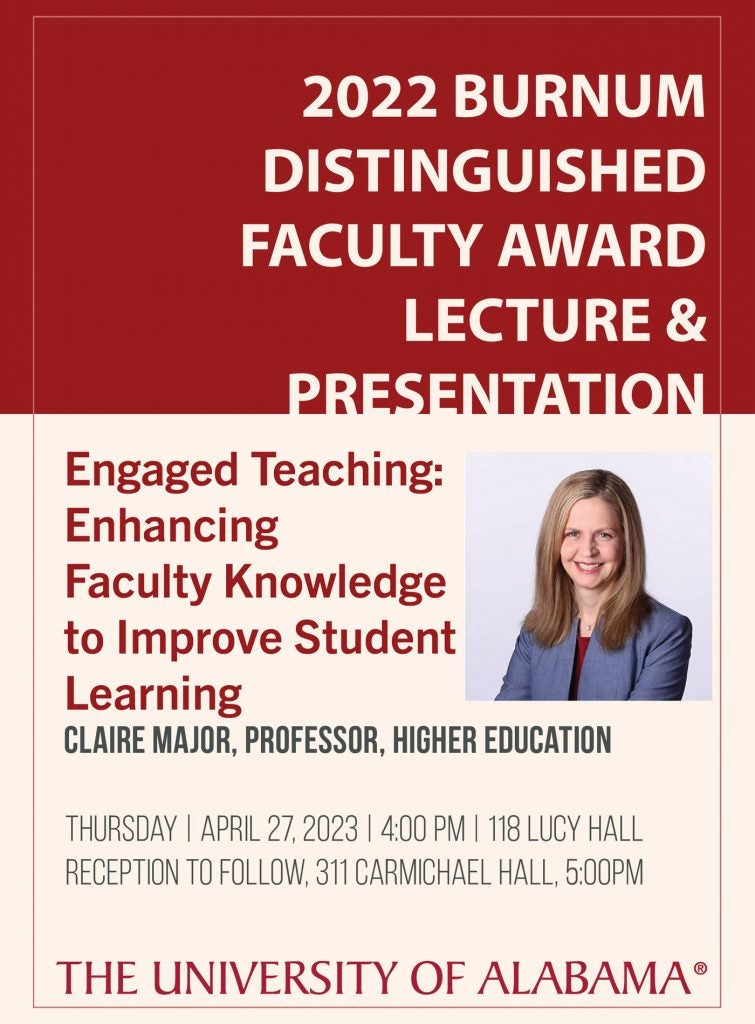 Major has more than 30 years of teaching experience in higher education. She currently teaches master's and doctoral level courses in the higher education administration program focusing on college teaching, technology in higher education and reading research in the field of higher education. 
Major's research interests include areas of faculty work, pedagogical approaches, technology for teaching and online learning. She has authored or co-authored several books on learning assessment techniques, online education and qualitative research methods.
In 2000, Major created the Alabama Community College Leadership Academy, a yearlong leadership development program for administrators and faculty members in two-year colleges. The program is designed for those who desire to prepare themselves to take advantage of future senior-level management opportunities. Participants explore solutions to real world problems faced by college administrators.
Major also established the Executive EdD program. The program features a format that allows higher education professionals to pursue a degree without interrupting their careers, a cohort model that facilitates a learning community of professionals from different fields and types of institutions, small classes that encourage peer support, and opportunities to engage with a dynamic and distinguished faculty.
Awarded annually to recognize and promote excellence in research, scholarship and teaching, the Burnum Award recognizes distinguished careers at UA. The Burnum Award Committee, comprised of former winners, screens nominees and forwards two nominees to the president, who selects the winner.