Severe Weather Awareness Week in Alabama is Feb. 5-10.
In Alabama, tornadoes cause property damage and claim lives almost every year. In 2022, there were 98 tornadoes that impacted the state, resulting in three deaths, according to the National Weather Service.
Tornadoes are violently rotating columns of air that descend from thunderstorms and contact the ground. While most tornadoes develop during Alabama's two peak severe weather seasons — the spring and fall — they can occur any time of the year and at any time of the day. You should be prepared for tornadoes any time the National Weather Service says there's a risk.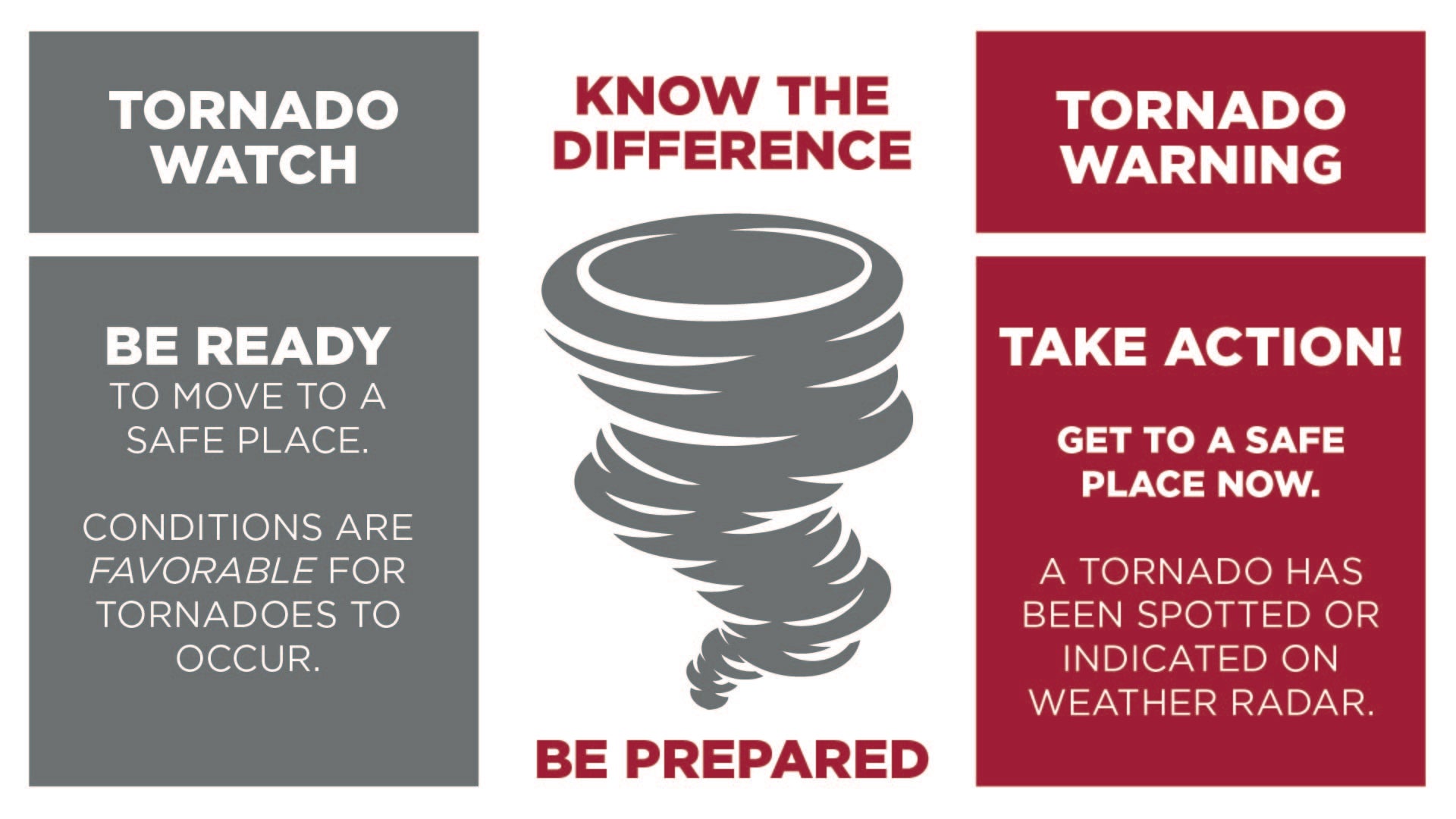 Tornado Watch vs. Tornado Warning
The University will issue a UA Alert for all tornado watches and warnings.
If Tuscaloosa County is placed under a tornado watch, here's what you should do:
Don't panic. A tornado watch means that a tornado could form in or near the watch area. It does not mean that a tornado has formed.
Pay attention to the weather. Make sure you have a way to receive information about a tornado warning if one is issued. The UA Safety app provides weather information for Tuscaloosa County, as well as UA Alerts.
Make sure your mobile devices are charged should a storm knock out electricity.
Review your personal emergency plan and check your supplies.
Tell others about the tornado watch.
Be prepared to go to a campus storm shelter or Best Available Refuge Area if a tornado warning is issued.
When a tornado watch is issued, classes and campus events will continue as scheduled. Crimson Ride buses will also continue to operate.
While tornado watches are generally issued for a large area and include several counties, tornado warnings are issued for a small area.
If the UA campus is included in a tornado warning, it means a tornado has been seen or indicated on weather radar. There is danger to life and property. You should:
Immediately go to a campus storm shelter or BARA. There is a BARA in each building.
Remain in the shelter or BARA until the tornado warning expires or is canceled by the National Weather Service.
If you are not on campus, go to an interior room, away from windows, on the lowest floor of a sturdy building. If you live in an apartment on an upper floor, you should move to the lowest level.
Do not stay in a mobile home or car during a tornado warning.
During a tornado warning, all classes and campus events are suspended. Campus Ride buses will stop operating, and drivers will direct passengers to take shelter in the nearest building.
Classes that are in session when a tornado warning is issued can resume immediately after the warning has expired at the discretion of the instructor. Classes that have not yet begun when the warning is issued will resume 30 minutes after the warning has expired provided at least half of the class period remains.
Watch the video below to learn more about what to do in a tornado warning.