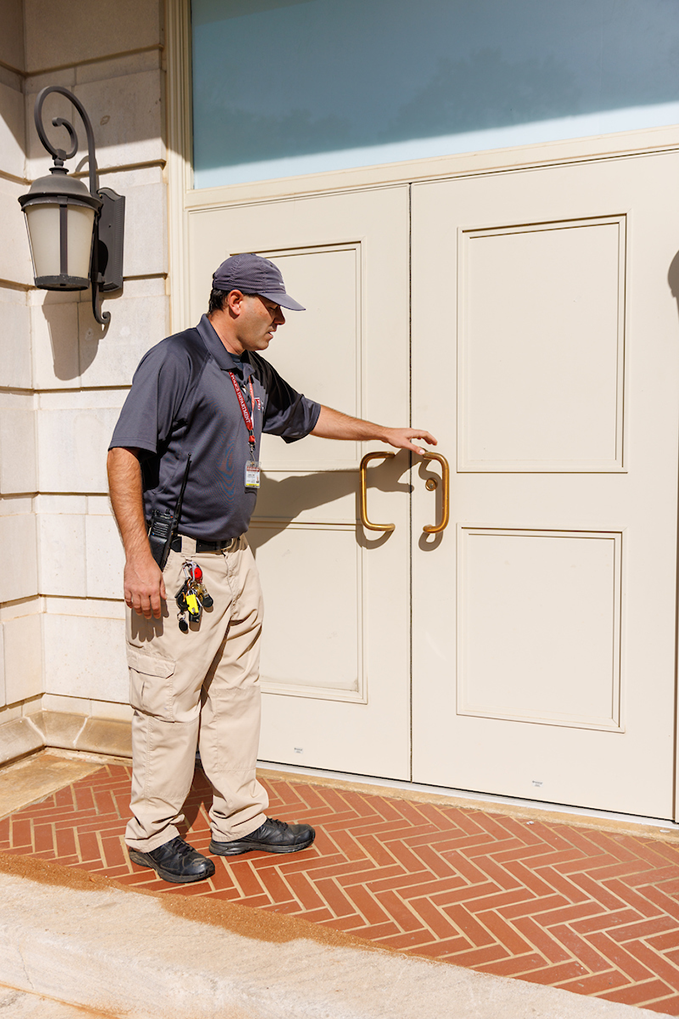 People, property, protection. These are the three elements that Security Resources prioritizes in its mission to maintain safety at The University of Alabama.
Working alongside University police, Security Resources serves as the eyes and ears for the UA Police Department. The staff works year-round, patrolling, monitoring and reporting anything and everything out of the ordinary.
While not sworn officers, Security Resources Assistants, or SRAs, are held to the same standard of testing and expectation as UAPD officers. They do not have arresting or ticketing powers, nor do they intervene in criminal matters, but they do have a direct, constant line of communication with UAPD. They are the unsworn sector of the police department — tasked to observe, report and avoid escalation.
"We have some people who are constantly alert and constantly monitoring both physically and electronically," said Michael Lee, operations manager for Security Resources. "We see things 24/7, 365."
Security Resources provides assistance, aids in student security, and maintains safety on campus so students, faculty, staff and visitors can feel comfortable.
But how does the department help keep over 40,000 people and 300 facilities safe?
The answer is seemingly simple: constant monitoring.
SRAs can be seen patrolling the campus day and night. "[Patrol] is not a situation where our guys and gals can drive by, look and say it looks good," Lee said. During their 12-hour shifts, SRAs will generally spend 10 hours walking through their zones, checking the status of facilities in all corners of campus.
Kelsey Neal, an SRA, prefers to spend most of her time patrolling campus. Throughout the day, all the buildings are walked through at least once, all locks and windows are checked, and anything that would require attention is reported.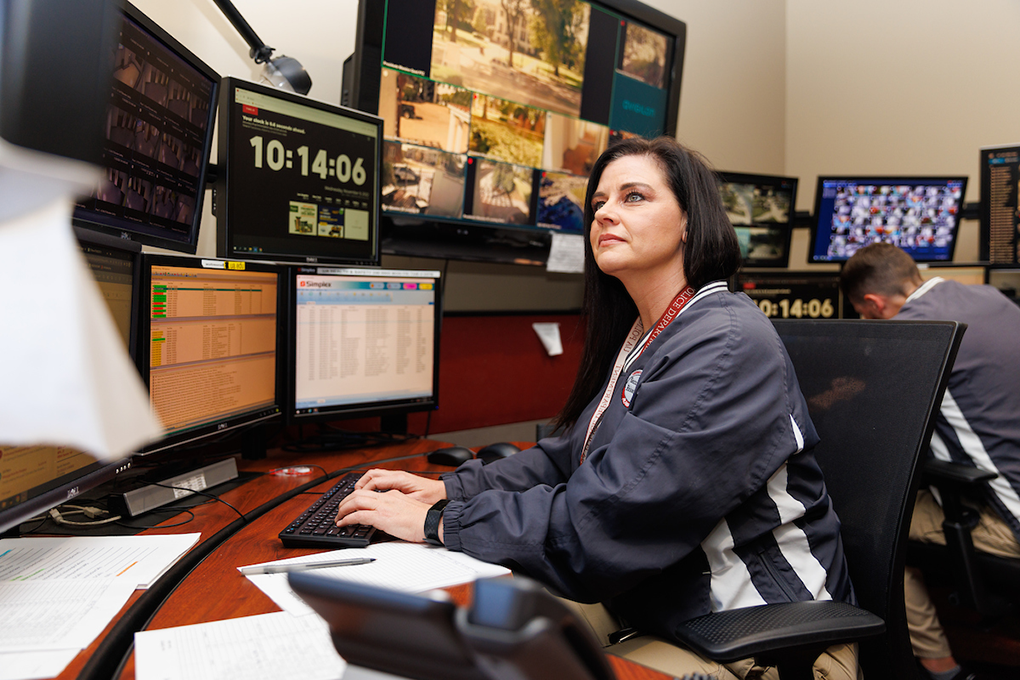 However, Neal's favorite aspect of her position is being able to help people. "If there's something, don't be afraid to approach us," she said. Guiding students to classes, retrieving lost items and the like are bonuses to her position.
SRAs who are not patrolling campus spend their shift in the central monitoring room, where they can view camera feeds from across campus. Andrew O'Neal typically enjoys his shifts working communications from within the central monitoring room. In his position, O'Neal takes phone calls, notes the locations of those in the field, sends SRAs around campus, and even helps MAPs with automobile services.
He wants students to know that Security Resources is just another aspect of the University, meant to aid in whatever they might need. "We're just helpers," O'Neal said. "We aren't set out to get people in trouble."
As a former police lieutenant, Lee understands the importance of noticing everything. "A lot of our training mirrors what UAPD does because we want to be in sync with them."
"We do a good job of staying in our lane," he said. "We don't do physical stuff, but we report everything no matter how simple it appears."
From student safety to protecting campus property, Security Resources is a group of unsung heroes always ready to help.
If you ever find yourself needing a hand around campus, give Security Resources a call at 205-348-9494 and someone will be happy to help you.