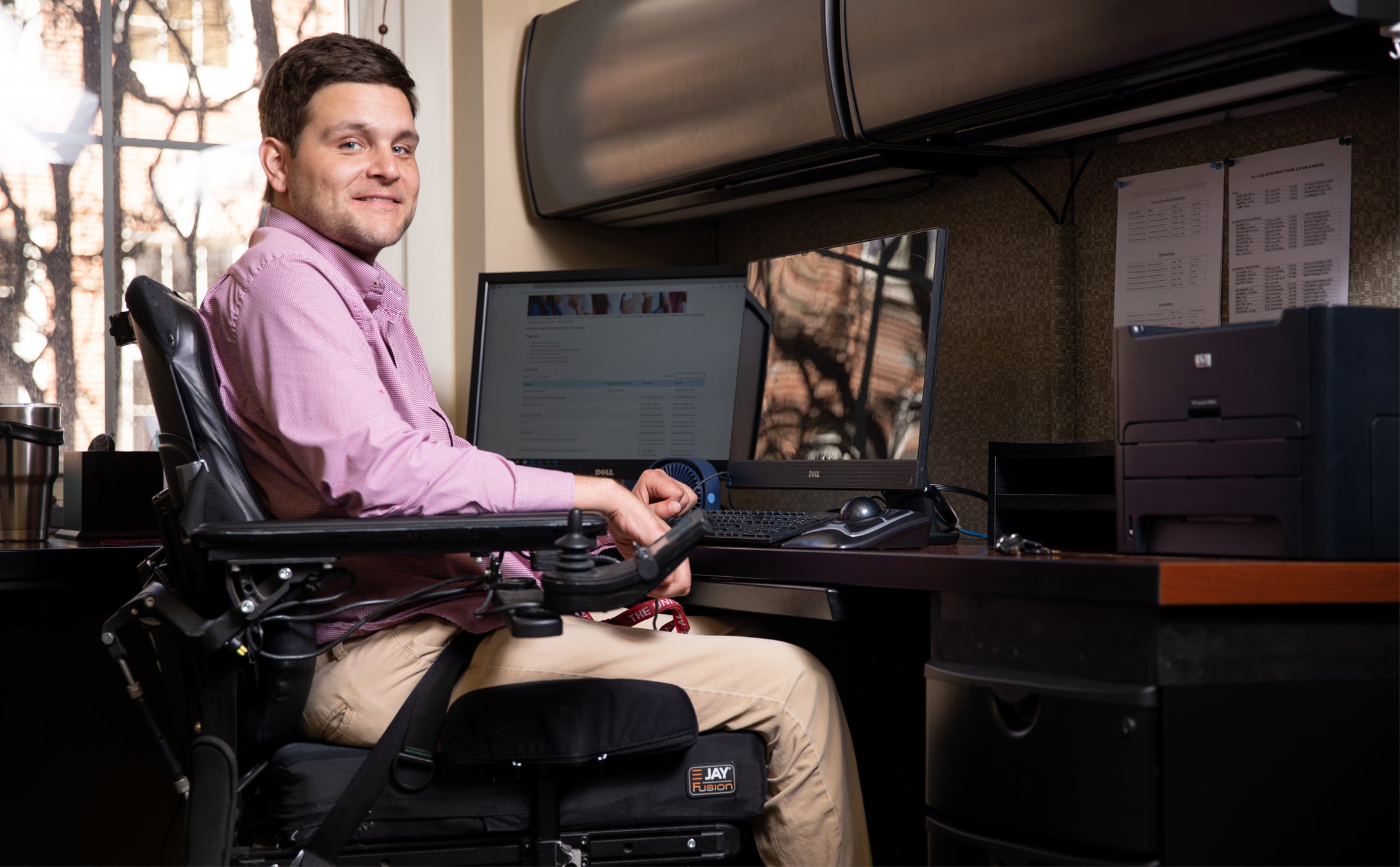 October is National Disability Employment Awareness Month. For its efforts to employ individuals with disabilities through the University Enable Program, UA recently received the Alabama Governor's Committee on Employment of People with Disabilities Large Business Employer of the Year.
Patrick Kimbrell describes himself as a blue-collar worker early in his professional career. For many years the Jasper native worked in the steel industry and owned a landscaping business. But his life changed forever on Aug. 2, 2015, when he was involved in a serious car accident that left him paralyzed below the chest.
Following the accident Kimbrell spent several years adjusting to his new normal. He uses a wheelchair to get around and although he can't use his hands, he has some movement in his arms.
With a strong, lifelong engrained work ethic, Kimbrell sought employment through the Alabama Department of Rehabilitation Services. He wasn't having much luck until June 2021 when he learned about a new collaboration between ARDS and UA.
"My contact with the state told me about a new partnership between the agency and The University of Alabama that would allow me to work again," recalled Kimbrell. "I simply replied, 'Roll Tide,' because I was all about the opportunity."
Kimbrell was the first participant in UA's Work Based Learning Experience, a program that offers a time-limited, on-site job training for individuals with a variety of disabilities. The goal of WBLE, part of the University Enable Program, is to provide individuals with disabilities work-based learning to improve awareness of the world of work; enhance knowledge, skills and abilities; and increase competitiveness for future employment.
"I describe the program as life-changing. I've been a much happier person being back in the working world because it's allowed me to feel somewhat normal again."
Although employment with the University is not guaranteed by participating in the program, Kimbrell and six other WBLE participants have become UA employees.
Kimbrell started as an office associate with the department of human development and family studies. He credits Jaime Mitchell, HR business partner with UA Human Resources, and Beth Sherman, administrative coordinator with the UA College of Human Environmental Sciences, with providing an accommodating workspace that allowed him to reach his full potential.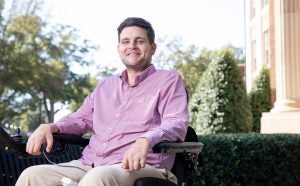 "Beth and Jaime went above and beyond to not only ensure I had the supplies and technology I needed but also made sure I could move around the office to perform different tasks," said Kimbrell. "They moved filing cabinets, the copier and even a refrigerator to provide better access.
"They were also very transparent and open to any questions I had. I was really blessed to be put in that position and once I had everything I needed, there was no turning back."
Kimbrell would perform various administrative duties to assist the department and Chair Robert Laird. He was also able to use his knowledge of construction to recommend how the department could best utilize office space.
Since starting with UA, Kimbrell has been elevated in his position and worked with the Children's Program following his time with the department of human development and family studies and is currently working with the College of Education. He has also become a strong advocate for the program and often promotes it to others he's met through rehab.
"Any chance I get, I'm telling those in similar situations to reach out to WBLE because they're working magic," said Kimbrell. "It doesn't matter your disability or situation because they'll find you a job you're able to successfully perform.
"I describe the program as life-changing. I've been a much happier person being back in the working world because it's allowed me to feel somewhat normal again."
Contact
Bryant Welbourne, UA Strategic Communications, bryant.welbourne@ua.edu
The University of Alabama, part of The University of Alabama System, is the state's flagship university. UA shapes a better world through its teaching, research and service. With a global reputation for excellence, UA provides an inclusive, forward-thinking environment and nearly 200 degree programs on a beautiful, student-centered campus. A leader in cutting-edge research, UA advances discovery, creative inquiry and knowledge through more than 30 research centers. As the state's largest higher education institution, UA drives economic growth in Alabama and beyond.