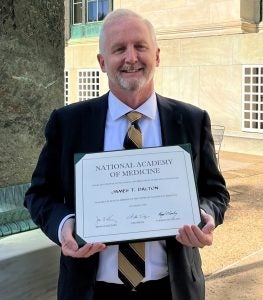 TUSCALOOSA, Ala. — University of Alabama Executive Vice President and Provost James Dalton was formally inducted into the National Academy of Medicine during a ceremony Oct. 15 in Washington, D.C.
A member of the 2019 class, Dalton is UA's first and only member of the National Academies of Sciences, Engineering and Medicine. He was honored alongside fellow class members as well as those in the following two classes. The COVID-19 pandemic delayed a formal ceremony recognizing recent members.
Dalton's induction was driven by his prolific career in drug discovery and the pharmaceutical sciences. Prior to joining UA, he served as dean and professor of pharmaceutical sciences at the University of Michigan College of Pharmacy.
Dalton and his team discovered a new class of drugs known as selective androgen receptor modulators, or SARMs, and were the first to report their structure, pharmacologic activity, and their crystal structure when bound to the androgen receptor. SARMs are currently in late-stage clinical trials for the treatment of breast cancer and might also be innovative treatments for muscle wasting, cachexia, age-related frailty/sarcopenia and hypogonadism.
"I am incredibly honored to have been elected and inducted to the National Academy of Medicine for our work on selective androgen receptor modulators, especially for the recognition that it brings to the many graduate students, postdoctoral fellows, faculty and peers that I collaborated with along the way to make it possible," said Dalton.
In addition to his membership in the National Academy of Medicine, Dalton is also a fellow of the American Association for the Advancement of Science and the American Association of Pharmaceutical Scientists.
Dalton is named on more than 400 U.S. and international awarded and pending patent applications and has co-authored more than 300 original abstracts and peer-reviewed scientific manuscripts.
Election to the National Academy of Medicine is considered one of the highest honors in the fields of health and medicine and recognizes individuals who have demonstrated outstanding professional achievement and commitment to service.
Established originally as the Institute of Medicine in 1970 by the National Academy of Sciences, the National Academy of Medicine addresses critical issues in health, science, medicine, and related policy and inspires positive actions across sectors. It works alongside the National Academy of Sciences and National Academy of Engineering to provide independent, objective analysis and advice to the nation and conduct other activities to solve complex problems and inform public policy decisions.
Contact
Bryant Welbourne, UA Strategic Communications, bryant.welbourne@ua.edu, 205-348-8325
The University of Alabama, part of The University of Alabama System, is the state's flagship university. UA shapes a better world through its teaching, research and service. With a global reputation for excellence, UA provides an inclusive, forward-thinking environment and nearly 200 degree programs on a beautiful, student-centered campus. A leader in cutting-edge research, UA advances discovery, creative inquiry and knowledge through more than 30 research centers. As the state's largest higher education institution, UA drives economic growth in Alabama and beyond.