In the relentless pursuit to create the best learning and teaching environments for students and faculty, The University of Alabama has made a concerted effort to reduce undergraduate class sizes in recent years. According to the latest enrollment census data, UA has made significant strides in this area.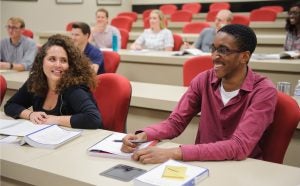 In fall 2020, 36% of the University's undergraduate classes were offered with fewer than 20 students. Today, that number stands at 48%, almost half of all undergraduate classes and a 12% increase in the past two years.
"My highest priority is to make sure that every UA student can be successful," said Dr. James Dalton, UA executive vice president and provost. "Smaller class sizes increase the chances of students getting to know their classmates, provide a more welcoming venue to discuss ideas and share perspectives, and foster greater one-on-one interactions between students and faculty."
Smaller class sizes are advantageous for students and faculty as both groups can better engage in conversation regarding course materials and build relationships.
"The effort to lower class sizes is tied to a wider effort to continuously improve instruction," said Dr. Peter Hlebowitsh, dean of the UA College of Education. "Smaller classes increase the possibilities for student participation, deep conversation, and more responsive teaching methods, all with the effect of lifting achievement."
As UA has increased the number of classes with smaller sizes, class sections with 50 or more students have decreased.
"UA set a record for enrollment this fall, and I'm thrilled that we were also able to set a record for small class sizes," said Dalton. "It's a great way to assure that students have a small college experience while also benefitting from the abundant opportunities that a research-intensive flagship university like UA offers."