Whether interviewing for a job, attending a networking event like a Career Fair, or giving a presentation, dressing for success is key. But professional business attire can be expensive, especially for college students.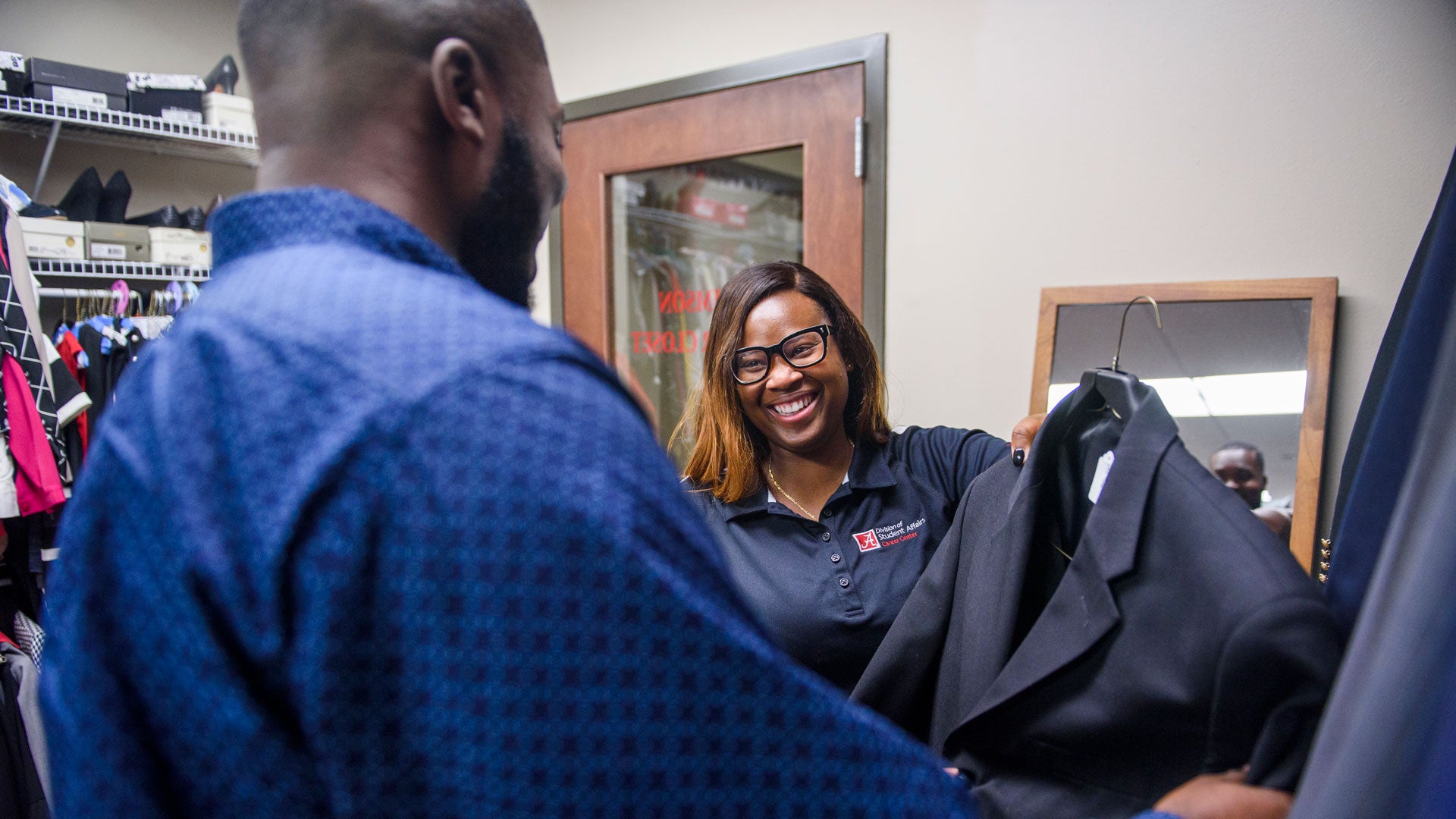 The Denise and Chandler Root Crimson Career Closet was created so financial constraints would never stop a student from putting their best foot forward.
Located in The University of Alabama Student Center, the closet offers professional business attire for students and alumni to borrow at no cost. Originally an SGA initiative, the Root Crimson Career Closet became a part of the Career Center in 2017. Since its launch, countless budding professionals have benefitted from the program.
"We want our students to know that there is a place where they can find clothing without having to worry about anything," Dr. Schernavia Hall, executive director of the Career Center, said. "When a student walks in, we ask them what they are looking for and how we can help without any judgment."
Upon entering the closet, students and alumni are greeted by friendly student workers who help them find the perfect look. Appointments are preferred and can be scheduled through Handshake. Students in good academic standing with no overdue clothing items may check out up to four pieces at a time. Items may be kept for up to seven days and may be returned at any time during normal business hours.
"On my way to the job interview, I stopped by to borrow an outfit. And I ended up getting the job."
The closet boasts a wide variety of sizes and styles to be as inclusive as possible. Dozens of blazers, button-down shirts, slacks, dresses and more can be found in the closet. There are even several pairs of dress shoes, belts and pocket squares available to borrow.
The closet has had a significant impact on individuals like sophomore Christian Williams, who took advantage of the closet as he was preparing for job interviews.
"The first time I came here, I was dressed in business casual for a job interview. I didn't realize until I was walking to the interview that I needed to be in business professional," Williams said. "My friend had mentioned the closet before. So, on my way to the job interview, I stopped by to borrow an outfit. And I ended up getting the job."
The closet is named after Denise and Chandler Root, whose son, Brendan, attends UA. The Roots made a significant gift to the closet in 2022 to help expand its impact, knowing the importance of preparing students for life after graduation.
Donations of new and gently used professional clothing as well as monetary donations are accepted as well. Learn more on the Root Crimson Career Closet website.
The University of Alabama, part of The University of Alabama System, is the state's flagship university. UA shapes a better world through its teaching, research and service. With a global reputation for excellence, UA provides an inclusive, forward-thinking environment and nearly 200 degree programs on a beautiful, student-centered campus. A leader in cutting-edge research, UA advances discovery, creative inquiry and knowledge through more than 30 research centers. As the state's largest higher education institution, UA drives economic growth in Alabama and beyond.