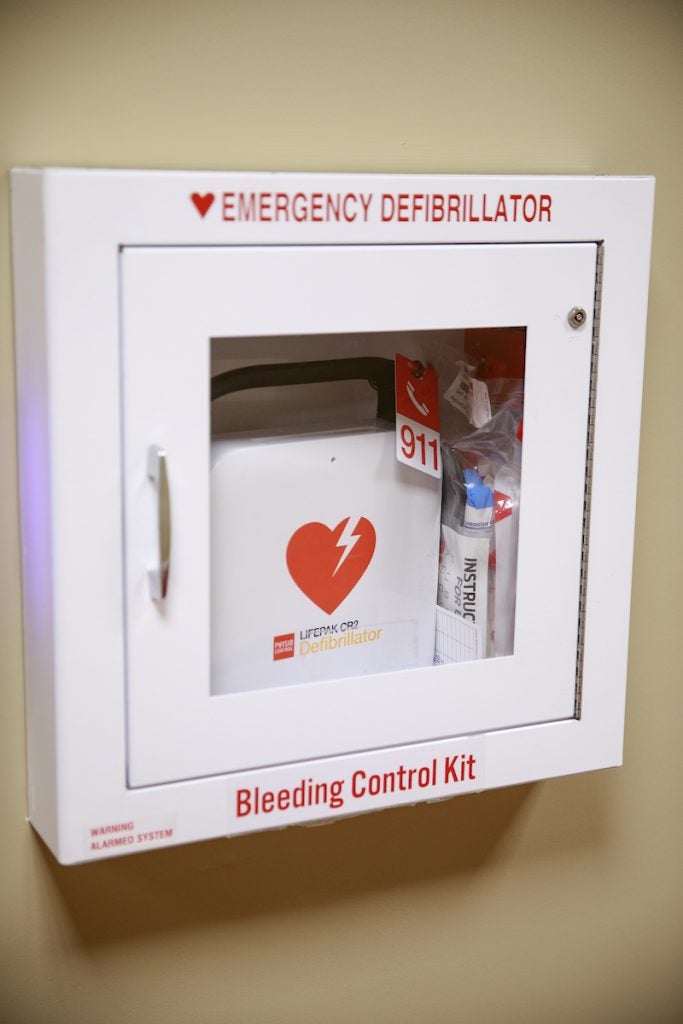 The actions you take when someone is having a medical emergency could save a life!
If you see someone having a medical emergency, immediately call 911. UAPD will likely be the first to respond to any emergency on campus.
When you call for help, remember the following:
Do not move the victim, except away from life-threatening conditions.
Stay with the victim until help arrives.
Give the dispatcher complete directions to the victim's location.
Describe what happened.
Stay on the line until the dispatcher tells you to hang up.
Stay back and keep others out of the way of emergency officials.
Before you leave the scene, check with a police officer to see if further information is needed.
If someone is having a heart attack, you can quickly locate automated external defibrillators, or AEDs, in each building, by using the UA Safety App, the UA campus map, or on Building Emergency Plans, which can be found near exits and elevators in each building.
The AEDs include simple graphics and automated features to help users remain focused during an emergency. Clear, calm voice directions guide the user through step-by-step instructions during the entire rescue process.
In addition to AEDs, UA has implemented a "Stop the Bleed" campaign through bleeding control kits. These kits are in AED cabinets marked with a visible sticker.
Bleeding control kits are not intended to be a substitute for traditional first aid kits. They are intended to be used in emergency situations where life-threatening bleeding exists and first responders are not immediately available.
Remember, for personal medical emergencies go to DCH Regional Medical Center, located on University Boulevard across from the Capstone College of Nursing. DCH has a 24-hour emergency department.
For more information on what to do in a significant emergency or dangerous situation on campus, visit ready.ua.edu and follow UA's Office of Emergency Management on Twitter @UA_Safety.
Safety Reminder: UA Alert System Test
Weather permitting, the University will test its emergency notification systems, including UA Alerts, the public address system and digital signage, Wednesday, Aug. 3, at 11:55 a.m.
The University of Alabama, part of The University of Alabama System, is the state's flagship university. UA shapes a better world through its teaching, research and service. With a global reputation for excellence, UA provides an inclusive, forward-thinking environment and nearly 200 degree programs on a beautiful, student-centered campus. A leader in cutting-edge research, UA advances discovery, creative inquiry and knowledge through more than 30 research centers. As the state's largest higher education institution, UA drives economic growth in Alabama and beyond.