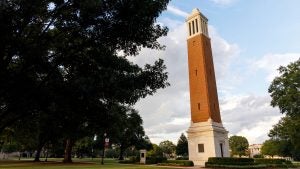 TUSCALOOSA, Ala. — In recognition of the valiant efforts of sworn officers who provide duties on and adjacent to The University of Alabama campus benefitting faculty, staff, students and visitors, the University has created the Sworn Officer Scholarship Program for local sworn officers and their children.
The Sworn Officer Scholarship Program will offer scholarships to selected students who are either eligible sworn officers or the children of sworn officers of the Tuscaloosa Police Department, Tuscaloosa Fire Rescue, Tuscaloosa County Sheriff's Office, Northport Police Department and Northport Fire Rescue beginning with incoming freshmen in fall 2023.
The program will offer scholarships with a value of up to $2,500 each academic year to selected students. For students enrolled full time, this value can be up to $10,000 over four years. Students who are below full time may be awarded comparable amounts based on credit hours taken. Further details are available on the Office of Enrollment Management's website.
The scholarship program grew from the collaborative efforts of UA and the city of Tuscaloosa to further support and honor sworn officers who provide invaluable service and support to the University community and beyond every day.
"An investment in public safety is an investment in our entire community," said UA President Stuart Bell. "This scholarship program acknowledges the impact sworn officers have and shows our great appreciation for their dedication."
Area leaders shared their thoughts on the new scholarship program:
LaShonda Kemp, city of Tuscaloosa chief human resources officer, said: "We are excited about this agreement created together with The University of Alabama to offer educational opportunities not only to our sworn police officers and firefighters, but also to their children. This partnership with the Capstone will go a long way toward making college affordable for the families of those who spend their days in service to others."
Tuscaloosa County Sheriff Ronald Abernathy said: "On behalf of the men and women of the Tuscaloosa County Sheriff's Office, I would like to thank The University of Alabama administration for supporting our public safety professionals. By providing the availability of scholarships to our sworn personnel, they are creating an additional avenue for higher education. This also creates a recruitment tool that can be a game changer for our community."
Northport Police Chief Gerald Burton said: "I believe this is a great benefit to law enforcement officers and our families. I would like to thank The University of Alabama and its leadership for recognizing and supporting local law enforcement in this manner. This amazing partnership will allow officers and their children to pursue their educational dreams and for this, I am thankful."
Northport Fire Rescue Chief Bart Marshall said: "At Northport Fire Rescue, we are committed to providing exceptional public safety services for our community. The Sworn Officer Scholarship Program presents a great opportunity for NFR members and their families to expand their educational resources. We are grateful to The University of Alabama for establishing this scholarship and are proud to be a part of this community."
Contact
Deidre Stalnaker, UA Strategic Communications, deidre.stalnaker@ua.edu, 205-348-8718
The University of Alabama, part of The University of Alabama System, is the state's flagship university. UA shapes a better world through its teaching, research and service. With a global reputation for excellence, UA provides an inclusive, forward-thinking environment and nearly 200 degree programs on a beautiful, student-centered campus. A leader in cutting-edge research, UA advances discovery, creative inquiry and knowledge through more than 30 research centers. As the state's largest higher education institution, UA drives economic growth in Alabama and beyond.