Fulbright Lifetime Achievement Award

Dr. Beverly Hawk, director of Global and Community Engagement in the Division of Community Affairs, is the recipient of the Alabama Fulbright Association Chapter's Lifetime Achievement Award. She is the first person to receive the award, which recognizes her many contributions and years of service to the Fulbright mission of mutual understanding through international educational exchange.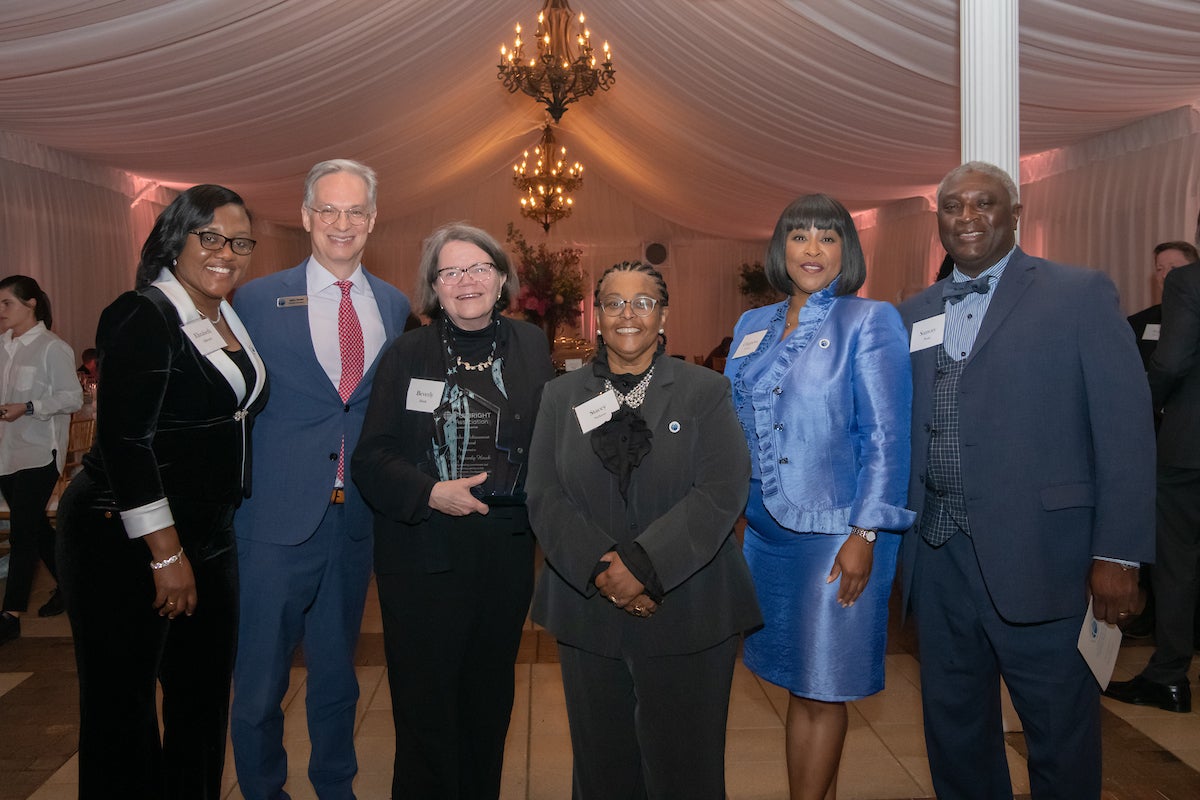 Left to right: Dr. Elizabeth Quansah, director, Auburn University Outreach Global; Dr. John Bader, executive director, national Fulbright Association; Dr. Beverly Hawk, director of Global and Community Engagement, University of Alabama Division of Community Affairs; Dr. Stacey Nickson, director, Center for Educational Outreach and Engagement, Auburn University, and a member of the National Fulbright Association Board of Directors; Dr. Chippewa Thomas, director of the Auburn University Office of Faculty Engagement and president of the Fulbright Association Alabama chapter; and Dr. Samory T. Pruitt, vice president for Community Affairs, The University of Alabama. Photo courtesy of Auburn University Photographic Services.
Outstanding Professional Awards
Each spring semester the Professional Staff Assembly recognizes two professional staff members for going above and beyond their regular duties and for exemplifying positivity, for bringing out the best in others, for offering innovative ideas and for creating conditions for success. This year's Outstanding Professional Awards were presented to Clifton Lewis, instructional media manager with Online Learning in the College of Continuing Studies, and Vaishali Patel, assistant director of student personnel development for University Recreation. 
Other Awards
Jeanine Brooks, director of the Action Card Office, has been presented with the NACCU J. Paul Melanson Award, named in honor of one of the founders of NACCU, the National Association of Campus Card Users. Recipients of this award are identified by the NACCU Board of Directors at their discretion and this award is not presented every year. Brooks is the first woman to receive the award.  
Dr. Ravi Kumar, Distinguished University Research Professor and director of the Center for Convergent Bioscience and Medicine, was recognized with the McCormick Science Institute Research Award by the American Society for Nutrition and the ASN Foundation. The award is endowed by the McCormick Science Institute.  
Dr. Robert McKinney, assistant professor and director of the University Medical Center Office of Case Management and Social Services, received the Samuel R. Robinson Community Service Award. This annual award is given to a community member who has gone above and beyond in service to the agency and its clients. Five Horizons Health Services is a nonprofit community-based organization that provides services to West Alabama and East Mississippi, including a variety of services for populations in need of specialized or general care. 
Dr. Stephanie Anne Shelton, associate professor of qualitative research, College of Education, is a 2023 recipient of The Divergent Award for Excellence in Literacy Advocacy. Established in 2019 by the Initiative for Literacy in a Digital Age, The Divergent Award for Excellence in Literacy Advocacy recognizes an individual(s) or groups using digital spaces to advocate for literacy, students and equity in all facets of academia. Shelton is program coordinator of the Educational Research Program and an affiliate faculty member in the department of gender and race studies and the Gifted Education Program.  
Dr. Doris Sung, assistant professor, art and art history, received an "Honorable Mention for research in the history of art after 1750" for the William R. Levin Award for Research in the History of Art, an award offered through the Southeastern College Art Conference, to support her book project, "Women of Chinese Modern Art: Gender and Reforming Traditions in National and Global Spheres, 1900s–1930s." 
Daniel White, director of the Paul R. Jones Museum and The University of Alabama Gallery, was appointed to the board of Kentuck Art Center. 
The Division of Strategic Communications was recognized with 17 American Advertising Awards, or ADDYs, from the American Advertising Federation of Tuscaloosa in 2022. The division earned eight gold awards in the categories of photography, TV commercials, websites, direct mail 3-D/mixed, invitations/announcements, and campaigns. The division earned seven silver awards in the categories of illustrations, digital publications, magazine design, sales kits/product information sheets, internet commercials, product or service sales promotion campaigns, and events. Additionally, the division received the Judge's Choice Award, Mosaic Award and Best of Show.
The department of communications in the Division of Strategic Communications recently won four awards from the Public Relations Council of Alabama for outstanding work produced in 2021. The Year in Review publication received a Medallion Award as well as the Judge's Choice Award. The Protect Our Herd vaccination campaign won a Medallion Award, and the Everyday Champions series won an Award of Excellence.
Exhibitions
Jason Guynes, chair and professor, art and art history, had a solo exhibition, "Unrealism," at The Arts Council Gallery in Tuscaloosa. Guynes had work juried into the "B22 Wiregrass Biennial" at the Wiregrass Museum of Art in Dothan.   
Holland Hopson, assistant professor, art and art history, had work juried into the "B22 Wiregrass Biennial" at the Wiregrass Museum of Art in Dothan. 
Publications
Yonathan A. Arbel, associate professor, Law School, coauthored "Contracts in the Age of Smart Readers," 90 George Washington Law Review 83-146 (2022). 
Casey E. Faucon, assistant professor, Law School, published "Assessing Amateurism in College Sports," 79 Washington and Lee Law Review 3-99 (2022). 
The University of Alabama, part of The University of Alabama System, is the state's flagship university. UA shapes a better world through its teaching, research and service. With a global reputation for excellence, UA provides an inclusive, forward-thinking environment and nearly 200 degree programs on a beautiful, student-centered campus. A leader in cutting-edge research, UA advances discovery, creative inquiry and knowledge through more than 30 research centers. As the state's largest higher education institution, UA drives economic growth in Alabama and beyond.