One of the most successful student teams at The University of Alabama is gearing up to win another national title.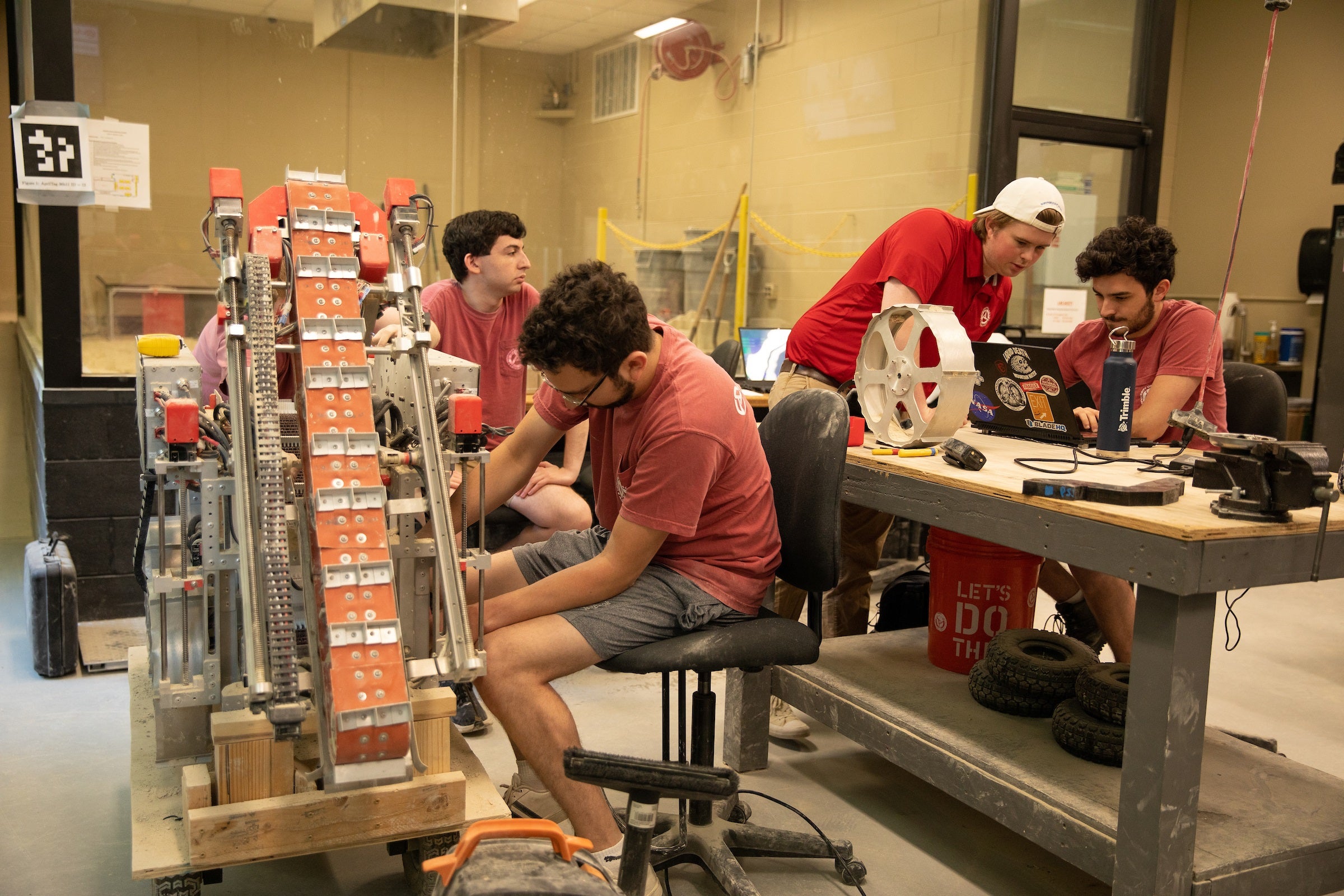 Members of the Alabama Astrobotics team prepare for a test of the robot on campus ahead of the NASA contest.
Alabama Astrobotics is returning to Kennedy Space Center in Florida to defend its string of national titles in a contest that challenges students to design and build a robot capable of mining, collecting and depositing simulated ice from the moon.
UA's team has won seven out of the past nine NASA Robotic Mining Competitions, including last year.
"Every student on the team has risen to the challenge," said Dr. Ken Ricks, team adviser and associate professor of electrical and computer engineering. "This takes a lot of work, a lot of volunteer hours that don't count for academic credit, but the team has worked hard on this engineering challenge."
RMC: Lunabotics 2022 aims to train university students in the methods of NASA systems engineering, while designing, building and operating lunar excavator prototypes. In order to have a sustainable presence on the moon, it will be necessary to excavate lunar soil, known as regolith, to extract local resources to use as building materials, water or even rocket fuel.
The competition is a part of the Artemis Student Challenges, designed to engage and retain students in STEM fields by expanding opportunities for student research and design in the areas of science, technology, engineering and math. The project provides a competitive environment to foster innovative ideas and solutions that potentially could be used on future NASA missions to the moon or even Mars.
About 50 UA students from engineering, computer science and other areas across campus have worked to design, build and program this year's robot while also leading outreach activities. The students get hands-on experience while learning to work on a larger project.
"The real-world aspect of this is something you don't get in your classes," said Calvin Booth, team lead and a junior studying mechanical engineering from Atlanta. "I've built my tech skills, but being in leadership has also given me experience in managing a project."
UA's robot is designed to operate autonomously during the contest, and NASA added new obstacles this year for robots to navigate while trying to mine. The challenge this year required the team to build a smaller robot with more sensors and computing power than in years past, Booth said.
Many of the students have internships and jobs lined up with companies connected to the contest such as Caterpillar, which is the contest sponsor, and other companies connected to the space industry such as United Launch Alliance.
"The students see the benefit in the relationships with companies formed during this process," Ricks said. "Companies want to talk about this type of extracurricular experience because of how that classroom knowledge is applied."
Contact
Adam Jones, UA Strategic Communications, 205-348-4328, adam.jones@ua.edu
The University of Alabama, part of The University of Alabama System, is the state's flagship university. UA shapes a better world through its teaching, research and service. With a global reputation for excellence, UA provides an inclusive, forward-thinking environment and nearly 200 degree programs on a beautiful, student-centered campus. A leader in cutting-edge research, UA advances discovery, creative inquiry and knowledge through more than 30 research centers. As the state's largest higher education institution, UA drives economic growth in Alabama and beyond.