Whether you're planning to soak up some rays while studying on the Quad or you're looking forward to a beach vacation this summer, make sure to protect your skin from the sun.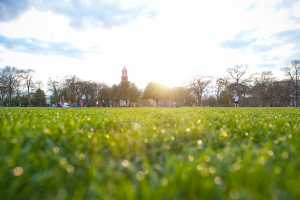 Ultraviolet radiation can result in a painful sunburn and lead to more dangerous health problems, including premature skin aging, eye damage and immune system suppression. It can also lead to skin cancer, the most common form of cancer in the U.S.
Protect your skin with these tips:
Enjoy the sun, but don't get burned. Sunburns increase your risk of skin cancer.
Avoid sun tanning and tanning beds.
When you're going to be in the sun, apply a generous amount of sunscreen with a Sun Protection Factor (SPF) of at least 15. Reapply sunscreen every two hours and after you sweat or go swimming.
Wear protective clothing like a long-sleeved shirt, pants and a wide-brimmed hat.
Stay in the shade when possible.
Check the UV Index for your area and avoid the sun when the index is a seven or higher.
Everyone is encouraged to practice skin cancer prevention on Friday, May 27, which is "Don't Fry Day." To learn more about sun safety, visit the Environmental Protection Agency's website.
Safety Reminder: UA Alert System Test:
Weather permitting, the University will test its emergency notification systems, including UA Alerts, the public address system and digital signage, Wednesday, May 4, at 11:55 a.m.
The University of Alabama, part of The University of Alabama System, is the state's flagship university. UA shapes a better world through its teaching, research and service. With a global reputation for excellence, UA provides an inclusive, forward-thinking environment and nearly 200 degree programs on a beautiful, student-centered campus. A leader in cutting-edge research, UA advances discovery, creative inquiry and knowledge through more than 30 research centers. As the state's largest higher education institution, UA drives economic growth in Alabama and beyond.