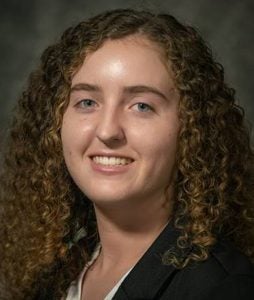 TUSCALOOSA, Ala. — The Barry Goldwater Scholarship and Excellence in Education Program has selected a student from The University of Alabama as a Goldwater Scholar for 2022-2023.
Jules Bates, a Randall Research Scholar and UA Honors College student from Pace, Florida, studying chemical engineering is the 60th UA student to receive the prestigious Goldwater Scholarship.
Bates has worked under Dr. Y. John Kim, departmental undergraduate program director and associate professor of chemical and biological engineering, elucidating the best modes of neural stem cell therapy for treating neurological disorders such as epilepsy. According to Bates, these new strategies will not only give hope to those with neurological disorders who can't be treated through conventional routes, but also provide a broad societal impact for those who suffer from other refractory neurodegenerative diseases.
"I first became interested in research through a two-year biotechnology program at Pace High School where I learned how living organisms can be used to manufacture products for health care," said Bates. "This window into research and the medical field inspired me to apply for UA's Randall Research Scholars Program, which provided beneficial experience in biomedical research and exposed me to the diverse research interests of students in the program."
Outside of research, Bates was a clarinetist in the UA Symphonic Band and a volunteer at the Wildlife Sanctuary of Northwest Florida. Her parents are Jim and Mindy Bates.
Bates plans to pursue a doctorate in biomedical engineering and research biomechanics, biomaterials and neural engineering with the goal of serving industries developing biomedical solutions for human needs.
The UA Office of External Scholarships and Fellowships assists students in the pursuit of national and international awards including the Goldwater, Rhodes, Marshall and Boren, among others. Students interested in applying for awards that require an institutional endorsement can learn more on the External Scholarships and Fellowships website.
Contact
Bryant Welbourne, UA Strategic Communications, bryant.welbourne@ua.edu, 205-348-8325
The University of Alabama, part of The University of Alabama System, is the state's flagship university. UA shapes a better world through its teaching, research and service. With a global reputation for excellence, UA provides an inclusive, forward-thinking environment and nearly 200 degree programs on a beautiful, student-centered campus. A leader in cutting-edge research, UA advances discovery, creative inquiry and knowledge through more than 30 research centers. As the state's largest higher education institution, UA drives economic growth in Alabama and beyond.