If all goes according to plan, a graduate of The University of Alabama will soon be in space, having piloted a SpaceX craft to the International Space Station about 250 miles above the Earth.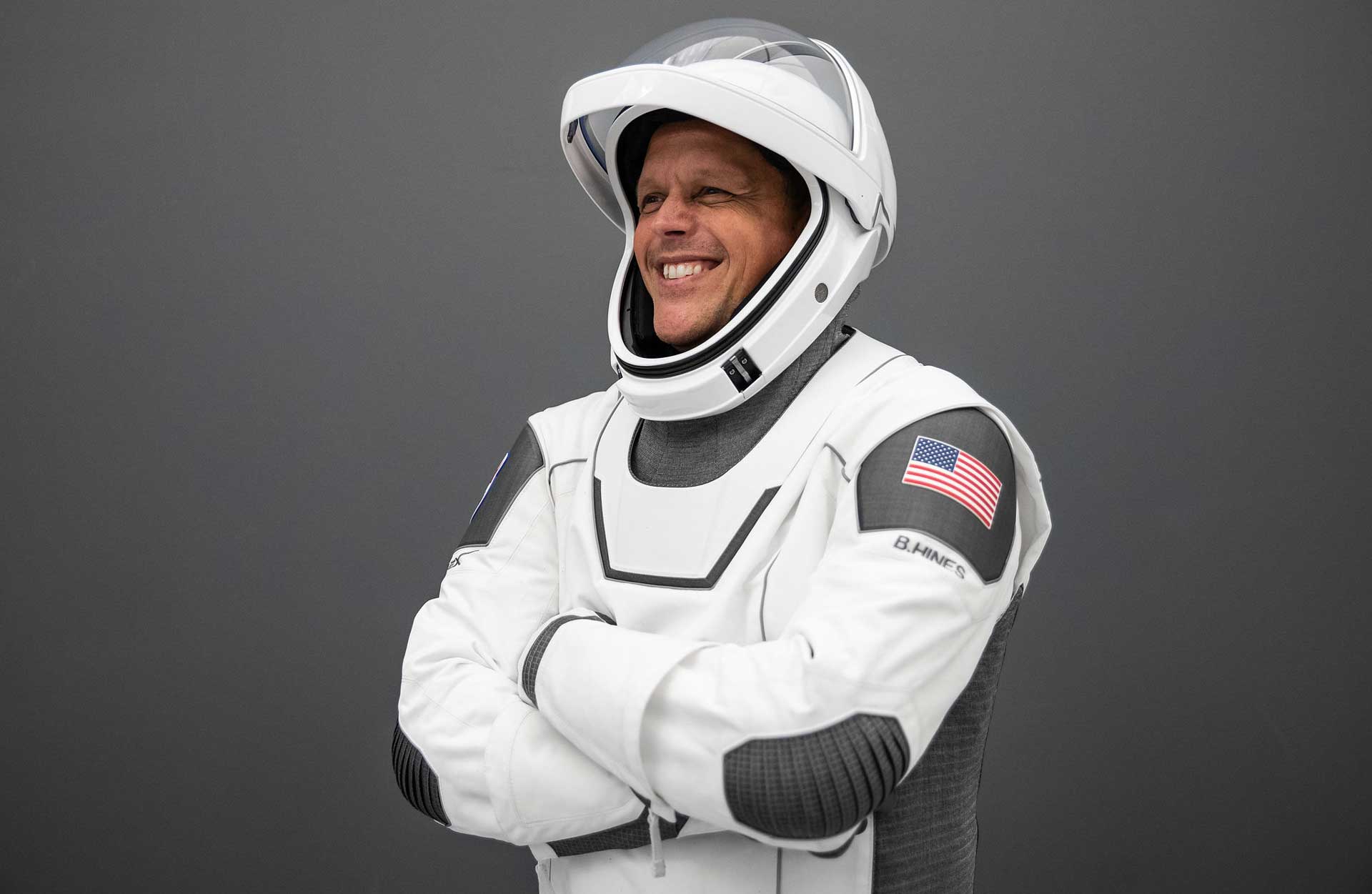 In his first flight to space, Bob Hines, a NASA astronaut, will pilot the SpaceX Crew-4 mission. He is responsible for vehicle performance and systems on its journey to the ISS, scheduled for April 27.
Originally from Harrisburg, Pennsylvania, Hines earned a master's degree in aerospace engineering from the University in 2010.
"I'm really excited. This is a boyhood dream," Hines said in a NASA news conference in March ahead of the rocket launch. "It's kind of surreal to be in a position like this. The first thing I want do when I get up there… once that the engine cuts off, I want to unstrap and go look out the window."
NASA's SpaceX Crew-4 mission is the fourth crew rotation flight to the ISS as part of NASA's Commercial Crew Program. It's targeted to launch no earlier than Wednesday, April 27, on a new SpaceX Crew Dragon, named Freedom, atop the company's Falcon 9 rocket from NASA's Kennedy Space Center in Florida.
Hines will be part of a science expedition mission on the space station along with planned work outside the station to modify power systems. The planned spacewalks will include Hines.
After 21 years in the United State Air Force, Hines was selected as one of 12 people in NASA's 2017 Astronaut Candidate Class out of 18,300 applicants.
He graduated with a bachelor's degree in aerospace engineering from Boston University in 1997 and went to earn his first master's degree from the U.S. Air Force Test Pilot School in 2008.
As he grew older, Hines wanted to not just fly aircraft, but also learn how they worked, so he delved deeper into engineering, joining UA's online aerospace engineering master's program.
"I needed a program that was flexible enough to handle the military lifestyle and to go with me wherever I moved," Hines said in a 2017 interview. "The distance learning at UA was the best fit for me, and the reputation of the engineering program there really appealed to me. Several test pilots recommended it to me.
"My time at Alabama was really important in laying down the foundation of what I needed as a test pilot and my astronaut career here as well."
Watching from Kennedy Space Center will be Dr. Rohan Sood, UA assistant professor of aerospace engineering and mechanics, who is invited by NASA to attend the launch. Sood is currently working with NASA on a research project.
"I am very thankful and honored by this amazing opportunity to attend the launch of Crew-4," Sood said. "I also look forward to personally being there to witness one of our very own University of Alabama graduates being the pilot of this mission."
Hines will be the second UA alumnus on a spaceflight after James Kelley, who similarly graduated with a distance master's degree in aerospace engineering in 1996 and went on to serve on two Space Shuttle missions.