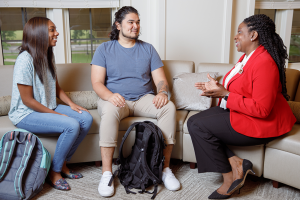 TUSCALOOSA, Ala. — The University of Alabama raised more funds than ever during its annual giving days, Bama Blitz. Alumni and supporters contributed 1,329 gifts totaling more than $6.1 million during the crowdfunded, social-media-driven campaign, surpassing a previous record of $3.6 million.
Bama Blitz, which began at noon April 19 and ended at noon April 21, showcased passion projects from UA colleges and schools while tallying gifts made in real time via online dashboards. The goal of Bama Blitz is to encourage giving at any level while highlighting unique and impactful projects that might otherwise go without funding.
"UA alumni, faculty and staff continue to generously give back to the Capstone, demonstrating their persistent commitment to our mission and our reach as an institution," said University of Alabama President Stuart R. Bell. "Every donation to Bama Blitz champions our students and enhances the Alabama experience."
All gifts to Bama Blitz are part of The Rising Tide Capital Campaign, a universitywide effort to elevate UA to new heights through enhancing scholarships, faculty endowments, facilities and athletics.
Bryant Bank matched gifts given to campus projects up to a total of $50,000, providing additional support to areas across campus. To date, Bryant Bank has matched $150,000 through its support of three annual giving campaigns.
"Giving is a part of who we are and we want to see our community do the same," said Claude Edwards, president of Bryant Bank. "By challenging others to give, we're able to increase the impact to the organizations we serve and create lasting connections in the community."
UA's faculty and staff giving campaign, We Are UA, also concluded on April 21 in conjunction with Bama Blitz. Both Bama Blitz and We Are UA are managed by the Office of Annual Giving and highlight the impact of a large number of small gifts. Of the gifts made online during Bama Blitz, 93% were $500 or less.
Some of the projects which surpassed their fundraising goals include:
Giving first-generation students in the Culverhouse College of Business the opportunity to study abroad.
Helping students in the School of Social Work participate in hands-on field placements across the state, which provide valuable job training and community service.
Kick-starting the creation of a specialized gym and other therapeutic environments to help youth who have experienced complex trauma at the Brewer-Porch Children's Center.
"Traditions like Bama Blitz and We Are UA significantly impact the culture of philanthropy," said Mary Beauchamp, director of annual giving. "The UA family continues to invest in our students in a legendary way."
The next Bama Blitz will be held in spring 2023.
Contact
Shane Dorrill, UA Strategic Communications, shane.dorrill@ua.edu
The University of Alabama, part of The University of Alabama System, is the state's flagship university. UA shapes a better world through its teaching, research and service. With a global reputation for excellence, UA provides an inclusive, forward-thinking environment and nearly 200 degree programs on a beautiful, student-centered campus. A leader in cutting-edge research, UA advances discovery, creative inquiry and knowledge through more than 30 research centers. As the state's largest higher education institution, UA drives economic growth in Alabama and beyond.