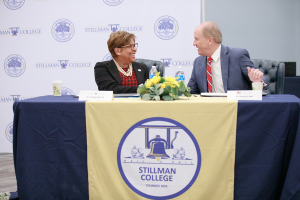 TUSCALOOSA, Ala. — Stillman College students have a new bridge to graduate school at The University of Alabama.
University of Alabama President Stuart R. Bell and Stillman College President Cynthia Warrick signed a memorandum of understanding that allows Stillman students, under particular conditions, to potentially take graduate-level courses at UA during their senior year, participate in early advising and immersion programs, and eventually matriculate to graduate school.
Administrators and faculty from both UA and Stillman College celebrated the 50th anniversary of a concurrent enrollment agreement between the two institutions on Thursday, March 31. The new graduate school pathways are an expansion of that agreement.
"It benefits students at both institutions when faculty members from UA and Stillman work in partnership, not only on joint student exchange but also potential research collaborations within their disciplines," Bell said. "These alliances are yet another benefit of our proximity to each other as neighbors and our longstanding relationship."
The agreement will help address the national trend of low representation of minority and first-generation students in graduate education, where Black students account for just 9.4% of first-time enrollees, according to the Council on Graduate Schools. Enrollment of Black students in STEM graduate programs — science, technology, engineering and math — is much lower, at just 6%. UA's numbers are higher at 14%, but UA is looking to open doors to increase diversity even further in its graduate programs.
"We're preparing our students for an ever-evolving workforce where graduate education can be vital to advancing their careers," Warrick said. "I'm proud of the hard work Stillman and UA leadership have done to make this agreement come to fruition and provide our students these opportunities."
The program framework and curricula are being developed through UA's Graduate School and participating departments across campus. Key components of the program will potentially include fully funded graduate assistantships, research-focused summer programs, early advising and accelerated master's programs. Each department will determine its own curriculum and program pathway for Stillman students, said Dr. Emmett Lodree, director of strategic graduate partnerships at UA.
Lodree said the program is still in its early stages, but he's working with the Culverhouse College of Business, School of Social Work and department of biological sciences, among others, to develop pathway programs, get Stillman seniors enrolled, and help Stillman students apply for funded graduate assistantships or fellowships.
On the near horizon, graduate programs in chemical and biological engineering, as well as other programs, have created summer intensive experiences for undergraduates from Stillman and other regional Historically Black Colleges and Universities, or HBCUs, which include working in labs and learning research methods. Students will receive stipends, as well as funding for meals and travel, and recruiting is underway, Lodree said.
"I remember being an undergraduate, not knowing what I wanted to do after graduation and later thinking, 'I wish someone would have told me about the grad program,'" Lodree said. "There are so many unique and rewarding opportunities at UA, and we're excited to begin connecting Stillman students to those opportunities."
The partnership with UA is Stillman's first comprehensive agreement that includes specific opportunities for Stillman students.
"This is one of the ways we're building a bridge to a graduate school experience, and building it early," said Dr. Mark McCormick, Stillman College provost. "For first-generation students, that continuity is very important."
The University of Alabama, part of The University of Alabama System, is the state's flagship university. UA shapes a better world through its teaching, research and service. With a global reputation for excellence, UA provides an inclusive, forward-thinking environment and nearly 200 degree programs on a beautiful, student-centered campus. A leader in cutting-edge research, UA advances discovery, creative inquiry and knowledge through more than 30 research centers. As the state's largest higher education institution, UA drives economic growth in Alabama and beyond.