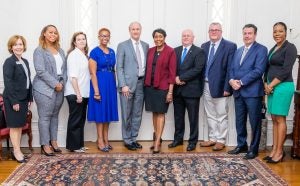 TUSCALOOSA, Ala. – The University of Alabama and President Stuart R. Bell recently hosted leaders from community colleges around Alabama as part of UA's continuous effort to build and nurture the partnerships between the Capstone and two-year institutions.
"The University of Alabama views our state's community colleges as strategic partners and we're always looking for new ways to develop these special connections," said Dr. Matthew McLendon, UA associate vice president and director of enrollment management. "Supporting transfer students is an important part of our enrollment strategy. As the state's flagship university, it provides us another avenue to serve students."
During the event held at the President's Mansion, leaders from several community colleges had the opportunity to engage in conversation with Bell on ways to strengthen the bond between their institutions and the University.
UA enrolled more than 1,400 transfer students in the fall. According to the University's six-year graduation rate data, 70% of transfer students will earn their undergraduate degree from UA while simultaneously receiving credits for their associate degree they started at their respective community college.
"One immediate value for students who transfer to UA before earning their associate degree is students will have the option to have their University of Alabama credits transferred back to the two-year institution for evaluation and determination of eligibility for an associate degree," said McLendon.
"Additionally, the overall support services the University provides to the student body, along with our wide range of academic programs, make coming to UA a great choice for those students who wish to earn an undergraduate degree."
UA will host the fourth annual ACHIEVE Alabama Transfer Student Success Conference March 2-3. The virtual conference will bring together administrators, faculty and staff from two-year and four-year institutions across the state to foster collaboration to ensure student success and increase college completion rates.
The virtual conference is free and registration is available via the conference website or by calling 205-348-9966. Participants can submit proposals for session presentations until Feb. 1.
UA is a student-centered research university and an academic community united in its commitment to enhance the quality of life for all Alabamians and the citizens of the nation and the world through the creation, translation and dissemination of knowledge with an emphasis on quality programs in the areas of teaching, research and service.
Contact
Bryant Welbourne, UA Strategic Communications, bryant.welbourne@ua.edu, 205-348-8325
The University of Alabama, part of The University of Alabama System, is the state's flagship university. UA shapes a better world through its teaching, research and service. With a global reputation for excellence, UA provides an inclusive, forward-thinking environment and nearly 200 degree programs on a beautiful, student-centered campus. A leader in cutting-edge research, UA advances discovery, creative inquiry and knowledge through more than 30 research centers. As the state's largest higher education institution, UA drives economic growth in Alabama and beyond.