Researchers at the University of Alabama are partners in a statewide effort to tackle racial disparity in infant mortality in Alabama.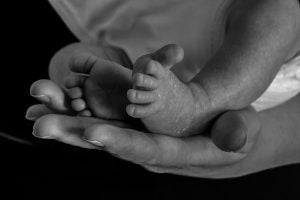 The interdisciplinary research team brings together expertise from social work, economics and anthropology. Funded through a $250,000, two-year grant from the Robert Wood Johnson Foundation's Policies for Action program, the team will examine the state's pilot program to reduce infant mortality, specifically asking how an innovative pilot program by the Alabama Department of Public Health affects infant mortality among the Black community.
Researchers from UA include Drs. David L. Albright, UA Distinguished Research Professor, Hill Crest Foundation, Endowed Chair in Mental Health Research in social work; and Holly Horan, assistant professor of anthropology. The team also includes Dr. Natalie Malak, assistant professor of economics at The University of Alabama in Huntsville.
"The collaboration of multiple areas of expertise is essential for improving the infant mortality rate and supporting the development of existing efforts to reduce this poor outcome," Horan said.
At UA, the effort will be managed by the ongoing VitAL initiative in the School of Social Work.
"Our research has the potential to impact Alabama's infant mortality reduction policy moving forward," said Albright, also VitAL principal investigator. "VitAL is thankful for the continued opportunity to support the state."
VitAL oversees multiple state-focused projects that strive to study and improve services, policies and social conditions for those with mental health, substance use disorder and trauma-related challenges, including the Every Step project that expands a state initiative to reduce substance use, depression and domestic violence in pregnant women. The VitAL team currently works with community and organizational stakeholders in all of Alabama's 67 counties.
"Our research has the potential to impact Alabama's infant mortality reduction policy moving forward."
"The Perinatal Program at Alabama Department of Public Health is looking forward to our collaboration with the VitAL team in addressing the multi-faceted issues related to infant mortality," said Carolyn Miller, director of the State Perinatal Division for the Alabama Department of Public Health.
"Infant mortality is a key indicator of population health and defined as the probability of a child born in a specific year dying before reaching the age of one," Malak said.
The United States has an average infant mortality rate of 5.5 deaths per 1,000 live births, more than 70% higher than other comparable, high-resource nations, and a longstanding public health issue within Alabama. Within the last decade, Alabama's infant mortality rate has consistently been one of the top three highest in the nation, with rates that are far worse among Black infants.
"Alabama's infant mortality rate of 7.0 infant deaths per 1,000 live births in 2020 is tied with the rate in 2018 as the lowest infant mortality rate ever recorded in Alabama. However, the state's rate continues to be higher than the national average, and disparities in infant mortality by race continue to persist," said Miller.
A version of this story was originally published by the School of Social Work.
The University of Alabama, part of The University of Alabama System, is the state's flagship university. UA shapes a better world through its teaching, research and service. With a global reputation for excellence, UA provides an inclusive, forward-thinking environment and nearly 200 degree programs on a beautiful, student-centered campus. A leader in cutting-edge research, UA advances discovery, creative inquiry and knowledge through more than 30 research centers. As the state's largest higher education institution, UA drives economic growth in Alabama and beyond.