Colby Free remembers the electric energy she felt in 2019 when she heard there was a surprise for the Million Dollar Band. The University's Million Dollar Band would perform in the 2020 Macy's Thanksgiving Day Parade.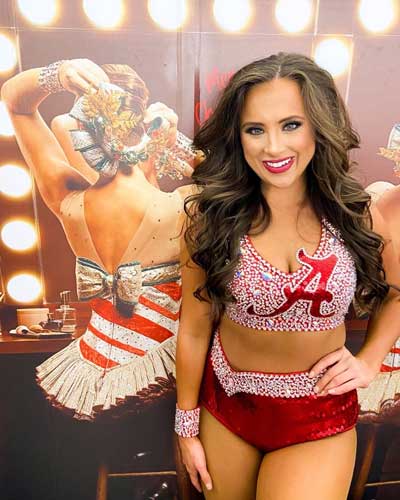 But then came one more piece of information Free would learn — the Million Dollar Band's Color Guard and Crimsonettes would perform in the annual "Sounds of Music" holiday performance Nov. 23 at Radio City Music Hall on the same stage where the Rockettes perform. This was the first time in Radio City Music Hall history that a dance troupe would perform during the holiday showcase.
"There was nothing like experiencing that news," Free, co-captain of the Crimsonettes, said. "They gave us confetti poppers and they told us to pop them in one, two, three. As we popped them, Dr. Kenneth Ozzello told us that we were going to Macy's Thanksgiving Day Parade on a game day in front of all these fans on the quad."
It was a whirlwind experience, especially with the pandemic pushing both the performance and parade to 2021. But as the Crimsonette looks back, it was everything she hoped it would be and more.
"This was a dream I didn't know I had, but I am so thankful for the opportunity," Free said.
The Crimsonettes use a combination of jazz dance and baton twirling for each performance, while the Color Guard uses modern dance and flag twirling.
Starting in October 2021, both teams began to prepare their routines for both the Macy's Thanksgiving Day Parade and at Radio City Music Hall. Coaches April Henderson and Brandy Keaton started taping off the band's practice field to create the stage dimensions for the teams.
Given less than four minutes for both teams to perform on stage, executing transitions between the two needed to be precise. The Color Guard used a cut of "Let It Snow" for its Radio City Music Hall performance, while the Crimsonettes performed a routine to "It's Not Christmas Without You" by Victoria Justice.
"I just remember standing there at Radio City Music Hall, waiting for the lights to come on," Free said. "I remember thinking don't let this moment go by and not enjoy every second of it. When the music came on, I was thinking, 'I just want to enjoy every bit of it.' I was able to take it all in while performing."
While the Color Guard and Crimsonettes performed on stage, the rest of the Million Dollar Band sat in the audience, cheering on their teammates. After completing the sets, Free said the band then watched the Rockettes perform, soaking in the holiday spirit.
"I'll never forget that moment, it was an experience of a lifetime," Free said.
Contact
Caroline Gazzara-McKenzie, UA Strategic Communications, caroline.mckenzie@ua.edu
The University of Alabama, part of The University of Alabama System, is the state's flagship university. UA shapes a better world through its teaching, research and service. With a global reputation for excellence, UA provides an inclusive, forward-thinking environment and nearly 200 degree programs on a beautiful, student-centered campus. A leader in cutting-edge research, UA advances discovery, creative inquiry and knowledge through more than 30 research centers. As the state's largest higher education institution, UA drives economic growth in Alabama and beyond.