UA faculty and graduate students work with military to design better mobile airfields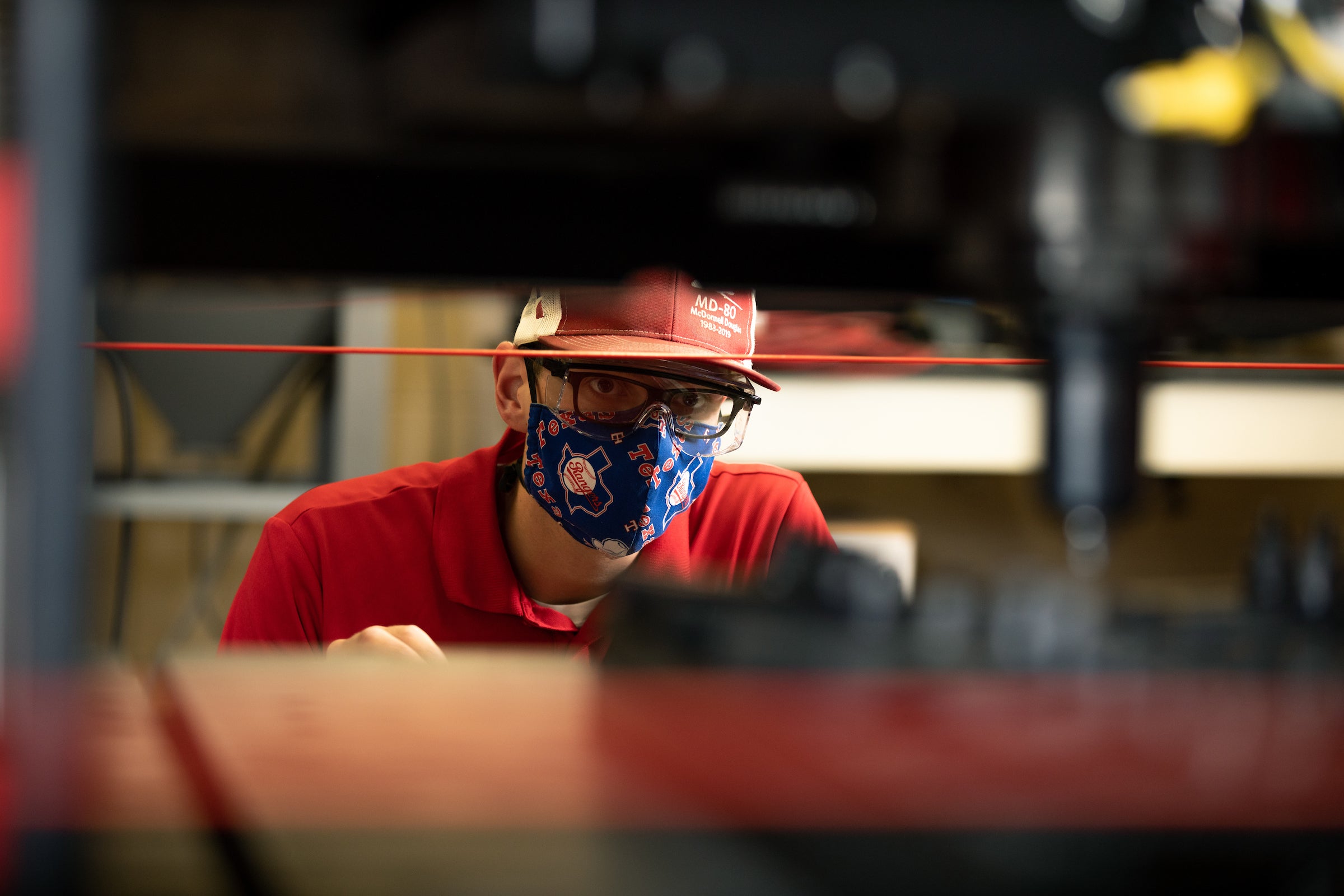 Ryan Kinser, a doctoral student in mechanical engineering, works on the airfield matting project at UA.
One of the strengths of the United States military is its mobility — to quickly set up operations or execute tactical or humanitarian missions most anywhere in the world.
A big part of that flexibility comes from portable runways for aircraft that let the military set up airfields by putting together metal matting like giant puzzle pieces on the ground.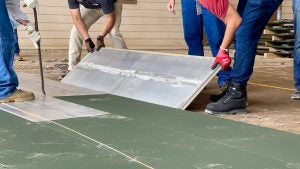 As technology has improved in other areas, mobile airfield matting hasn't changed since the Vietnam War. It's heavy, requires special transportation equipment and takes up a lot of resources to put in place. Plastic mats have been used, but they bring different problems.
"There is a need set from the top of the military to get a lighter solution because transportation costs are directly tied to the weight of the matting," said Dr. Brian Jordon, a mechanical engineering faculty member at The University of Alabama. "Cutting weight would save costs while improving logistics and efficiency in transporting and setup of the matting."
Jordon is part of a team of UA engineering researchers reexamining how to create airfield matting from the nanoscale to production. This lighter, thinner matting will be designed for current and future aircraft and will reduce the energy needed to manufacture, transport and repair.
"The University of Alabama is a national leader with world-class facilities and personnel to provide the product and information needed to support the warfighter and their mission," said Dr. Paul Allison, director of the Manufacturing at the Point-of-Need Center and a mechanical engineering faculty member at UA leading the project.
By the end of the project, UA researchers will deliver 20,000 square feet of a mature system for evaluation and testing in a full-scale environment, but prototype testing is already underway. The prototype is made up of metallic panels weighing below 50 pounds apiece, less than the current 150 pounds, and measuring only 1-inch thick compared to the previous 1-and-a-half inch thickness. Plus, they fit transportation systems that meet internationally used standards.
UA is working with the U.S. Army Engineer Research and Development Center, which has evaluated expeditionary airfield matting systems since the 1940s.
"We are testing a new prototype airfield matting system designed to be more logistically friendly," said Dr. Tim Rushing, senior research engineer in ERDC's Engineering Systems and Materials Division Research Group of the Geotechnical and Structures Laboratory. "The new system is designed to be more friendly to air and sea transport and be much lighter than the current matting system."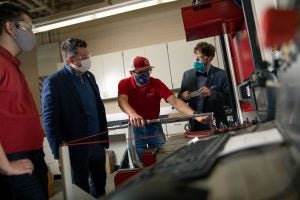 The project started by examining the inner workings of the materials, which used the capabilities and instruments of the Alabama Analytical Research Center at UA. Researchers in mechanical engineering, metallurgical engineering, material science and mechanics used powerful microscopes and nano-sized tools to look at the microstructures of how the metals bond and change under stress.
"You have to understand what's going on at the nanoscale," Allison said. "We need to take advantage of what we learn before transitioning to a prototype."
The research team also took advantage of computer modeling to simulate conditions the matting will face in the field, including heat from aircraft exhaust and weight the matting must endure when landing the aircraft, both considerable stressors that can degrade the matting's strength.
Both microscopic and computational research and studies examine the performance of different metals for the matting how they could fail in the field. They can validate different ways to weld the metals that lead to a durable and safe airfield matting.
The biggest limit on the current airfield matting's life span is where the mats interlock in a tongue-and-groove system. They are welded together with conventional techniques, and heat changes metal. The alloys UA proposes to use require a different type of welding known as friction stir welding.
UA has the equipment and knowledge necessary to test this advanced welding on the potential replacement metals to understand how the metal is changed in hopes of providing a strong, durable joining of the mats that withstands the pressure and heat from military aircraft better than the current system.
"We need to understand the material and how it works before continuing to full-scale testing," Jordon said.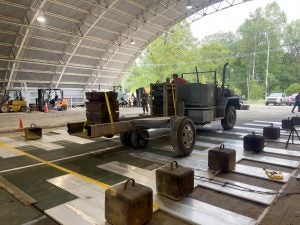 The project isn't just stuck in the lab, though. UA researchers are working with Alfab Inc., a manufacturer based in Alabama that has fabricated and delivered the current airfield matting for U.S. Joint Services since 1970. Researchers take their validated designs from UA's labs to the skilled staff at Alfab to make sure the design could be produced.
"We are getting what we develop here at the University transitioned because if you can't transfer the manufacturing technologies to the producers, then it doesn't do any good," Allison said. "We are making sure this remains an Alabama-made product, and we are proud of this support work."
The Army ERDC began testing the prototype in fall 2021.
"ERDC is an expert in full-scale test section construction," Rushing said. "We know how to build controlled test sections and the information we gather helps us have better designs and we can write criteria to predict the performance of aircraft on expeditionary airfield surfaces."
Ultimately, this project will finish with a matting that meets the needs of evolving military operations.
"We are trying to solve a logistics problem," said Marine Corps Chief Warrant Officer 5 Chad McCammon, Military Deputy Integrated Product Team lead for the Marine Corps. "Some of the places we're going to fight the next battle are going to be harder to get to from a logistics standpoint with surface connectors."
Jason Scott, ERDC public affairs specialist, contributed to this article.
This research is funded by $6.5 million grant from U.S. Army Corps of Engineers Research and Development Center.
Allison and Jordon are professors of mechanical engineering and directors of the University of Alabama Manufacturing at the Point-of-Need Center.
Contact
Adam Jones, UA communications, 205-348-4328, adam.jones@ua.edu
The University of Alabama, part of The University of Alabama System, is the state's flagship university. UA shapes a better world through its teaching, research and service. With a global reputation for excellence, UA provides an inclusive, forward-thinking environment and nearly 200 degree programs on a beautiful, student-centered campus. A leader in cutting-edge research, UA advances discovery, creative inquiry and knowledge through more than 30 research centers. As the state's largest higher education institution, UA drives economic growth in Alabama and beyond.