TUSCALOOSA, Ala. – When legends rise together, they can make an impact on the world around them. Three students in The University of Alabama School of Law set to graduate in May 2022 donated kidneys to individuals in need. Angelica Mamani, Katrina Smith and Ryne Smith saved the lives of three people they previously didn't know while becoming links in a critical donor chain that continues to help others.
"It is possibly the most profound experience of your life," Mamani said. "Even without getting to know my recipient beforehand, it has made me a better person in so many ways. It's opened up opportunities for growth and positive impact in the world."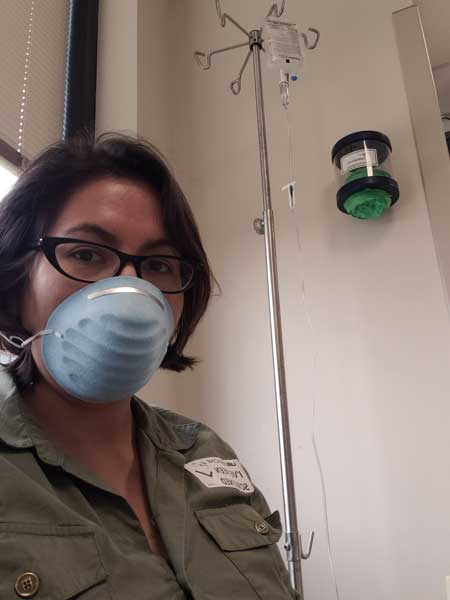 According to The University of Alabama at Birmingham Kidney Center, more than 2,200 Alabamians need a kidney transplant. Each year nationwide, fewer than 200 kidney transplants come from donors who are not related to the recipients.
All three students discovered the UAB Kidney Center's non-directed donor program when they decided to donate a kidney.
Mamani, 32, was in her first year of UA Law School when she began to consider organ donation. In her twenties, she had registered as a Be the Match bone marrow donor but had not received a call. She became curious about kidney donation and began the candidacy process at UAB Kidney Center, which takes some time with medical testing and screening.
From the moment she got the call in January 2020 to begin the donation process, she was aware of the impact it would have not just on her, but on the recipient. Mamani knew this was a life-changing procedure and wanted to help as quickly as possible.
In the summer of 2020, Mamani became an approved candidate for kidney donation and matched with her recipient, Lakeisha Stubbs of Birmingham. On Aug. 6, 2020, Mamani donated her left kidney, and she got to meet Stubbs after surgery.
Recovery was not easy. Mamani returned to her second year of law school just weeks after surgery. She had to catch up with classwork, as well as return to full stamina. She said it took nearly six months before she started to feel like her old self.
Mamani said she is interested in donating part of her liver, bone marrow or lung lobe in the future. That might scare some, but she sees the importance of being there for someone else.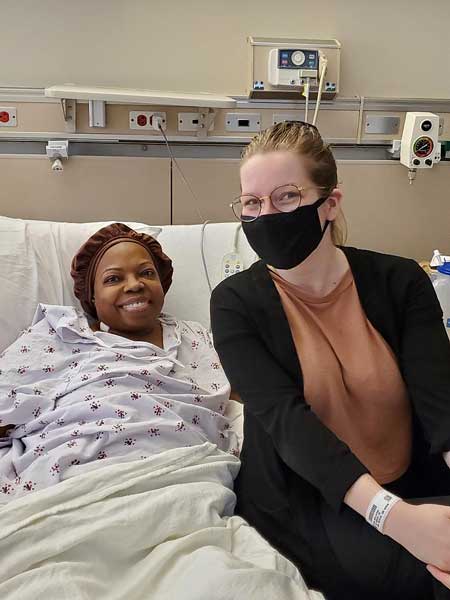 The same summer Mamani donated her kidney, law students Katrina Smith and Ryne Smith were listening to an audiobook when the concept of donating a kidney came up. The pair, who met in school, had always talked about philosophy and altruism.
The book was "Against Empathy" by Paul Bloom, which discusses effective altruism and aims to identify the most effective ways to improve the world.
"Ryne and I started talking about what would that actually look like?" said Katrina Smith, 24. "It's one thing for people to say, but to do another. If you're trying to give effectively, like in a way that actually impacts people's lives, there are ways. Donating a kidney is one of the most efficient ways to do that."
Ryne Smith has always been one to follow through with ideas. The pair began to research their options, discovering the UAB Kidney Center in the process. Like Mamani, both had to undergo rigorous medical tests before being declared organ donor candidates.
"I just asked them, 'how do you decide which kidney to take?'" Ryne Smith said. "The doctor told me I was going to be giving my left kidney and explained they test the function of each of the kidneys. And then leave you with the one that functions better."
While Ryne Smith would donate his left kidney, Katrina Smith would donate her right kidney. The couple has nearly identical scars, opposite of each other.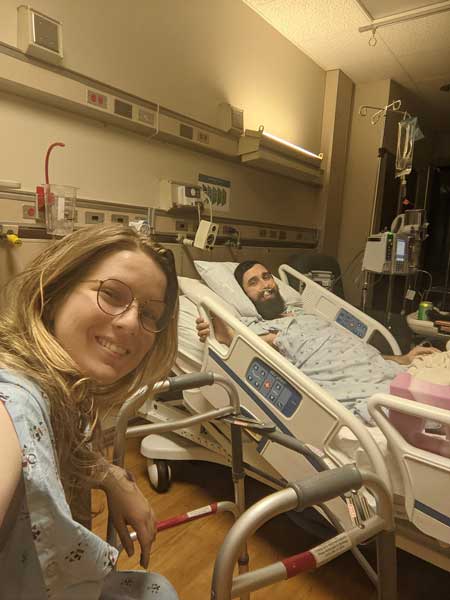 Katrina Smith and Ryne Smith had their surgeries on back-to-back days in May.
Katrina Smith was sure she would like to meet her recipient, while Ryne Smith was a bit more hesitant. For privacy reasons, the entire process is anonymous until after the surgery. But in the end, each met their recipients and learned about the donor chain.
Katrina Smith donated her right kidney to Kim Gilmore, who had created a large social media presence before being matched. Katrina Smith and Gilmore stay in touch, with Katrina Smith and Gilmore going live on Facebook with their stories. Gilmore's page continues to promote organ donor awareness.
Ryne Smith's kidney recipient, Sarita Whitney, had been waiting for a transplant since January. Her son had hoped to be a match, but he wasn't. However, Whitney's son was eligible to be a part of the kidney donor chain. If a family member is willing to donate but unable to be matched with their loved one, the chain enables that family member to give it forward to someone else who is a match once their loved one receives an organ. With Ryne Smith helping Sarita Whitney, her son helped someone else.
"I wanted to do good for someone else," Ryne Smith said. "It's just people helping people and wanting to live the values you have."
Each student made a selfless gift to someone in need, and they are appreciative of the experience.
"There's absolutely no harm in just getting tested to see if you're eligible to donate a kidney," Katrina Smith said. "It can change someone's life. You can create such a good impact and make friends and family along the way. So often people are willing and so happy to welcome you into their families. The risk to a donor is so little; it's such a safe surgery. They won't let you donate if it's not safe for you. So, there's no harm in just getting tested to see if it's an option."
There are several ways to become an organ donor, including joining a state's organ donor list and registering when obtaining a driver's license. To learn more about becoming a donor, visit the federal organ donation website.