Thanks to the determination of students and faculty to get out the vote in the 2020 election, The University of Alabama recently received national recognition for its significant student voter turnout.
UA earned a Silver Seal for voter participation in last year's presidential election from the ALL IN Campus Democracy Challenge, a national, nonpartisan initiative to increase voter engagement on college campuses.
The Silver Seal designation is granted to institutions that had 60-69% voter participation.
Dr. Richard Fording, a professor of political science at UA and adviser for the student voting advocacy group UA Vote Everywhere, said voter participation on UA's campus grew from 49% in 2016 to 64% in 2020.
"Our students did a lot of that work and we saw a significant difference on our campus," Fording said. "Also, our student turnout rate was the same as it was for the state of Alabama, 64%. In 2016, the state turnout rate was 56% and the UA turnout rate was 49%. So, all in all, I think our students did a great job in 2020."
The challenge to increasing voter participation on campus last year was not only navigating the pandemic but also educating out-of-state students about the absentee voting process, which varies from state to state, said Fording.
"With absentee voting there's a lot to figure out with different deadlines," he said. "Also, Alabama has some of the strictest voting laws in the nation, especially when it comes to absentee voting.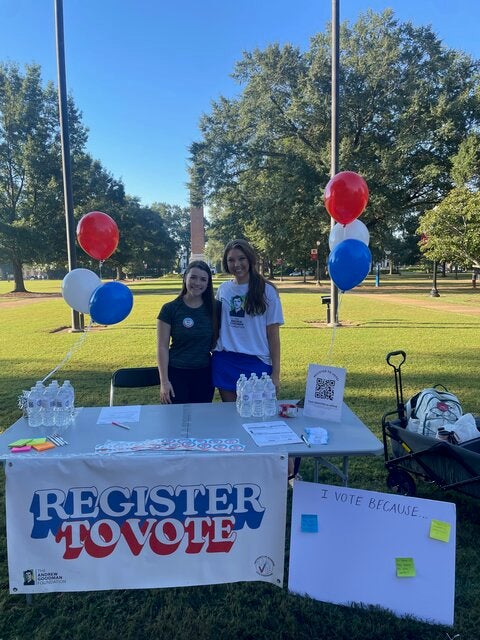 "We were aided by TurboVote, a service on the web that makes absentee voting easier by taking you wherever you need to go online to register to vote in your state. Overall, we outperformed our state relative to other states. That's a real feather in our cap."
More than 840 institutions enrolling close to nine million students participated in the 2020 ALL IN Campus Democracy Challenge.
The 2020 election cycle saw unprecedented voter registration and turnout among college students, according to the National Study of Learning, Voting and Engagement.
The study reported that 66% of college students voted in the 2020 election, a 14-point increase from 2016.
"The rise in voter participation and engagement for college students in last year's presidential election amidst a global pandemic was tremendous and will undoubtedly be tied to the tireless efforts of the dedicated students, faculty, administrators and partner organizations that are part of the ALL IN Challenge network," said Jen Domagal-Goldman, executive director of ALL IN.
"The hard work of these trailblazing honorees will help support many of the country's future leaders in fulfilling the equitable, engaged vision of democracy to which we aspire."
Contact
Jamon Smith, UA Strategic Communications, jamon.smith@ua.edu
The University of Alabama, part of The University of Alabama System, is the state's flagship university. UA shapes a better world through its teaching, research and service. With a global reputation for excellence, UA provides an inclusive, forward-thinking environment and nearly 200 degree programs on a beautiful, student-centered campus. A leader in cutting-edge research, UA advances discovery, creative inquiry and knowledge through more than 30 research centers. As the state's largest higher education institution, UA drives economic growth in Alabama and beyond.