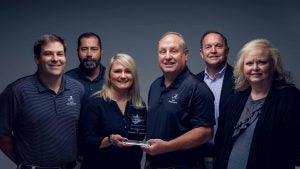 The University of Alabama Office of Fleet Management has received national recognition for creative, effective stewardship of University resources.
The annual Fleet Excellence Award, bestowed by the National Conference of State Fleet Administrators, recognizes a member fleet manager or organization that has demonstrated leadership resulting in cost reduction, the creation of new efficiencies, safety enhancements and customer service.
The NCSFA selection committee noted the many steps Fleet Management took to streamline processes and save money, all while still providing a fleet of nearly 800 vehicles for University use. The staff analyzed vehicle usage, reviewed department operating methods, and revised the preventative maintenance service intervals from three months to five months. Using the in-house automotive services department to match vehicles on hand with parts on hand eliminated obsolete and overstocked parts and generated vendor-issued credits.
The most notable accomplishment was the development of an in-house auction site, which has helped Fleet Management sell 200 older and less used vehicles. The no-buyer-fee site has generated over $1 million in revenue since it began in July 2020.
The culmination of this action plan saved UA over $5.3 million.
"The Fleet Excellence Award is one of the highest honors that NCSFA awards one of our members. The University of Alabama's Fleet Management Office saw the lack of vehicle usage as an opportunity to create a positive impact on their bottom line. The result of their forward thinking is impressive and deserving of this honor," stated Lauren Myers, NCSFA executive director.
"Thanks to all for the incredible assistance from the multitude of faculty and staff in achieving this Fleet Excellence Award. All involved were like-minded in eliminating vehicles with low use and replacing vehicles with high repair costs and/or older vehicles. Their dedication to being good stewards of our fleet of vehicles drastically achieved greater results faster than we had planned," said Tony Johnson, executive director of Fleet Management. He added, "In addition, I'm humbled at how welcoming so many people were to my staff and me to this new Fleet Management initiative."
In another forward-looking move, Fleet Management has placed orders for six 2022 model electric Ford cargo vans, which are expected to arrive this summer. "These vehicles will be available for lease and will give us the opportunity to build some data on how to proceed going forward," Johnson said.
The University of Alabama, part of The University of Alabama System, is the state's flagship university. UA shapes a better world through its teaching, research and service. With a global reputation for excellence, UA provides an inclusive, forward-thinking environment and nearly 200 degree programs on a beautiful, student-centered campus. A leader in cutting-edge research, UA advances discovery, creative inquiry and knowledge through more than 30 research centers. As the state's largest higher education institution, UA drives economic growth in Alabama and beyond.