Some people travel across the country for the opportunity to earn a degree from The University of Alabama.
And others travel across the world for it.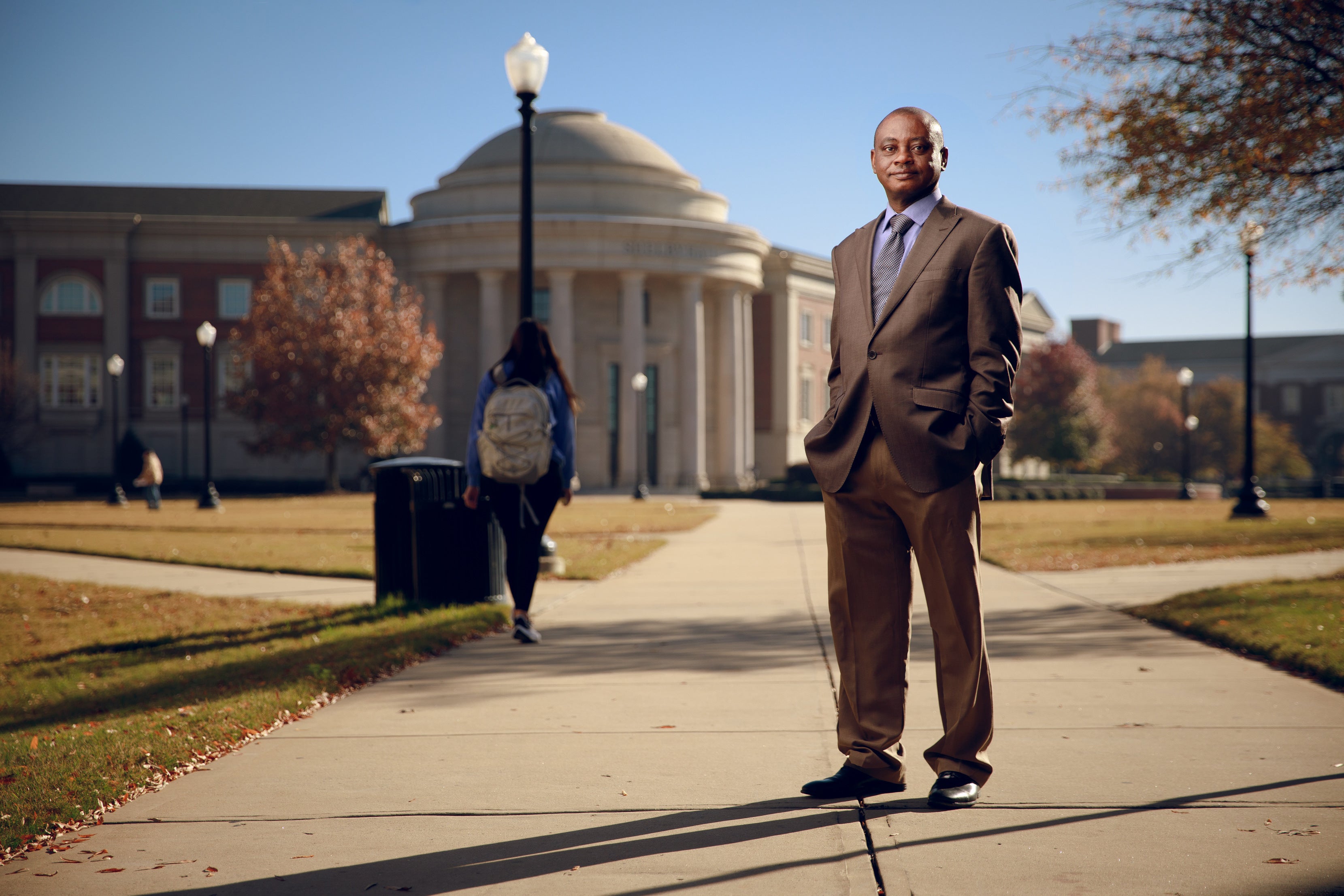 Two years ago, William Agyemang left everything he knew — his wife, his four children, his home in Ghana and his job as a researcher at the Building and Road Research Institute — to pursue a doctoral degree in civil engineering at the Capstone.
Though the journey has been difficult, on Dec. 10 at 6 p.m. he'll walk across Coleman Coliseum's stage with his diploma in hand, mission accomplished.
"It had been my dream to continue on with my education to get my Ph.D.," Agyemang said. "I went to a conference in Ghana where I met Dr. Steven Jones. I expressed my interest in furthering my education to him and it all came to fulfillment in 2019 with me arriving here and concluding in my graduation this December.
"It has not been easy to be away from my family. I would have liked to bring them here, but I could not. I've been able to visit them twice, around December each year. My family is very excited about me coming home."
Jones, a James R. Cudworth professor of civil engineering and the deputy director of the Alabama Transportation Institution, said Agyemang is a fabulous student and a standup guy whom he's now glad to call colleague as Agyemang returns home to become the deputy director of Ghana's Building and Road Research Institute.
"He's 53 years old and decided to leave his family in Ghana and come here by himself for two and a half years and be in classes with twenty-something-year-olds," Jones said. "That told me how committed he was, that he was serious and that it's important to his career.
"I'm happy that I could help him and I'm proud of his work. I'm the deputy director of the Alabama Transportation Institute, which funded William's research, and now my student is the deputy director of Ghana's Building and Roads Research Institute. So, we have a UA graduate on the leadership team of the transportation institute of an entire country."
Agyemang said he's grateful that the knowledge and experience he acquired at UA helped him get the deputy director position. In his new role, he'll use models to analyze vehicle crash data to gain a more detailed understanding of how crashes occur to ultimately help design safer roadways.
"My research and work will be made available to the national community, which I think will go a long way," he said. "The hope is to use the data to analyze and cut down on crashes. I hope also to have a good relationship in the future with UA and partner with the University on some of this research."
Some of Agyemang's work is already scheduled to be presented to the national community. In mid-January, Jones will present some of Agyemang's published research at the 101st Transportation Research Board Annual Meeting in mid-January in Washington, D.C., which is a premier event in the transportation industry.
"My stay at The University of Alabama has been so interesting," Agyemang said. "I learned a lot here. If you are focused, UA has the resources for you here and an environment for learning. In the future, I hope that more international students come to UA."