A little more than two years since the devastating Cathedral of Notre Dame fire in April 2019, UA's Dr. Jennifer M. Feltman, assistant professor of art history, was able to travel to Paris to begin her hands-on research, which will contribute to the historic building's restoration.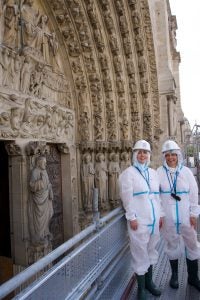 On Sept. 18, just a few days before Feltman's arrival in Paris, the French government agency in charge of the cathedral's restoration announced that the building was stable and secure enough for restoration work to proceed.
Feltman is one of 14 specialists appointed to a team of scientists and art historians who have been provided special access to the cathedral to begin their work. The group, the CNRS Chantier scientifique de Notre Dame – Décor, directed by Professor Dany Sandron of Sorbonne Université, will study all aspects of the cathedral's visual arts, ranging from Middle Ages to modern times.
During her September visit, Feltman met with colleagues from eight European institutions and focused on the remnants of paint found throughout the cathedral.
Feltman's focus is the sculptures of the west façade's central portal, which represent the theme of the Last Judgment, the topic of her forthcoming book, "Moral Theology and the Cathedral: Sculptural Programs of the Last Judgment in France, c.1200–1240" to be published by Brepols in 2022.
Feltman said that scaffolding has been erected inside the building along all the nave and choir walls to allow restorers to rebuild the cathedral's stone vaults and roof that were destroyed in the fire. During her visit, she was able to view the sculptures from scaffolding and visit the interior of the cathedral where restoration work is in progress.
"Some of the chapels of the cathedral have already been restored," Feltman explained. "While the current restoration is informed by the latest digital technologies, such as 3-D laser scanning, the reconstruction will not look contemporary. It will recreate the appearance of Notre Dame as it was before the fire using the materials of the Middle Ages, such as stone, wood, iron and lead."
Contact
Rachel Dobson, UA Department of Art and Art History, rachel.dobson@ua.edu
The University of Alabama, part of The University of Alabama System, is the state's flagship university. UA shapes a better world through its teaching, research and service. With a global reputation for excellence, UA provides an inclusive, forward-thinking environment and nearly 200 degree programs on a beautiful, student-centered campus. A leader in cutting-edge research, UA advances discovery, creative inquiry and knowledge through more than 30 research centers. As the state's largest higher education institution, UA drives economic growth in Alabama and beyond.