The journey from Bama Bound to commencement can often present curves and forks in the road when least expected. But with the help of several strategic initiatives, UA has achieved record numbers in retaining and graduating its students.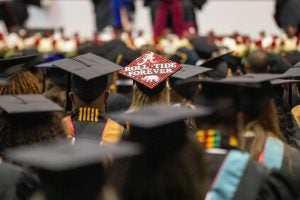 According to the fall 2021 enrollment census, the University set records in second-year retention rate and four-year and six-year graduation rates.
The Division of Student Life's First Year Experience and Retention Initiatives has developed numerous support programs to retain students, including Lucy's Legacy and the First Year Recruit-Back Initiative created in response to the COVID-19 pandemic.
Established in 2019, Lucy's Legacy is a living-learning community for women who want to learn about the historical and contemporary experiences of women and students of color at UA and are encouraged to leverage the opportunities ahead of them as women of color at the institution. While the predictive model for retention for the first cohort showed 78% of participants would return to UA to continue their education, 89% were retained.
Following the first full academic year during the COVID-19 pandemic, a report in late May showed that a number of rising second-year students weren't enrolled for the fall 2021 semester. As a result, the First Year Recruit-Back Initiative was created to contact each student to offer assistance that would enable them to re-enroll at UA. The program was able to successfully re-enroll 57% of the students contacted over the summer. This effort along with many other efforts across campus have contributed to a UA record second-year retention of 88.6% in the fall.
The University continues to educate and graduate more students than any institution in the state of Alabama, awarding more than 9,600 degrees during the 2020-2021 academic year. The University of Alabama System educates more Alabamians than any university system worldwide.
The Capstone Center for Student Success is a driving force in keeping students on track to graduate. The center provides a network of services to support holistic student success, including a combination of academic support services, specialized support programs and intentional partnerships throughout UA. All services are free for currently registered students and include advising, tutoring and academic coaching, among others.
For more than 60 years, Freshman Forum has provided leadership education and training as well as civic engagement opportunities for UA students. Through the program, freshman students build a network of peers, faculty and staff across campus; gain an awareness of campus resources; and develop their personal leadership identity. 2017 Freshman Forum members have proportionally graduated 19.36% more than non-Freshman Forum members compared to the freshman cohort as a whole.
UA remains committed to the core value of providing an undergraduate education that produces socially conscious, ethical and well-rounded leaders who are grounded in their subject matter and capable of controlling their own destinies. With the support of programs structured to retain, empower and graduate its students, UA will continue to produce legends who will transform the world around them.
Contact
Bryant Welbourne, UA Strategic Communications, bryant.welbourne@ua.edu
The University of Alabama, part of The University of Alabama System, is the state's flagship university. UA shapes a better world through its teaching, research and service. With a global reputation for excellence, UA provides an inclusive, forward-thinking environment and nearly 200 degree programs on a beautiful, student-centered campus. A leader in cutting-edge research, UA advances discovery, creative inquiry and knowledge through more than 30 research centers. As the state's largest higher education institution, UA drives economic growth in Alabama and beyond.