Fire Prevention Week, Oct. 3-9, is a good time to think about fire safety.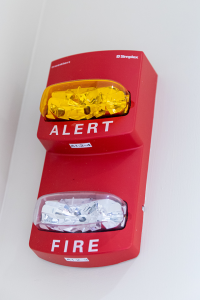 According to the National Fire Protection Association, September and October are the peak months for fires in residence halls and apartments. From 2015-2019, fire departments in the U.S. responded to an average of 3,840 structure fires in residence halls, fraternities, sororities and other student housing properties. Cooking was the main cause of many of these fires, and most of them happened in the evenings and on weekends.
Whether you live on or off campus, here are some fire safety tips that you should keep in mind:
Have an exit plan for your home, apartment or residence hall. If you live off campus, have a fire escape plan with two ways out of every room.
When you hear a fire alarm, immediately exit the building even if you think it's just a drill. Evacuation of campus buildings during fire drills is required.
If you live off campus, make sure your apartment or home has working smoke detectors installed outside and inside each bedroom and on each level. Test smoke alarms monthly. The Office of Environmental Health and Safety, or EHS, conducts monthly inspections of smoke alarms in all rooms in residence halls.
Never store items in exit stairwells or pathways.
Never hang anything from fire sprinkler heads.
Stay in the kitchen when cooking and only cook when you are alert and not sleepy from alcohol or medicine.
Check with your apartment complex before using grills.
Candles are not allowed in campus buildings. If you use a candle in an off campus apartment or home, never leave it unattended. Blow it out when you leave the room or go to sleep.
Never use extension cords in place of permanent power.
Learn what to do if you discover a fire.
Safety Reminder: UA Alert System Test
Weather permitting, the University will test its emergency notification systems, including UA Alerts, the public address system and digital signage, Wednesday, Oct. 6, at 11:55 a.m.
Contact
Shane Dorrill, UA Strategic Communications, shane.dorrill@ua.edu
The University of Alabama, part of The University of Alabama System, is the state's flagship university. UA shapes a better world through its teaching, research and service. With a global reputation for excellence, UA provides an inclusive, forward-thinking environment and nearly 200 degree programs on a beautiful, student-centered campus. A leader in cutting-edge research, UA advances discovery, creative inquiry and knowledge through more than 30 research centers. As the state's largest higher education institution, UA drives economic growth in Alabama and beyond.