One genre, one story just wasn't enough for Nana Nkweti's literary debut.
Nana Nkweti, assistant professor of English
The University of Alabama assistant professor of English's new book, "Walking on Cowrie Shells," doesn't color inside the lines. As an expression of her character, Cameroonian-American heritage, faith, interests, imagination and experiences, the collection of short stories features tales of horror, poetry, societal critique, mystery, science fiction, literary realism and more.
Published in June, the anthology was said to be a "raucous and thoroughly impressive debut" with "stories to get lost in again and again" by The New York Times. It was selected as a New York Times Editor's Choice recommendation and an Indie Next pick. And it's received starred reviews from Kirkus, Publishers Weekly and BookPage, was featured in The New Yorker, Harper's Bazaar, Oprah Daily, The Root, NPR, Buzzfeed, Thrillist and more.
"Each story is doing something unique and exploring something that sparked my interest."
"'Walking on Cowrie Shells' often features the varied and nuanced lives of hyphenated Americans who share my multi-cultural background in the U.S. and Africa," Nkweti said. "I show the diversity of experiences of people from the African diaspora. There's a tongue-tied linguistic anthropologist, a trans-national adoption gone wrong, a zombie apocalypse in Cameroon and much more."
The book features nine short stories ranging from eight to 25 pages each, and one prose-poem that Nkweti, a world traveler and native of Washington, D.C., said she's had welled inside of her for years.
The story, "The Devil is a Liar," is about how religion, through the context of an African charismatic church, gives people succor in difficult times in their lives.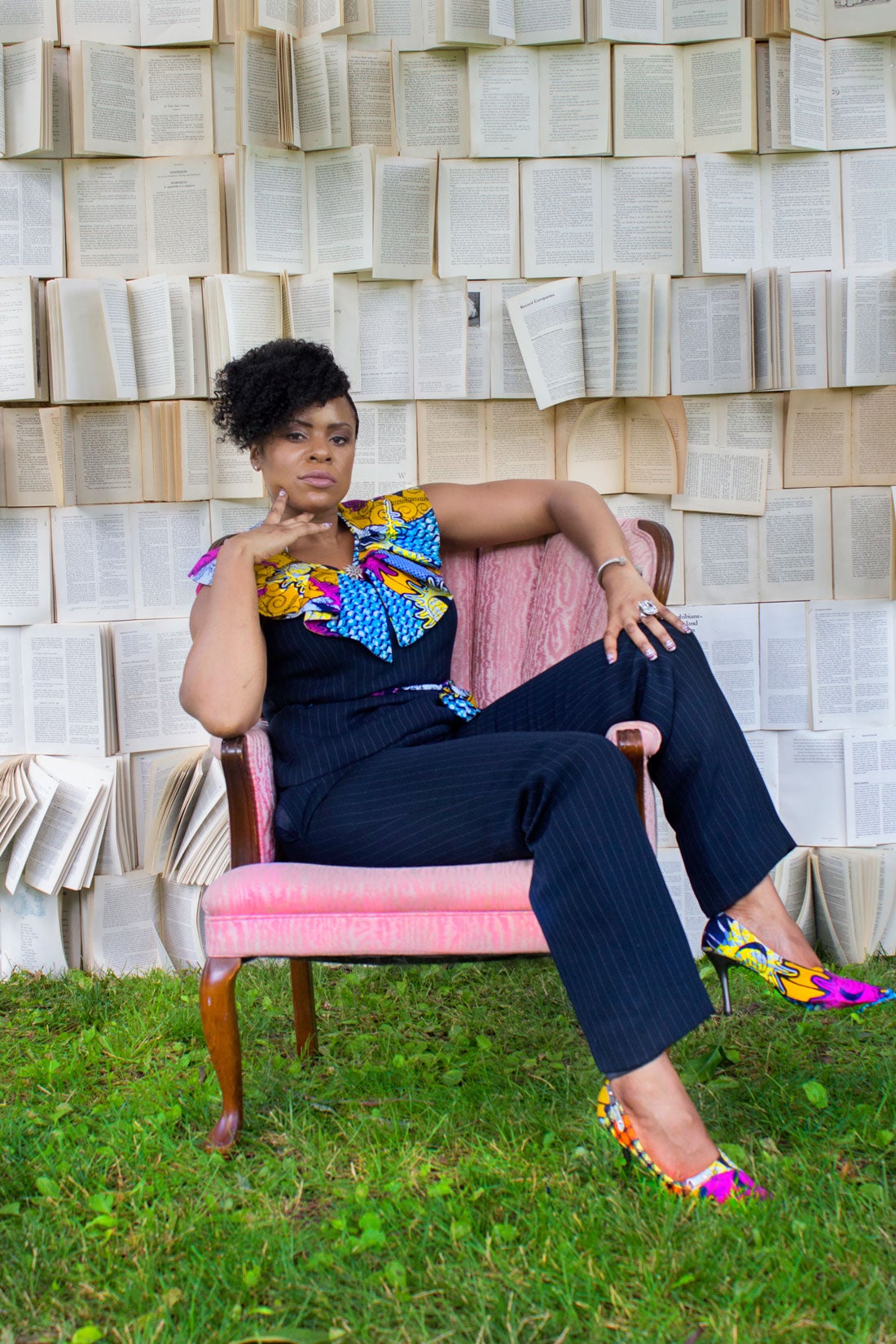 "There's a lot of terraforming Christianity by African spirituality," she said. "It's not only, 'Do you believe in Jesus?' It's Jesus can help you fight ancestral curses. I was interested in exploring that surreal blend of Christian and African belief systems."
"It Just Kills You Inside" is a satirical story that capitalizes on the Comic-Con-loving aspect of her identity as a "blerd" — black nerd — is about a zombie apocalypse that occurs in Cameroon.
Rather than just being an African spin on "The Walking Dead" or "Night of the Living Dead," the zombies in Nkweti's story serve as a metaphor for Africa frequently being depicted in Western media as a diseased and vilified heart of darkness.
Nkweti said no single story in the anthology is her favorite because they all do different things and each challenged her writing.
"I have no filler tales. Each story is doing something unique and exploring something that sparked my interest. The part of me that wants to talk about spiritualism, I wrote on that, the blerd part of me that wanted to explore zombies, I did that.
"I really enjoy moving in a range of voices and genres and the stories in 'Walking on Cowrie Shells' allowed me to do so."
Nkweti is an AKO Caine Prize finalist whose work has garnered fellowships from MacDowell, Kimbilio, Ucross, the Wurlitzer Foundation and several others.
She will conduct a new faculty reading from "Walking on Cowrie Shells" on Nov. 4 at 5:30 p.m. in the Shelby Hall courtyard, or at tenHoor room No. 125 if it rains.
Contact
Jamon Smith, UA Strategic Communications, jamon.smith@ua.edu
The University of Alabama, part of The University of Alabama System, is the state's flagship university. UA shapes a better world through its teaching, research and service. With a global reputation for excellence, UA provides an inclusive, forward-thinking environment and nearly 200 degree programs on a beautiful, student-centered campus. A leader in cutting-edge research, UA advances discovery, creative inquiry and knowledge through more than 30 research centers. As the state's largest higher education institution, UA drives economic growth in Alabama and beyond.