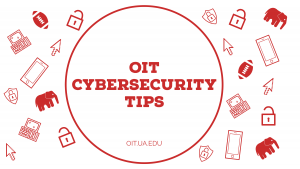 Check out the following tips from the Office of Information Technology to better protect your sensitive information.
October is National Cybersecurity Awareness Month. Cybersecurity is an ever-evolving field due to rapidly changing technologies; however, when it comes to practicing cybersecurity, it's quite simple. By following a few easy practices, you can protect your sensitive information against cyber threats.
Password Protect Devices
All devices should be password-protected and encrypted. With biometric identification like face ID and fingerprint ID, it's easier than ever to protect mobile devices and computers. University of Alabama faculty and staff should log into UA systems with their myBama email address and password.
Longer Passwords = Stronger Passwords
Even though UA accounts are protected with Duo two-factor authentication, passwords still matter. UA passwords should be 12 or more characters with a mixture of uppercase letters, lowercase letters, numbers and special characters.
Use Unique Passwords
Malicious actors regularly share stolen credentials on the dark web in hopes that you are using the same username and password combination on multiple websites. All online accounts should have different and unique passwords.
Can't keep track of your passwords? Use LastPass to manage your passwords. LastPass is a browser extension and mobile app available to all UA students, faculty and staff. Bonus: Faculty and staff can take advantage of personal and enterprise accounts to store UA passwords separately from personal passwords.
Recognize Phishing Emails
Phishing remains the weapon of choice for malicious actors. Remember the red flags of phishing to easily recognize phishing emails.
Check the "from" email address of messages. If the sender is an unknown email address and marked as [EXTERNAL] in the subject line, it could be phishing. All official UA emails will be sent from @ua.edu email accounts. If the email appears to be from an on-campus colleague, call them to confirm the message. If you receive a phishing email, flag it accordingly in Outlook. This trains your inbox to better recognize phishing and junk emails. When in doubt, contact the OIT Security team at security@ua.edu.
Keep Software Up to Date
Updated software is secure software. Updates are regularly released to protect against security vulnerabilities. Keep your operating system, software and internet browsers up to date and set them to auto-update.
Use antivirus software like McAfee. UA machines should have antivirus and antimalware installed already, but McAfee is also available for personal machines.
Store Content in OneDrive
Rest assured knowing your precious content is secure and backed up when stored in the cloud. UA students, faculty and staff can use OneDrive or Box for cloud storage. OIT recommends OneDrive  cloud storage because of its seamless integrations with the Microsoft O365 suite of tools. Students enrolled before May 2021 currently have access to Google Drive with their Crimson email account; however, that access will end May 2022.
Have Questions about Cybersecurity?
Make plans to meet the OIT Security team at the virtual Cybersecurity Town Hall event Wednesday, Oct. 20, at 2 p.m. Audience members can ask questions in advance.
For more information about UA cybersecurity practices, visit the OIT website.
The University of Alabama, part of The University of Alabama System, is the state's flagship university. UA shapes a better world through its teaching, research and service. With a global reputation for excellence, UA provides an inclusive, forward-thinking environment and nearly 200 degree programs on a beautiful, student-centered campus. A leader in cutting-edge research, UA advances discovery, creative inquiry and knowledge through more than 30 research centers. As the state's largest higher education institution, UA drives economic growth in Alabama and beyond.