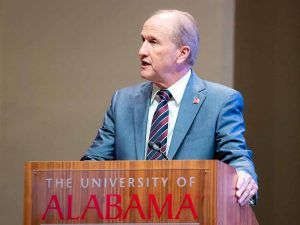 President Stuart R. Bell's Fall 2021 Campus Assembly address highlighted the vital part faculty and staff play in everything The University of Alabama has accomplished, and the importance of their role in the Capstone's future.
He spoke of recent achievements in both athletics and academics, of record-breaking enrollment numbers for 2021, and the never-failing spirit of student commitment to service, then said to the audience of faculty and staff, "Through your encouragement, our students enroll at UA and persist in their academic journey and continue to pursue excellence until they achieve their goals.
"Students from Alabama, from across the nation and around the globe want to be here because of what you, our faculty and staff, accomplish in the classrooms, in the labs, in the offices, on the grounds, in the dining halls and all across our campus. Your belief in our students, your dedication to your craft and your work on behalf of our mission personifies what this University yields in the lives of those who have been forever changed through their education and your influence."
Bell extolled the influence of faculty and staff on the throng of UA alumni who had achieved professional success and continue to make a deep impact on their communities. "Here, they were inspired and equipped for success, and because of the investment you made in them, they continue to give back to our community and to embrace and support our mission."
Among the efforts and initiatives Bell highlighted were UA's growth as a research institution, ranking No. 1 for all 14 universities in the SEC, and the momentum of the Rising Tide Capital Campaign, which has already raised over $949 million toward the $1.5 billion goal.
"Together, we are transforming the world."
During the assembly several individuals and groups were honored for their dedication.
Outstanding Commitment to Teaching Awards
Natalie Adams, New College and College of Education
Luke Brewer, College of Engineering
Lawrence Cappello, College of Arts and Sciences
Katherine Chiou, College of Arts and Sciences
Outstanding Commitment to Advising Awards
Amy Traylor, School of Social Work
Jessica Richardson, Capstone College of Nursing
Sam S. May Commitment to Service Awards
RISE Center
Office of Disability Services
Gift Accounting Team
Facilities and Grounds Department
Ceremonies and Events Department
College of Community Health Sciences
Vergil Parks McKinley Sr. Employee Awards
James Donahoe, College of Arts and Sciences
Holly Groff, Dining Services
Kristina Patridge, Dining Services
Watch the entirety of the event here:
The University of Alabama, part of The University of Alabama System, is the state's flagship university. UA shapes a better world through its teaching, research and service. With a global reputation for excellence, UA provides an inclusive, forward-thinking environment and nearly 200 degree programs on a beautiful, student-centered campus. A leader in cutting-edge research, UA advances discovery, creative inquiry and knowledge through more than 30 research centers. As the state's largest higher education institution, UA drives economic growth in Alabama and beyond.