As a member of the Capstone Men and Women as an undergraduate student, Royce Dickerson spent countless hours serving as a well-versed ambassador for the University, sharing a wealth of UA history and knowledge during his time with the group that included 365 campus tours.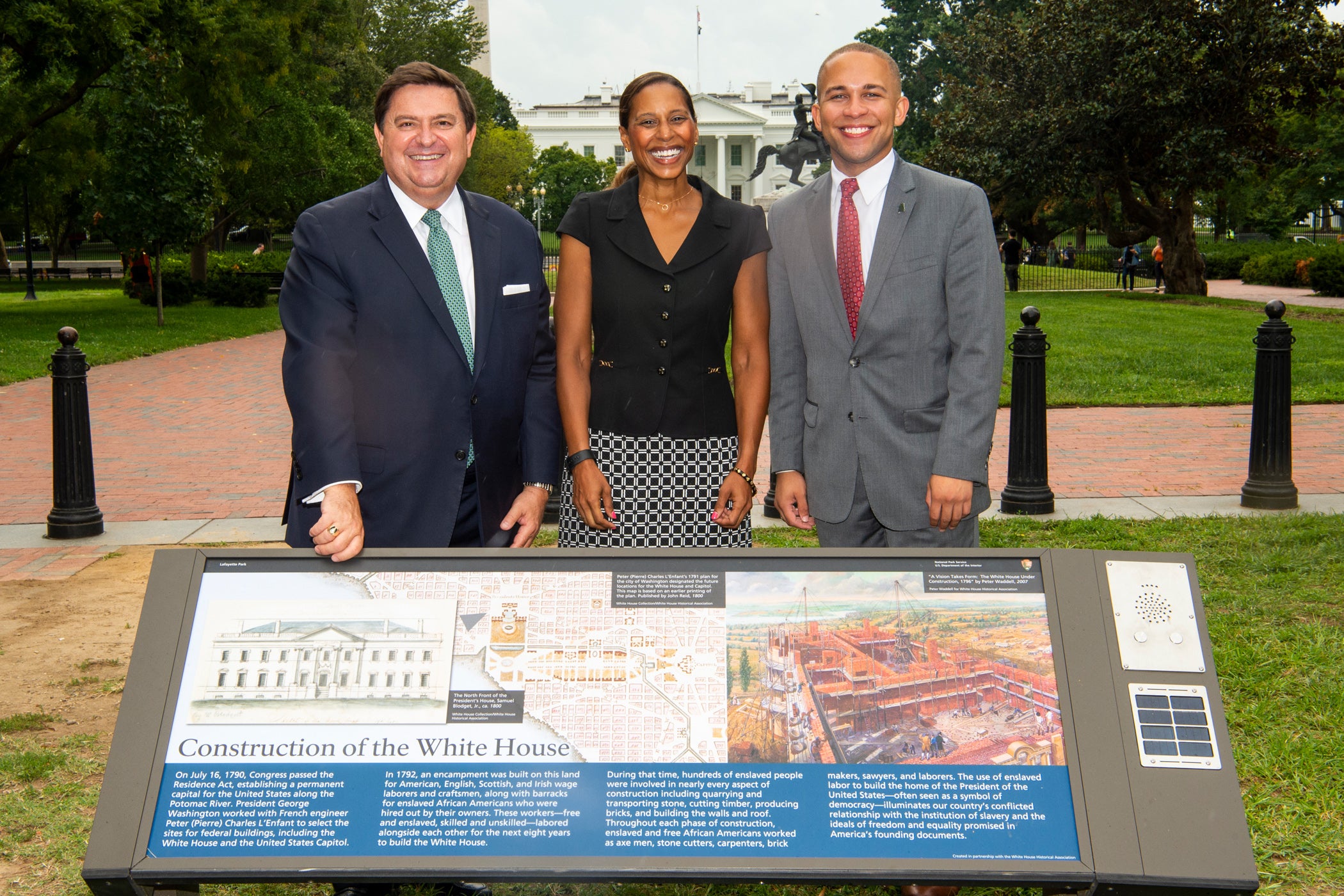 Stewart McLaurin, Hilary West and Royce Dickerson unveil a panel of the Wayside Exhibit.
But as Dickerson prepared to enter his first year as an MBA candidate with the UA Manderson Graduate School of Business, he had the rare opportunity to provide historical context to a prominent national landmark.
Through a connection with a fellow UA graduate, Dickerson helped bring history to life by voicing the audio narration of the Wayside Exhibit in Lafayette Square across from the White House.
Two years ago, when Dickerson was serving as a Capstone Man, he met Stewart McLaurin at an event prior to a football game. McLaurin, a UA alumnus and president of the White House Historical Association, and Dickerson both shared an interest in history and exchanged contact information.
"When I met Stewart, I told him I was fascinated with the work being done by the White House Historical Association," said Dickerson.
Founded in 1961 by First Lady Jacqueline Kennedy, the White House Historical Association protects, preserves and provides public access to the rich history of the White House through lectures, exhibits, digital resources and outreach programs. All proceeds from the sale of the association's books and products are used to fund the acquisition of historic furnishings and artwork for the permanent White House collection, assist in the preservation of public rooms and further its educational mission.
After Dickerson graduated in May with his bachelor's degrees in management and marketing, he planned a trip to visit some fellow UA alumni in the northeast that included a stop in Washington D.C. He reached out to McLaurin through LinkedIn and the two met for lunch, discussing a variety of topics that included the upcoming installation of three display panels in Lafayette Square that would tell the history of the area.
"It was an honor to be a small part in telling an amazing story that people should learn because it's a great piece of American history."
A few weeks later, McLaurin called Dickerson to ask if he would help narrate the historical panels.
"I immediately agreed," said Dickerson. "I love history and the mission of the White House Historical Association. They wanted to have a natural, authentic and homegrown voice bring the story to life, and it was an honor to have the opportunity to provide that voice."
The White House Historical Association sent Dickerson the needed equipment and he was able to record his part of the narration in the comfort of his home in Atlanta during the summer. Hilary West, an executive director at JP Morgan Chase, joined Dickerson as the second voice of the panels.
The Wayside Exhibit in Lafayette Square commemorates the history of the park — from its construction using free and enslaved labor through to its preservation and long history as a site for political demonstration and protest.
As Dickerson recorded his segments, he grew a strong sense of pride in sharing the story of those enslaved laborers who helped construct the White House and would later describe the experience as giving a voice to the voiceless.
"As a descendant of slaves, I know the history is complicated," said Dickerson. "Whether it wasn't recorded or not acknowledged, a number of Americans don't know how to discuss difficult issues that are part of our history.
"For me, it was relatively easy to speak on behalf of those who did all of the wonderful work and built America's house. It was great to be able to share that story and show all the good they had to offer our nation."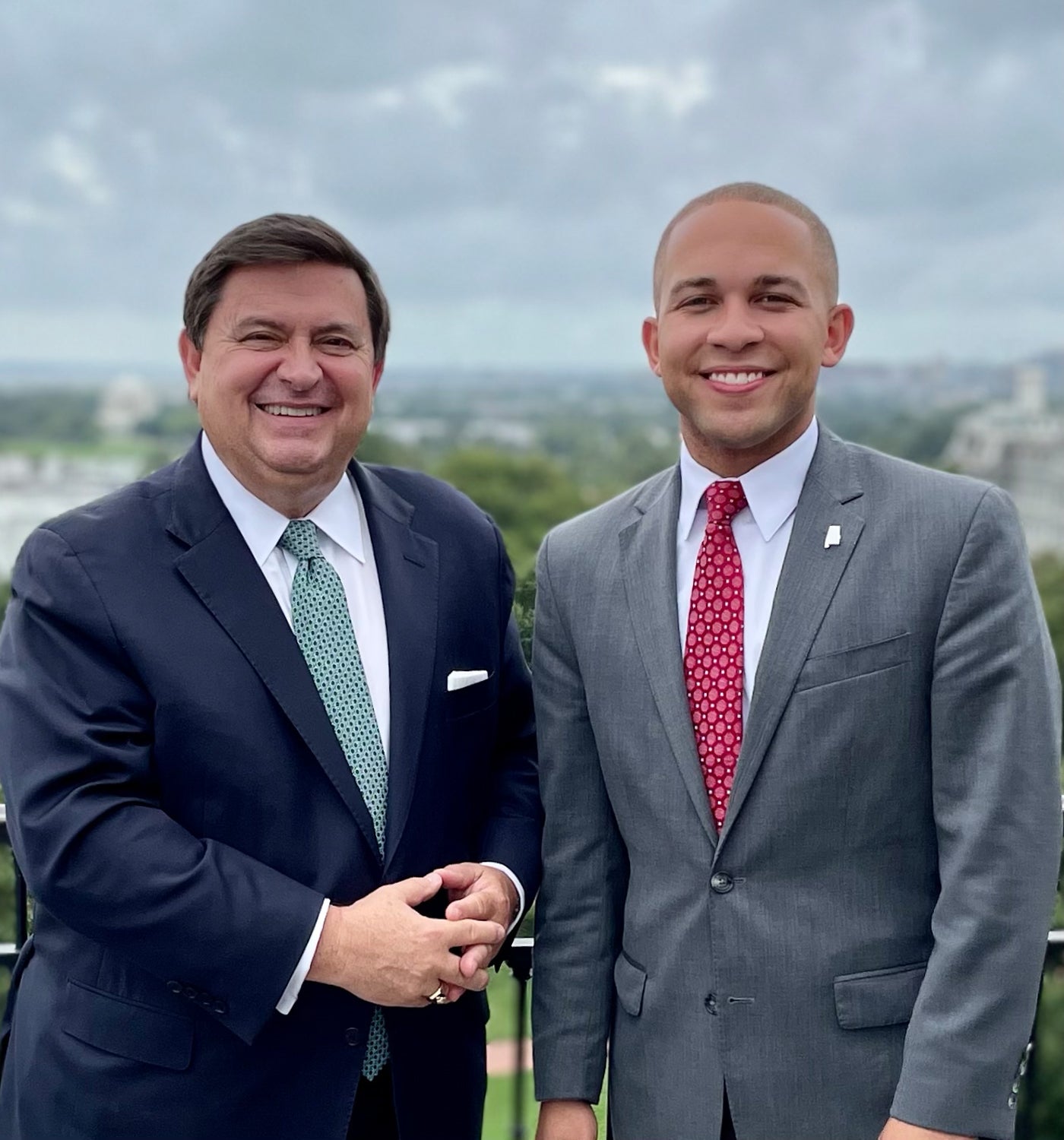 Stewart McLaurin and Royce Dickerson
The first time Dickerson heard his narration was at the unveiling ceremony of the panels in late September.
"It was absolutely incredible to hear my voice projecting from the panels and then look up and see the White House nearby," said Dickerson. "It was an honor to be a small part in telling an amazing story that people should learn because it's a great piece of American history."
During his trip to Washington D.C. for the ceremony, Dickerson was part of the White House Historical Association's podcast "The 1600 Sessions" hosted by McLaurin. The association's website provides video and audio versions of the podcast that also include the audio narration of the historical panels.
Dickerson says he hopes to return one day to immerse himself in the fast-paced life of Washington D.C. and work in government affairs. But for now, he's enjoying his time as a graduate student and continues to cultivate special connections that may lead to the next grand opportunity.
"The University of Alabama is truly a worldwide campus," said Dickerson. "The University network is incredible and it's there to support you and provide you with opportunities not only in Tuscaloosa or Alabama, but around the nation and world. An opportunity I had in Tuscaloosa led to one in Washington D.C., and that happens every day for students.
"We have such a strong alumni base and group of supporters who love UA so much that no matter where you go, you'll find someone who knows about the University and wants to make sure you're prepared and equipped with the resources you need to get to where you want to go. That's really what UA is all about."
Contact
Bryant Welbourne, UA Strategic Communications, bryant.welbourne@ua.edu
The University of Alabama, part of The University of Alabama System, is the state's flagship university. UA shapes a better world through its teaching, research and service. With a global reputation for excellence, UA provides an inclusive, forward-thinking environment and nearly 200 degree programs on a beautiful, student-centered campus. A leader in cutting-edge research, UA advances discovery, creative inquiry and knowledge through more than 30 research centers. As the state's largest higher education institution, UA drives economic growth in Alabama and beyond.