As the crown was placed on Lindsay Fincher's head, a milestone had been reached. Fincher, a senior majoring in political science and theatre, took a moment to let everything set in. She looked out into the audience and smiled — the years of hard work and dedication had finally come together for this moment. It's one Fincher says she'll never forget.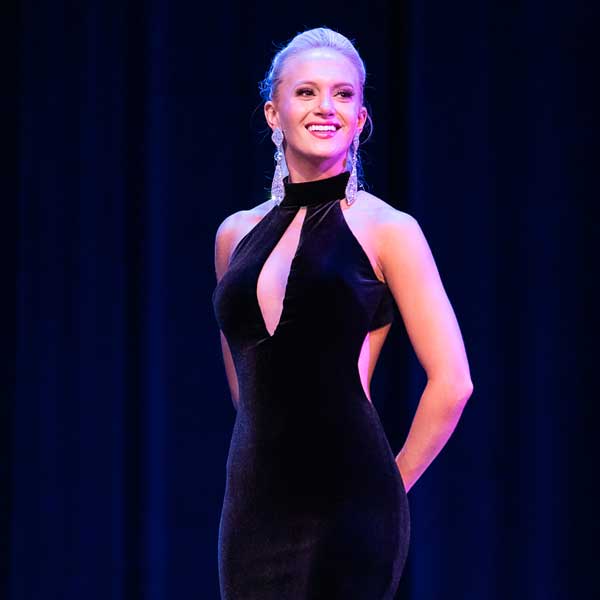 Crowned Miss University of Alabama at the Bama Theatre Sept. 18, Fincher was among 12 contestants who competed in the five-portion competition. Fincher, a native of Wedowee, grew up watching the Miss Alabama pageant and knew one day it would be her walking across the stage.
"From the time I was little, I just wanted to be one of them," Fincher said.
Miss University of Alabama is a preliminary round to the Miss Alabama competition, and Fincher will compete in June 2022. Here's more about Fincher and her goals as the current Miss UA.
How did you get interested in this kind of competition?
It was one of those leap-of-faith moments where I knew that I wanted to take the risk but didn't really know what I was getting myself into. I knew that I was excited and wanted to give it a try. And I'm so glad that I did. I've loved it ever since. And it's been such an important part of my college experience and just my life in general.
What is your social impact initiative and how does it help others?
I actually founded my own social impact initiative. It's called Catalyst Arts for All and it focuses on providing arts education programming to students across the state of Alabama — specifically those in low-income school districts and rural communities where they might not have arts programming available as a part of their normal school curriculum. We try to go into those and bring these arts education programs to them. We teach theater, dance, creative writing, music and more with the students. We work all the way from elementary school into high school and we provide a wide range of creative activities.
How did the name Catalyst Arts for All come to be? 
I came up with the name Catalyst Arts for All because I truly believe that the arts are a catalyst for change in the world. They are a catalyst for people to go and explore the world around them creatively, to connect with one another, and to discover their own passion and their own creativity.
What was the interview portion like in regard to your social impact initiative?
The panel asked me how I planned on funding Catalyst to expand it further. I'm looking at applying for grants through the Alabama Arts Education Association and the Alabama Department of Education for statewide funding. On campus, I hope to work with Greek Life and SGA for a campus-wide supply drive.
What are some of your goals as Miss UA for this year?
I want to work not only with campus-affiliated departments but also with our alumni base and fans of the University. I hope to expand Miss UA's social media reach because it's a great way to connect with others. I'm so excited to represent the University and share what makes it the best place to be.
Contact
Caroline Gazzara-McKenzie, UA Strategic Communications, caroline.mckenzie@ua.edu
The University of Alabama, part of The University of Alabama System, is the state's flagship university. UA shapes a better world through its teaching, research and service. With a global reputation for excellence, UA provides an inclusive, forward-thinking environment and nearly 200 degree programs on a beautiful, student-centered campus. A leader in cutting-edge research, UA advances discovery, creative inquiry and knowledge through more than 30 research centers. As the state's largest higher education institution, UA drives economic growth in Alabama and beyond.