Philanthropy has surrounded Hannah Blanchard since childhood, and it shaped her into who she is today. Blanchard is the director of gifts and records management for The University of Alabama's Division of Advancement, a position she's been devoted to since May 2020.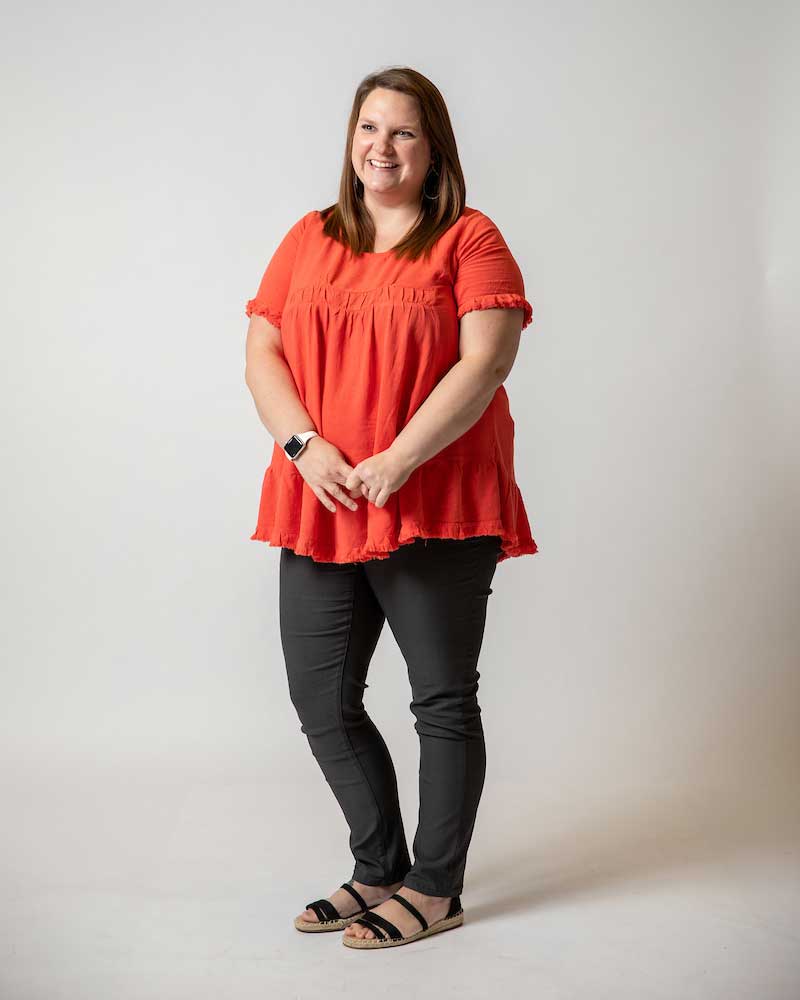 "I've seen a determined widowed mother of two struggle until church members stepped in," Blanchard said. "I've witnessed a 14-year-old broken child fight to be the man of the house until family stepped up. I've watched a special needs child struggle with development until a teacher succeeded. I've seen philanthropy throughout my life. My mom is that widowed mother; my brother is that broken kid; my son is the child with special needs. I am no stranger to philanthropy, and I am blessed to be involved and to continue to witness it firsthand."
Blanchard has been at the University since 2015. Starting as a part-time accounting clerk and working her way up to director, she now oversees 10 employees. Nominated by Bob Pierce, vice president for advancement, and Kevin Nunnally, associate vice president for advancement services, Blanchard is dedicated to UA. Her commitment to processing gifts, as well as her positive nature, makes her a natural Everyday Champion at the Capstone.
"I have an enormous amount of respect for Hannah on so many levels," Nunnally said. "She possesses a true servant leader mentality and a steadfast resolve to do her absolute best in every situation she encounters. No matter how difficult or tough the situation, Hannah is unfazed, and her competitive spirit appears."
"I am no stranger to philanthropy, and I am blessed to be involved and to continue to witness it firsthand."
This was evident when Hannah capably led her team through the pandemic while coming into the office every day to process donors' gifts, he added.
"She is earnest and sincere in her approach to every situation and individual she meets and is a pleasure to work with. Hannah is the type of person that would excel on any team, and I'm proud to have her on mine."
Blanchard jokes that she stays positive with lots of humor, prayer and her favorite slice of chocolate cake. She has hopes that the department can continue to lead the University forward, especially as The Rising Tide Capital Campaign kicks off. The Campaign, which is the largest fundraising effort in the state's history, looks to expand student scholarships and opportunities for leadership development; elevate faculty research through endowments; enhance facilities and more.
"In my role at UA, every dollar donated, every minute of time, every ounce of kindness supports our students, faculty and staff whether it is through a scholarship, program support, faculty support or a building fund," Blanchard said. "Every gift, no matter how large or small, creates an opportunity for an experience and a quality education."
About Everyday Champions
UA is home to champions both on and off the field and in and out of the classroom. Everyday Champions are staff and faculty members who work behind the scenes to keep the campus running, show enthusiasm for supporting the UA campus, faculty, staff and students and embody the UA spirit of pride, determination and ingenuity. Submit an Everyday Champion you know to be considered for a feature.