UA's campus is constantly evolving. Here are some of the newest updates to look for as you start the fall semester.
Getting Around Campus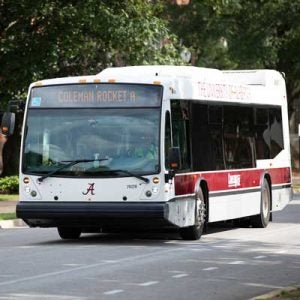 Crimson Ride bus route names have changed to reflect the areas of campus they serve. Also, buses will now stop at select student apartment complexes in town.
New to transportation services for faculty and staff is Crimson Concierge, an app service available to all faculty and staff who have meetings around campus but don't want to move their car. Crimson Concierge will pick you up from your building, take you to your meeting, then pick you up and return you to your office. Learn more on their website.
A not well-known perk is UA's partnership with Tuscaloosa Transit. Anyone with a UA ACT Card can park at the Tuscaloosa Downtown Intermodal Facility (601 23rd Ave., Tuscaloosa) for free and take the shuttle to and from campus. The shuttle service runs every 30 minutes from 5 a.m. until 6 p.m.
Keep up to date on bus schedules and more with the PassioGo app.
Campus Mail and Packages
Campus Mail Service has new mailing district zones and pick-up locations, including parcel lockers, across campus. Parcel lockers are personalized to the student and can only be opened using a code that is emailed to the student. For parents, it's important to note their student's new mailing address, including mailstop code and district number. For students, designated parcel locker pick-up locations are dependent on their on-campus residence.
Campus Mail has also expanded its centralized afternoon pickup with eight conveniently located boxes across campus.
Don't forget, Campus Mail is fully equipped to handle nearly all your post office needs, including fingerprinting and passport services.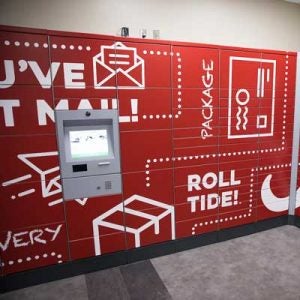 Eats and Treats
Bama Dining has several new options for students and faculty, including an app for mobile ordering and an hourly schedule online. With more than 30 facilities available on campus, anyone can take advantage of the great meal options on campus with or without using a meal plan.
Food truck pop-ups inside the Ferguson Student Center will continue this fall. A list of food trucks on campus can be found on Bama Dining's website and social media. Bama Dining also now offers personalized desserts such as birthday cakes and cookies for students, faculty and staff.
A course called Crimson Kitchen is available to anyone interested in learning how to cook. From essential lessons to fine dining, Crimson Kitchen offers a wide variety of skills.
Student Health Services
This spring, the Student Health Center and Pharmacy merged with the University Medical Center to expand and streamline services for students.
Students can schedule appointments by accessing the SHCP patient portal or by calling 205-348-6262. To avoid unnecessary SHCP charges to accounts, students should ensure their current health insurance card is uploaded on the portal prior to a SHCP visit, vaccination and/or testing.
The SHCP can conduct some visits by telemedicine. Check your insurance plan to see if it covers this service. If your plan doesn't cover telemedicine visits, consider scheduling an in-person visit to avoid non-covered service charges to your student account.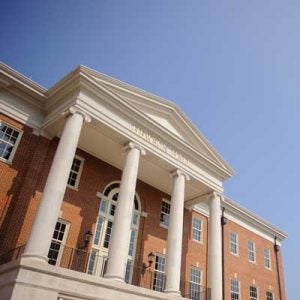 Construction
Campus continues to transform with several recently completed and ongoing construction projects. The new 2nd Avenue Overpass opened this month. Hewson Hall, named after Marillyn and James Hewson, will open its doors to students this fall as additional space for the Culverhouse College of Business.
Ongoing construction projects include the new Tutwiler Residence Hall, Parker-Haun Tennis Facility and the Performing Arts Academic Center.
Campus Safety
The University of Alabama has several programs geared toward creating a safe and inclusive campus. Programs like UAct, the UA Safety app and Safer Living Guide offer students, faculty, staff and parents ways to ensure safety. The UA Safety app connects to 92.5 FM, the University's radio station, with live coverage of serious weather events, campus alerts and more. If there is a serious weather event, there are several places to shelter on campus.
Contact
Caroline Gazzara-McKenzie, UA Strategic Communications, caroline.mckenzie@ua.edu
The University of Alabama, part of The University of Alabama System, is the state's flagship university. UA shapes a better world through its teaching, research and service. With a global reputation for excellence, UA provides an inclusive, forward-thinking environment and nearly 200 degree programs on a beautiful, student-centered campus. A leader in cutting-edge research, UA advances discovery, creative inquiry and knowledge through more than 30 research centers. As the state's largest higher education institution, UA drives economic growth in Alabama and beyond.