The start of a new school year at UA means it's time for the highly anticipated Weeks of Welcome starting Aug. 15.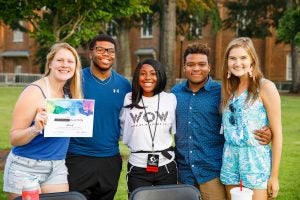 University Programs will be rolling out the crimson carpet to welcome first-year and incoming students through Weeks of Welcome, or WOW, a series of fun programs focused on helping incoming students transition to campus life.
"We are thrilled to be bringing Weeks of Welcome back to students in-person this year," said Paige Acker, director of University Programs. "We really believe in the meaningful experiences in-person events can provide and the way they build community on campus."
WOW will get underway Aug. 15 with the Kick Off Pool Party from noon to 5 p.m. at the Student Recreation Center pool and parking lot. The event will be held in conjunction with the finale of Tied with the Tide.
The following night will feature the WOW Big Event from 7 p.m. to 11 p.m. in the Northeast Commuter Parking Lot. The Big Event will include a concert by Moon Taxi, food trucks and vendors.
Aug. 17 will include the Script A at 6 p.m. at Bryant-Denny Stadium. First-year students will be welcomed to UA by several special guests.
All WOW programs are built around six key engagement areas. University Programs believes these areas will create a well-rounded experience for all UA students. The programs scheduled for WOW fit within the following categories:
Academic success
Community and connection
Diversity, equity and inclusion
Health and wellness
Self-exploration
Transition to UA and Tuscaloosa
"I hope students participating in WOW this year learn about resources available to them, feel like they are a part of UA and have a lot of fun," said Acker. "We want students to really feel like they are getting the most out of their first two weeks on campus."
A complete list of WOW events can be found on University Program's website.
Contact
Bryant Welbourne, UA Strategic Communications, bryant.welbourne@ua.edu
The University of Alabama, part of The University of Alabama System, is the state's flagship university. UA shapes a better world through its teaching, research and service. With a global reputation for excellence, UA provides an inclusive, forward-thinking environment and nearly 200 degree programs on a beautiful, student-centered campus. A leader in cutting-edge research, UA advances discovery, creative inquiry and knowledge through more than 30 research centers. As the state's largest higher education institution, UA drives economic growth in Alabama and beyond.