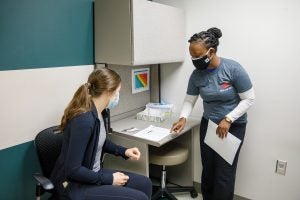 TUSCALOOSA, Ala. – University Medical Center recently opened a location in Carrollton, Alabama, to provide primary health care services to the rural Pickens County community.
UMC-Carrollton is open Monday through Friday, from 8:30 a.m. to 5 p.m. The clinic, located at 289 Robert K. Wilson Drive, Suite C, will provide local health care to the community after the Pickens County Medical Center in Carrollton closed in January 2020.
"University Medical Center has long had a presence in Carrollton, Alabama, but with the closure of the hospital there in early 2020, followed by the COVID-19 pandemic, we believed it imperative to increase the care we provide there," said Dr. Richard Friend, dean of The University of Alabama College of Community Health Sciences, which operates UMC.
Services offered are family medicine, sports medicine and obstetrics care, colonoscopy consults and EGDs. The health care providers at UMC-Carrollton include Drs. Catherine Skinner and Russ Guin, as well as Lauren Holdefer-Penuel, a physician's assistant, and Rebecca Richardson, a nurse practitioner.
Skinner currently cares for patients in Carrollton. She has provided once-a-week pre-natal and obstetrics care for residents there for more than a decade.
Friend said access to primary health care services is important, especially for rural communities in the state, where such care is often in short supply.
"Carrollton is not unlike other rural communities in Alabama, which suffer from a lack of health care services and providers, and that struggle with hospital closures," said Friend. "Our mission at UMC is to help improve the health of individuals and communities in rural Alabama, and expanding access to care in Carrollton, particularly primary health care, is one way we are meeting that mission."
UMC is the largest multi-specialty medical practice in West Alabama with locations in Tuscaloosa, Northport, Demopolis, Fayette and now Carrollton, and more than 150,000 annual patient visits.
UMC-Carrollton is accepting new patients. To schedule an appointment, call 205-463-1350.
Source
Leslie Zganjar, UA College of Community Health Sciences, lzganjar@ua.edu, 205-348-3079
Contact
Bryant Welbourne, UA Strategic Communications, bryant.welbourne@ua.edu, 205-348-8325
The University of Alabama, part of The University of Alabama System, is the state's flagship university. UA shapes a better world through its teaching, research and service. With a global reputation for excellence, UA provides an inclusive, forward-thinking environment and nearly 200 degree programs on a beautiful, student-centered campus. A leader in cutting-edge research, UA advances discovery, creative inquiry and knowledge through more than 30 research centers. As the state's largest higher education institution, UA drives economic growth in Alabama and beyond.