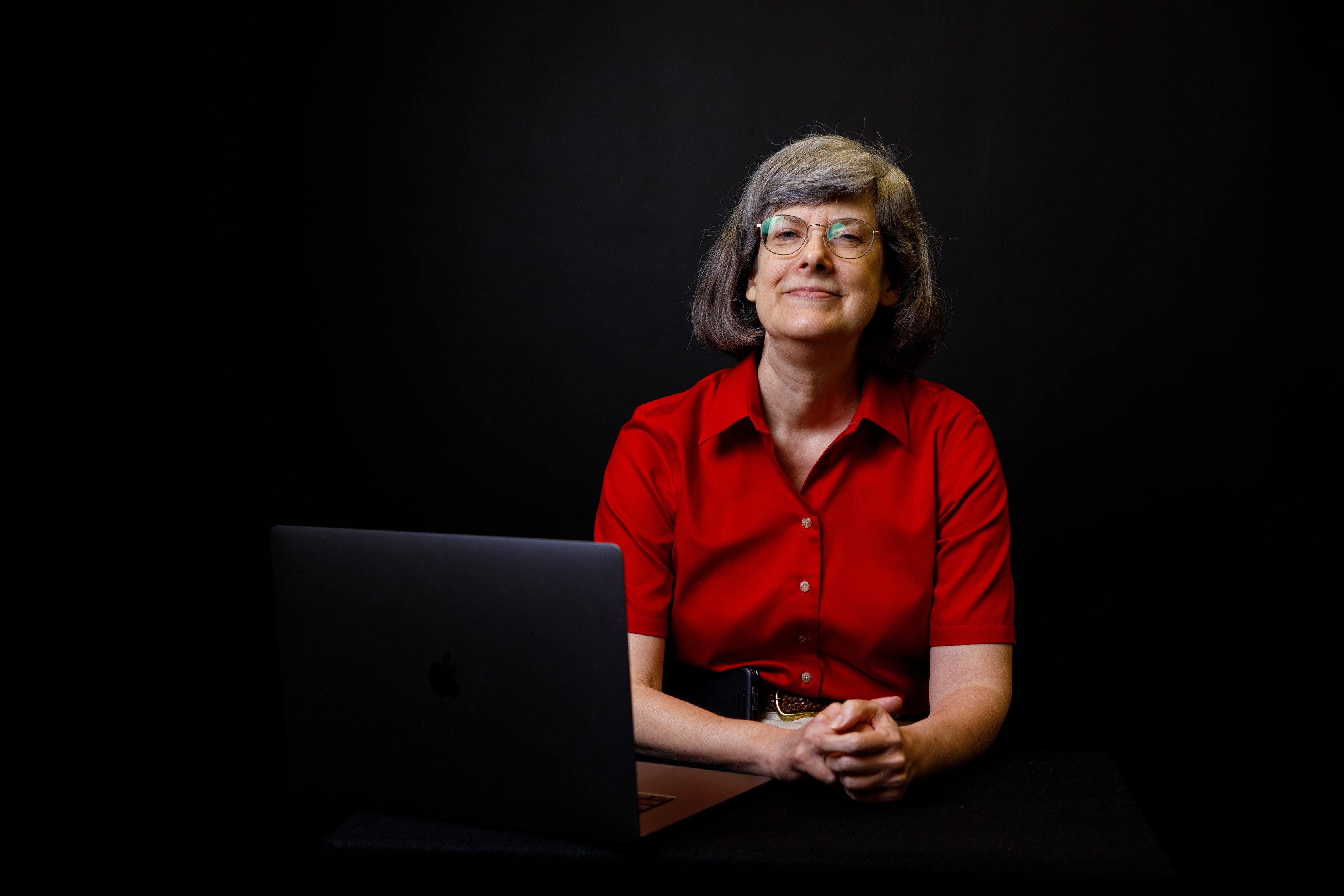 As an employee of 33 years at The University of Alabama, Karen Chapman, who serves as director of branch library services, has seen UA Libraries go through major changes over the past few decades.
"Karen has been an invaluable asset for University Libraries, having provided reference services to countless students over the course of a distinguished career," said Michael Pearce, director of strategic engagement for UA Libraries. "She is an accomplished scholar, and as an administrator, she leads by example, as a reliable, diligent and conscientious colleague."
A native of Memphis, Tenn., Chapman earned her library degree from the University of Illinois, which is also where she started her career as a business librarian.
Desiring to live closer to family, she took a job as a business reference librarian at UA's business library – before it became the Angelo Bruno Business Library – in 1988. After that, as she puts it, she "stayed put."
"There was no World Wide Web when I first started," she said. "Everything was in print. I mean everything.
"We had just started to have databases on CD-ROMs. You had to put the CDs in and do your search. If you wanted to look up an article you had to find it on the shelf, take it to the photocopier and copy it. That's how people did research."
Chapman was a business reference librarian and assistant head for a long time and then, five years ago, she became head of the Bruno Library. In subsequent years, she took on responsibility for the Rodgers Library for Science and Engineering and the McLure Education Library and became director of branch library services.
During her years as a business reference librarian, she was heavily involved in decisions around collections — choosing what books and journals the library carried and what databases were offered — and the planning and building of the Angelo Bruno Business Library.
"I was part of the group that met regularly with the architects to talk about what our needs were," she said. "I organized the move — professional movers did the work, but I provided all the details on the size of the collection, how the books should be arranged, etc."
Like many librarians, she was also directly involved in helping people utilize the libraries' many resources.
"I've really been involved in making sure people have the resources to do their research. I've also been involved in helping faculty and students one-on-one by answering questions and walking through their research strategies with them.
"What is important to me in what I do now is making sure my team is able to provide the services to students and faculty that the libraries are committed to offering. I support the team and make sure they have what they need to do their jobs well. We want every person who interacts with UA Libraries to be successful. After all, it's the people that make UA, not the facilities."
About Everyday Champions
UA is home to champions both on and off the field and in and out of the classroom. Everyday Champions are staff and faculty members who work behind the scenes to keep the campus running, show enthusiasm for supporting the UA campus, faculty, staff and students and embody the UA spirit of pride, determination and ingenuity. Submit an Everyday Champion you know to be considered for a feature.