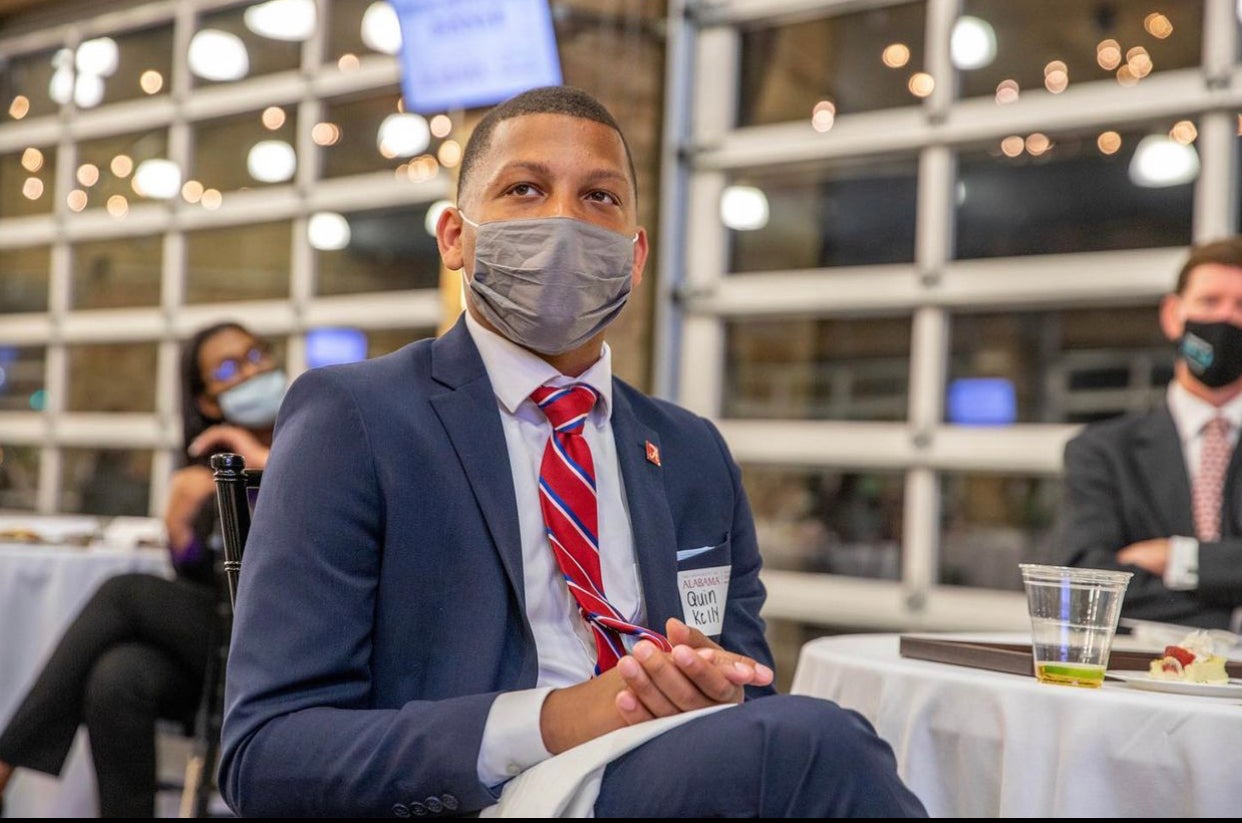 Quinvarlio "Quin" Kelly, a Tuscaloosa native pursuing a master's in public health, has served as president of the Graduate Student Association for the past two years.
The GSA has been the primary advocacy body for graduate students at The University of Alabama since its creation in 1970. It exists, Kelly said, to serve the needs of graduate students, advocate for their interests and foster collaboration between them.
"A lot of graduate students operate in silos from each other, but many are saying they're not happy with that, so we're focusing on building better connections for graduate students on campus," he said.
What were some of GSA's highlights this past academic year?
GSA was a dormant organization when we took the helm. Our goal was to reestablish it to represent grad students. We did that by making sure grad students were appointed to each of the University's committees. Every seat was filled, which hasn't happened in years.
We re-established our social media and list-serve and began to communicate better with graduate students. We also were able to build a connection program called "Grad Buddies," which partnered seasoned grad students with incoming grad students. We got great responses from around the University. It was one of our more popular programs.
What are some of the GSA's goals and major projects for the 2021-2022 academic year?
Our goals this year are to continue building a community amongst grad students and create new partnerships that help solve issues around campus. We want to highlight and expand resources for graduate students and create some community-based partnerships with organizations in Tuscaloosa and throughout the state. Another goal is to really build the organization and better establish our presence. Our final goal is to find a physical office space for the GSA so that anyone on campus can find us.
How can students get involved with the GSA?
Whether you're on-campus or a distance student, we're pushing for students to get involved. You can connect to us by email gsa@ua.edu, on Instagram at ua.gsa1831 and on Facebook at University of Alabama Graduate Student Association. There's plenty of work to go around so anyone who wants to join the cause of rallying for graduate students there's a place for you in the GSA.
What was the biggest lesson the GSA learned from the past year that will continue to make an impact on the association?
We've learned, just like everyone else, to work virtually. The impact of that was recognizing that a huge population of students who attend UA for graduate school are virtual students through Bama By Distance. We now challenge ourselves whenever planning events to find ways to include the distance learners.
Graduate students are probably one of the most diverse populations of the UA community. There's an endless amount of expertise. Whether you're in a graduate program for the first, second or third time, you have the expertise of a degree-holder and we hope that you'll help us advocate for graduate students and leading students on campus.
Contact
Jamon Smith, strategic communications, jamon.smith@ua.edu
The University of Alabama, part of The University of Alabama System, is the state's flagship university. UA shapes a better world through its teaching, research and service. With a global reputation for excellence, UA provides an inclusive, forward-thinking environment and nearly 200 degree programs on a beautiful, student-centered campus. A leader in cutting-edge research, UA advances discovery, creative inquiry and knowledge through more than 30 research centers. As the state's largest higher education institution, UA drives economic growth in Alabama and beyond.