Traveling down Paul W. Bryant Drive, it may be easy to miss UA SafeState, but for Rhonda Hester, it is a vital state program she is proud to be a part of.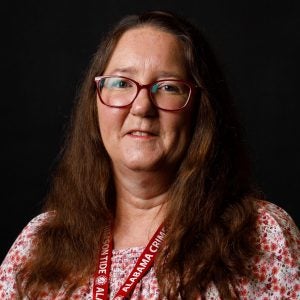 Hester, who has dedicated her career to UA since 1999, is the person who helps others get trained and accredited to safely remove asbestos and lead-based paint in Alabama. Businesses and individuals must go through UA SafeState for accreditation in these areas, and in her role, Hester is the go-to for program information and application processing.
In 2014, Hester earned her bachelor's degree from the University's New College LifeTrack Program, and is a first-generation college graduate. Going through classes taught Hester the power of helping others and the importance of communication, so much so that she was given the Dean Bernie Sloane Spirit of New College Award.
"It comes naturally to me," she said. "I like to help others and this work is meaningful to me."
Hired in 2016 with UA SafeState, Hester strives to continue helping others. Ashley Chambers, who nominated her, said Hester cross-trained herself and other new employees quickly, adapted quickly to technology and system changes and always kept a positive attitude. Chambers credits Hester's implementation of technology and innovative communication as one of the many reasons she is one of UA's Everyday Champions.
"She's always the first to arrive at work, and is usually the last one to leave," Chambers said. "She is a constant light and a positive influence on all colleagues and customers."
Hester isn't just dedicated to her work at UA SafeState; since 2019, she has been a part of the UA Athletics event staff in many capacities including greeting fans and scanning tickets. She received a pin during the 2020–21 football season for going above and beyond, and then another pin during this year's baseball season for "wowing a fan" with an authentic Alabama baseball. It's traits like this that make her a champion within the University. She serves as the WellBama Ambassador at UASafeState. Her selfless actions and magnetic personality make her a champion within the University.
"My passions include helping customers get the help they need, but also to make sure that anyone who visits campus is welcomed and shown great hospitality," she said. "I love what I do."
About Everyday Champions
UA is home to champions both on and off the field and in and out of the classroom. Everyday Champions are staff and faculty members who work behind the scenes to keep the campus running, show enthusiasm for supporting the UA campus, faculty, staff and students and embody the UA spirit of pride, determination and ingenuity. Submit an Everyday Champion you know to be considered for a feature.
Contact
Caroline Gazzara-McKenzie, Strategic Communications, caroline.mckenzie@ua.edu or 205-348-0825
The University of Alabama, part of The University of Alabama System, is the state's flagship university. UA shapes a better world through its teaching, research and service. With a global reputation for excellence, UA provides an inclusive, forward-thinking environment and nearly 200 degree programs on a beautiful, student-centered campus. A leader in cutting-edge research, UA advances discovery, creative inquiry and knowledge through more than 30 research centers. As the state's largest higher education institution, UA drives economic growth in Alabama and beyond.