Once again, The University of Alabama will be well represented at the Olympic Games with four current student-athletes and 17 alumni athletes representing a total of 13 countries competing in Tokyo this summer.
Learn more about UA's Olympians and check later to see their results posted here. More coverage on UA athletes in the Olympics and Paralympics to come.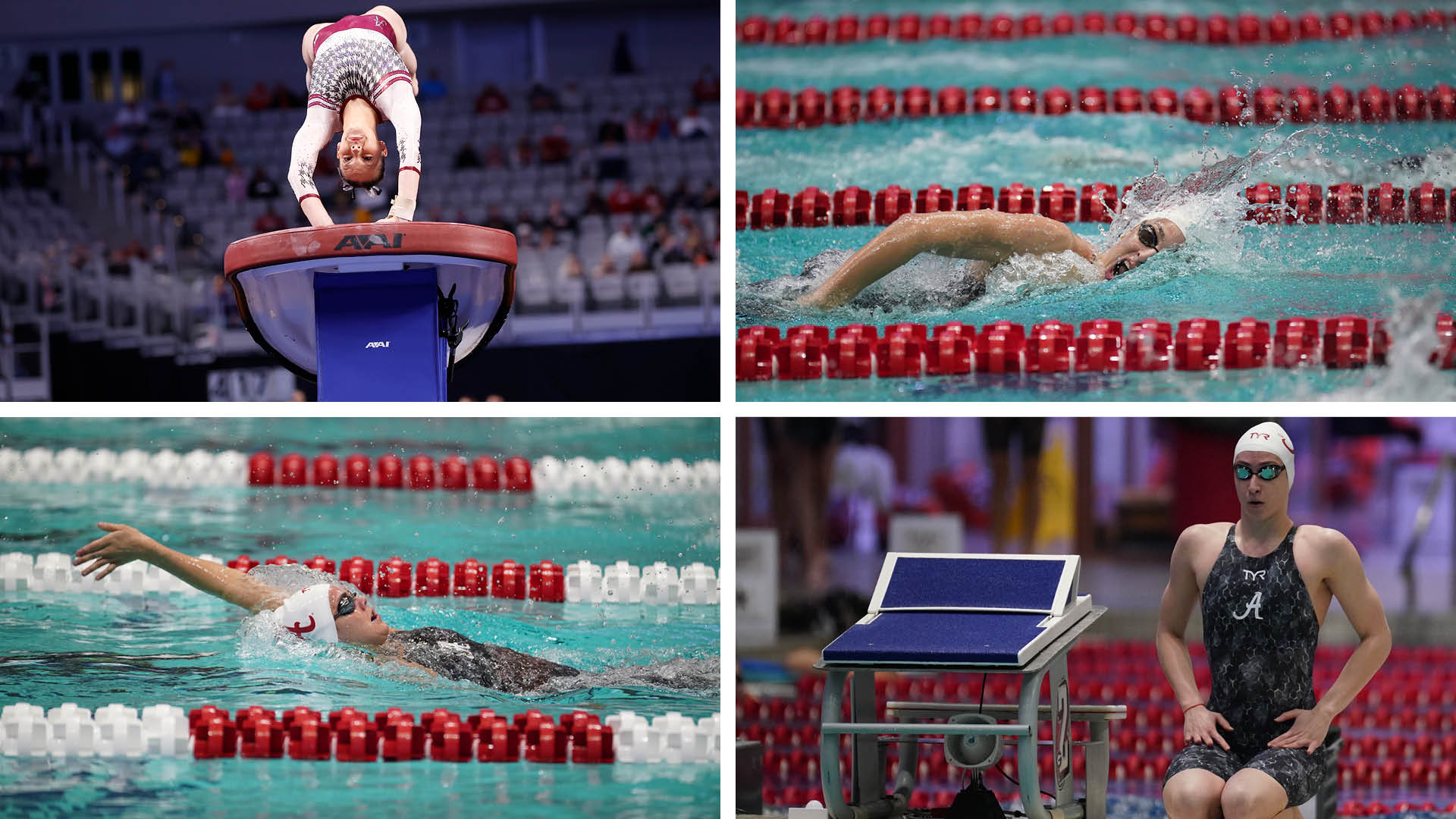 Clockwise from upper left: Student-athletes Shallon Olsen, Kalia Antoniou, Diana Petkova and Rhyan White will be competing in the 2021 Tokyo Olympics.
Student-Athletes in the Olympics
The University of Alabama is proud to cheer on its four student-athlete Olympians at this year's Games.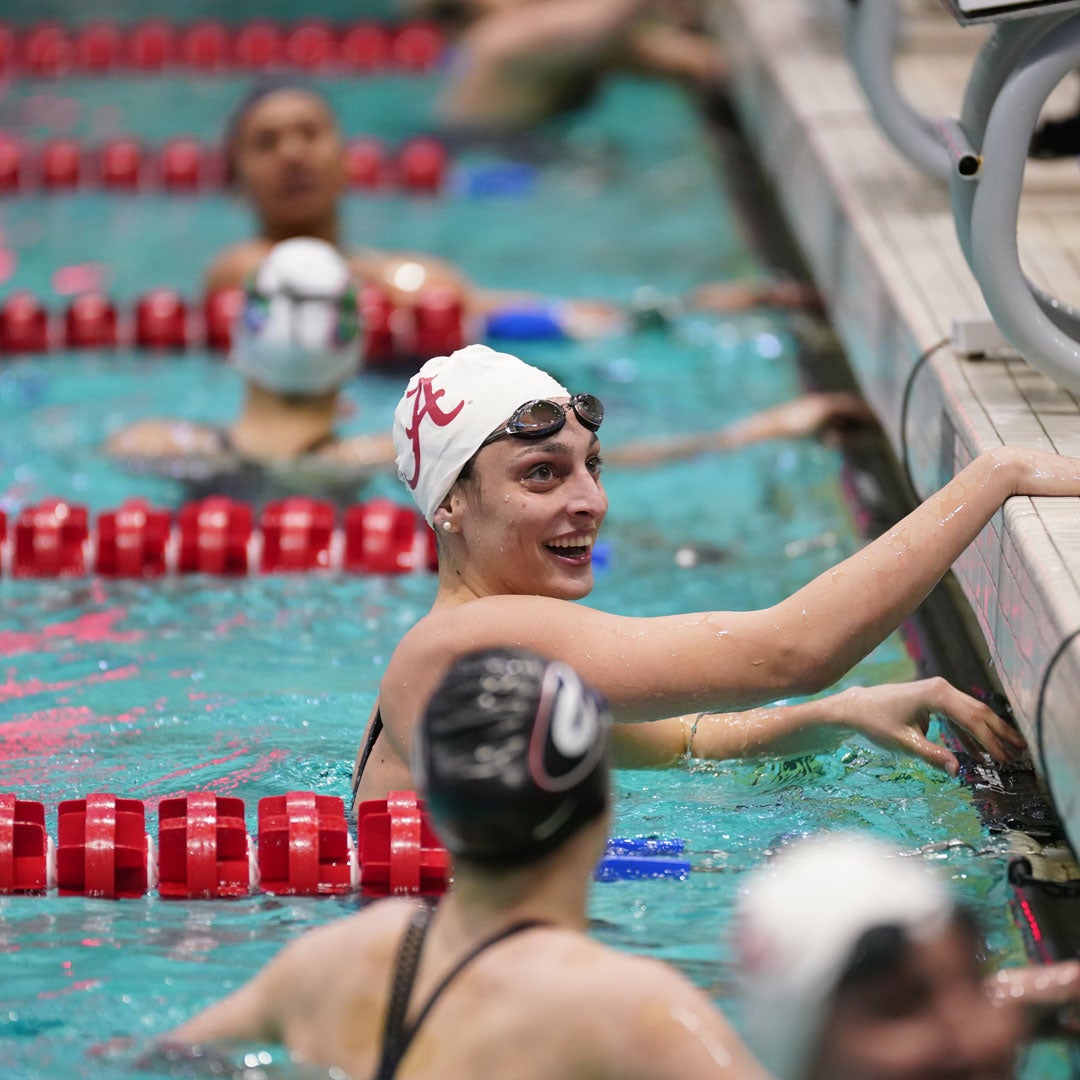 Kalia Antoniou
Cyprus
Swimming
A junior at UA, Antoniou qualified for the Cyprus Olympic Swim Team Trials earlier this summer. Her events have yet to be announced, but she's ready to take to the pool. Antoniou has had a steadfast passion for swimming and has competed in various national and international competitions. Antoniou was a member of Alabama's NCAA relay championship squad, the 400 freestyle relay, which took gold at the 2021 national championship. She was the 2021 All-American in the 50 and 100 freestyle as well as part of the 200 medley relay and the 200, 400 and 800 freestyle relays. She is also a proud 2021 SEC Champion in the 50 freestyle and as part of the 200 and 400 freestyle relays.
RESULTS:
July 28: 100m Freestlye Final, 55.38 (29th)
July 31: 50m Freestyle Final, 25.41 (27th)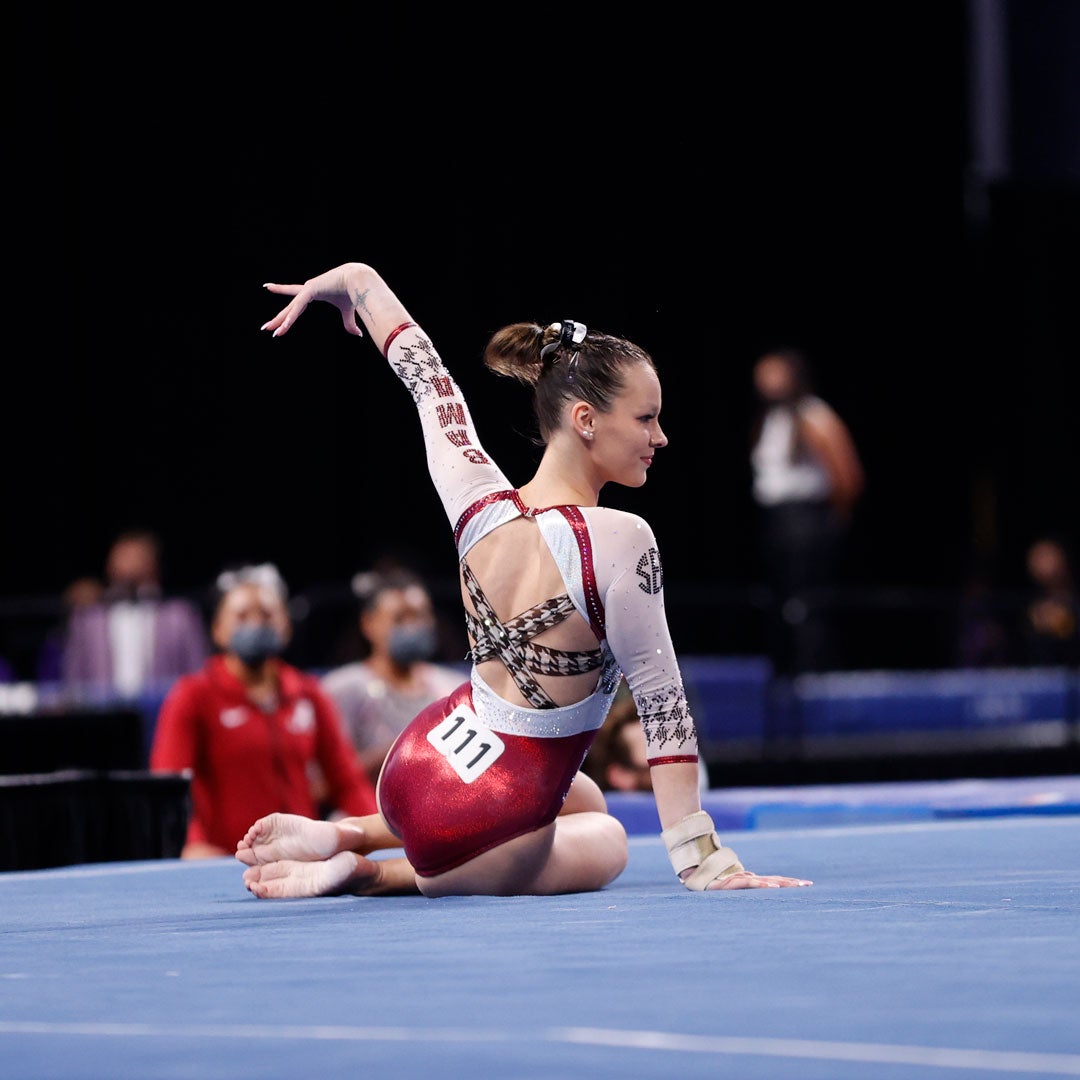 Shallon Olsen
Canada
Gymnastics
A rising senior for UA gymnastics, Olsen will be making her second trip to the Games, having first appeared in the 2016 Rio Olympics. Olsen will be competing for Canada on the vault, with possible other events to be determined. During the Rio Games, Olsen finished eighth on the vault and has been a member of the Canadian national team since 2010. At UA, she's on the 2021 First-Team Championship All-American on vault.
RESULTS:
July 26: Qualifying Round Posted Score, 14.699
Aug. 2: Final, 14.550 (7th)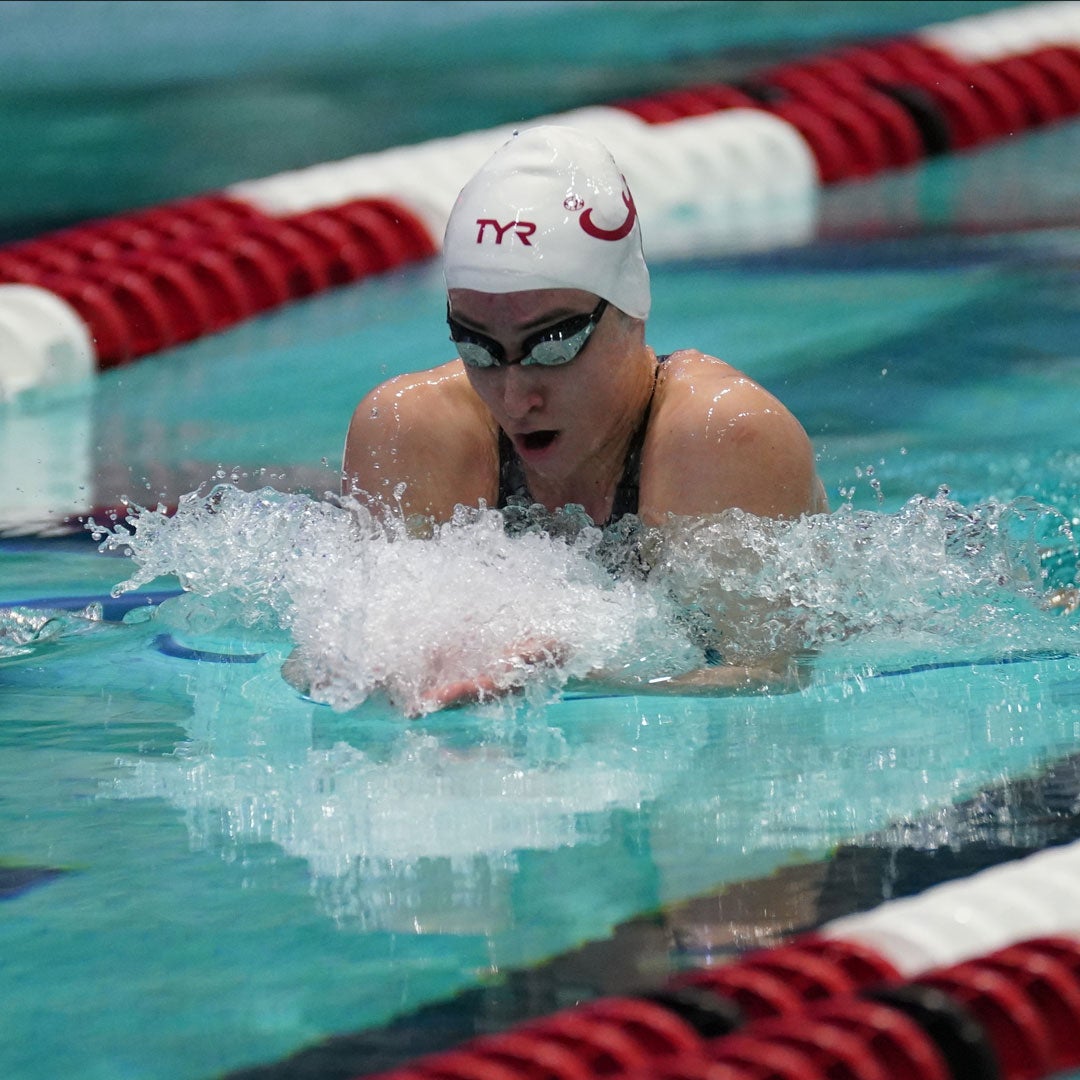 Diana Petkova
Bulgaria
Swimming
Rising sophomore swimmer Petkova will be competing in the Women's 200m Individual Medley. Petkova will swim all four styles in the medley, including backstroke, breaststroke, butterfly and freestyle. Petkova made her mark during the 2021 season as a member of UA's 2021 NCAA Championships squad 2021, as well as Second Team All-SEC and SEC All-Freshman. She is also the 2021 SEC Championships bronze medalist in the 100 breaststroke.
RESULTS:
July 26: 200m Individual Medley, 2:13.70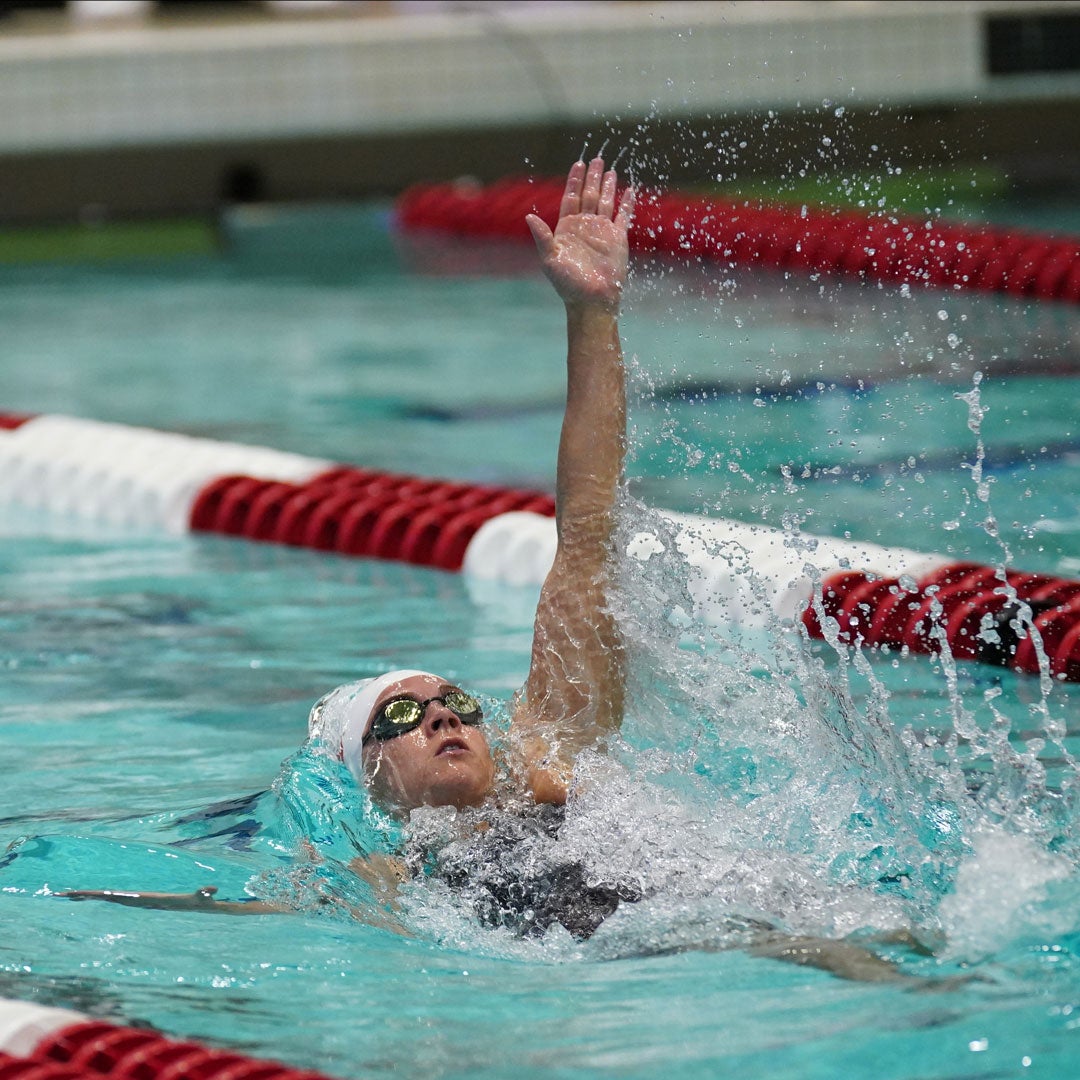 Rhyan White
USA
Swimming
White, a rising senior for UA swimming, will be competing in two events for Team USA. White became the first female swimmer in Crimson Tide history to win an event at the U.S. Swimming Olympic Team Trials, clocking in at 2:05.73 for the 200m backstroke. She will also represent Team USA in the 100m backstroke. A native of Herriman, Utah, White grew up swimming with her family but never realized how far she could go in the field. Scouted by several colleges, White found her place at UA and continues to punch in record times for University, SEC and NCAA events. In 2021, White was named an All-American for her 100 butterfly, 100 backstroke, 200 backstroke, 200 medley relay and 400 medley relay, SEC Swimmer of the Year, SEC Swimmer of the Meet at the SEC Championships and the SEC Commissioner's Trophy winner as the highest individual point scorer.
RESULTS:
July 27: 100m Backstroke Final, 58.43 (4th)
July 29: 200m Backstroke Heat, 2:08.23 (1st)
July 29: 200m Backstroke Semifinals, 2:07.28 (3rd)
July 30: Rhyan White led the 400m medley relay with a 59.19 backstroke. Team USA is ranked No. 2 after this morning's heat.
Aug 1: 200m Backstroke Final, 2:06.39 (4th)
Aug. 1: 4×100 Medley Relay Final, SILVER

UA Alumni in the Olympics
Also competing in Tokyo are 17 former UA athletes, with six alumni competing for Team USA.
NAME
TEAM
SPORT
EVENT
RESULTS
Remona Burchell
Jamaica
Track & Field
Women's 4×100 relay
GOLD
Quanesha Burks
U.S.A.
Track & Field
Women's long jump
Final: 6.56m (13th)
Kristian Gkolomeev
Greece
Swimming
Men's 50m freestyle; 4×100 free relay
50m Freestyle Heat: 21.66 (3rd), advancing to the semifinals
50m Freestyle Semifinal: 21.60
Daniel Haugh
U.S.A.
Track & Field
Men's hammer throw
Final: 76.22m (11th)
Kirani James
Grenada
Track & Field
Men's 400m
BRONZE
Leonie Kullmann
Germany
Swimming
Women's 400m freestyle; 800m freestyle relay
Final: 800m Freestyle Relay: 7:52.06 (6th)
Haylie McCleney
U.S.A.
Softball
Softball
SILVER
Natassha McDonald
Canada
Track & Field
Women's 400m; 4×400 relay
Qualifying: 53.54 (36th)
Shelby McEwen
U.S.A.
Track & Field
Men's high jump
Advanced to the finals of the men's high jump after clearing 2.28 meters;
Qualifying: 2.27m (12th)
Final: 2.27m (12th)
Anton McKee
Iceland
Swimming
Men's 200m breaststroke
Final: 2:11.64 (24th)
Stephanie Meadow
Ireland
Golf
Women's golf
12-under-par 272 (72-66-68-66) (7th)
Abbas Qali
Kuwait
Swimming
Men's 100m butterfly
Qualifying Heat: 53.62 (48th)
Jereem Richards
Trinidad
Track & Field
Men's 200m
200m: 20.39sec (8th)
4x400m Relay: 3:00.82 (8th)
David Robertson
U.S.A.
Baseball
Baseball
SILVER
Justin Thomas
U.S.A.
Golf
Men's golf
10-under par 274 (71-70-68-65) (22nd)
Merel van Dongen
Netherlands
Soccer
Women's soccer
Team Netherlands, 10, Zambia 3;
Netherlands 3, Brazil 3 TIE; Netherlands 8, China 2; Netherlands 2 (2 PKs), USA 2 (4 PKs)
Portious Warren
Trinidad
Track & Field
Women's shot put
18.75m shot put throw, advancing to the finals
Contact
Caroline Gazzara-McKenzie, Strategic Communications, caroline.mckenzie@ua.edu or 205-348-0825
The University of Alabama, part of The University of Alabama System, is the state's flagship university. UA shapes a better world through its teaching, research and service. With a global reputation for excellence, UA provides an inclusive, forward-thinking environment and nearly 200 degree programs on a beautiful, student-centered campus. A leader in cutting-edge research, UA advances discovery, creative inquiry and knowledge through more than 30 research centers. As the state's largest higher education institution, UA drives economic growth in Alabama and beyond.