With the new academic semester only five weeks away, it's not too early to start preparing for fall. Here's a checklist of things to do so you can step foot on campus in August ready to roll.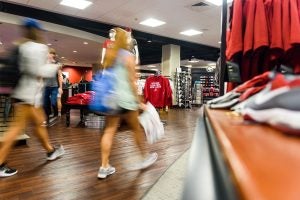 Stock up on School Supplies
If you're in Alabama, take advantage of the state's sales tax holiday July 16-18 to purchase select retail items like clothing, school supplies, books and computers free of the state sales tax.
Pack and Ship Boxes for Move-in
Planning to ship packages to the Ferguson Mail Center prior to moving in? Campus Mail Services recommends shipping items no later than July 23 to ensure packages arrive and are processed in time for you to pick up when you get to campus. Don't forget to get a tracking number for all shipments! 
Make Changes to Residential Meal Plans
On-campus residents and first-year students are automatically assigned meal plans, which will be billed to students' accounts. If you're one of these students and would like to choose a different meal plan, you must request your reduced meal plan option by July 29 at 11:59 p.m. 
Get Vaccinated
All UA students are encouraged to vaccinate for COVID-19 to Protect Our Herd. Most vaccines require two doses taken either 21 or 28 days apart. If you haven't already, start your vaccine process now so you can be fully vaccinated by the time you return to campus. Once you get it, let UA know so the University can better plan for the fall semester.
Transfer any Prescription Medication
The Student Health Center Pharmacy can fill new or existing prescriptions for students conveniently on campus. 
Activate Your Mobile ACT Card 
Students' physical swipe cards featuring Denny Chimes on a red background have been phased out and no longer work at either on-campus or off-campus readers. The mobile ACT card is the official UA credential and is used for door access, purchases, meal plans and event access. Get started and download the mobile ACT card on the Action Card website.
Re-up Your Bama Cash
Bama Cash is a convenient option to preload funds to an online account you can access with your mobile ACT Card at over 100 on- and off-campus locations. Bama Cash is the only form of payment accepted for residence hall laundry facilities and campus network printing. Deposits can be made online through a web browser, the eAccounts Mobile app, campus kiosks or by calling the Action Card Office at 205-348-2288.
Download the UA Safety App
If you're a new student, you will want to have this app from day one on campus. In addition to emergency alerts, the app includes the seven-day weather forecast, storm shelter locations, the option to live stream 92.5 FM UA Info Radio and much more. The safety app is available for download on iOS and Android devices.
The University of Alabama, part of The University of Alabama System, is the state's flagship university. UA shapes a better world through its teaching, research and service. With a global reputation for excellence, UA provides an inclusive, forward-thinking environment and nearly 200 degree programs on a beautiful, student-centered campus. A leader in cutting-edge research, UA advances discovery, creative inquiry and knowledge through more than 30 research centers. As the state's largest higher education institution, UA drives economic growth in Alabama and beyond.