Headed to Bama Bound this summer? Get ready for a fun, full day where you'll be introduced to the exceptional academic, service and social opportunities the Capstone has to offer.
Here are a few tips to know before your Bama Bound session.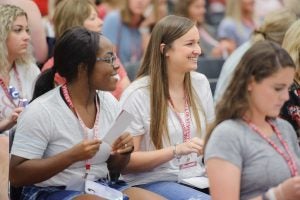 Be Prepared to Move
Bama Bound sessions will take place in various locations on campus. Wearing appropriate shoes and clothing will help keep you comfortable during the frequent transitions throughout the day and evening.
Stay Hydrated
It won't take long to realize that summers in Alabama are pretty warm and humid. Drinking plenty of fluids throughout the day and staying hydrated as you move across campus will be important.
Don't Be Afraid to Ask Questions
Many Bama Bound sessions include Q&A portions when you'll have a chance to ask a variety of questions. Please don't be afraid or shy to ask questions if you have them. Since everyone else in the room is taking in a lot of information as well, there's a good chance someone else has a similar question.
Explore Campus When Given the Opportunity
While you'll get to see a good bit of campus during Bama Bound, you'll more than likely not get to see all of the campus beauty UA has to offer. If you get some downtime during your visit, take a chance to wander around campus. Explore the online campus map to find locations you want to check out before leaving.
Take Plenty of Pictures
Be sure to take plenty of photos during your visit to campus. Whether to help remember academic buildings when classes start or posting pictures to social media so your family and friends know you're having a great time, be sure to nab some pics. Check out a few of the many picture-perfect campus locations.
Make New Friends
Bama Bound will offer numerous opportunities to meet other incoming students. Don't be afraid to talk to as many of your peers as possible. Countless friendships that last a lifetime have been made during Bama Bound.
For more information on Bama Bound, including a tentative schedule, checklist of what to bring and family orientation details, please visit orientation.ua.edu. Find answers to frequently asked questions on Bama Bound's FAQ page.
The University of Alabama, part of The University of Alabama System, is the state's flagship university. UA shapes a better world through its teaching, research and service. With a global reputation for excellence, UA provides an inclusive, forward-thinking environment and nearly 200 degree programs on a beautiful, student-centered campus. A leader in cutting-edge research, UA advances discovery, creative inquiry and knowledge through more than 30 research centers. As the state's largest higher education institution, UA drives economic growth in Alabama and beyond.