The University of Alabama received the 2021 Best Marketing Campaign Award by the National Association of Campus Card Users (NACCU) for its campaign to make UA a mobile-first campus.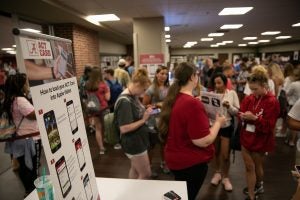 This is the second time UA has won the award in the past three years with the last win occurring in 2019, according to NACCU's website.
The NACCU Best Marketing Campaign Award is presented to an institution to recognize an integrated marketing strategy that has achieved measurable results, encouraged participation in NACCU and the industry, and gathered resources that can be shared by other NACCU members.
"We are very honored and humbled to be the recipients of the NACCU 2021 Best Marketing Campaign Award," said Courtney Petrizzi, communications specialist for UA's Action Card Office, which led the award-winning campaign. "We, like many of you, have made major and permanent changes to our card office in response to the pandemic.
"For us, that was transitioning our campus to a mobile-first campus. With that change came a large marketing campaign that encompassed our entire campus, so not only does this award mean a lot to our office, but it means a lot to The University of Alabama."
When UA moved to a Transact mobile credential for Apple and Android devices, the ACT Card team needed to make the campus community aware of the change to a mobile-first campus and that physical cards would no longer be issued.
A variety of strategies were used to promote this objective, including the UA News Center, a virtual orientation and an update to photo submission forms that led to a 93% submission rate by the first day of move-in. For Greek Houses, Zoom meetings were held with Panhellenic contacts, and special graphics and information were created for the Greek Chic print and digital magazines.
The website and social media were also used to promote the mobile-first mission. As a result of these and other strategies, mobile provisioning saw a substantial increase by thousands. 
Source
Crystal Bazarnic, NACCU marketing & communications, crystal@naccu.org
Contact
Jamon Smith, strategic communications, jamon.smith@ua.edu
The University of Alabama, part of The University of Alabama System, is the state's flagship university. UA shapes a better world through its teaching, research and service. With a global reputation for excellence, UA provides an inclusive, forward-thinking environment and nearly 200 degree programs on a beautiful, student-centered campus. A leader in cutting-edge research, UA advances discovery, creative inquiry and knowledge through more than 30 research centers. As the state's largest higher education institution, UA drives economic growth in Alabama and beyond.